COVID-19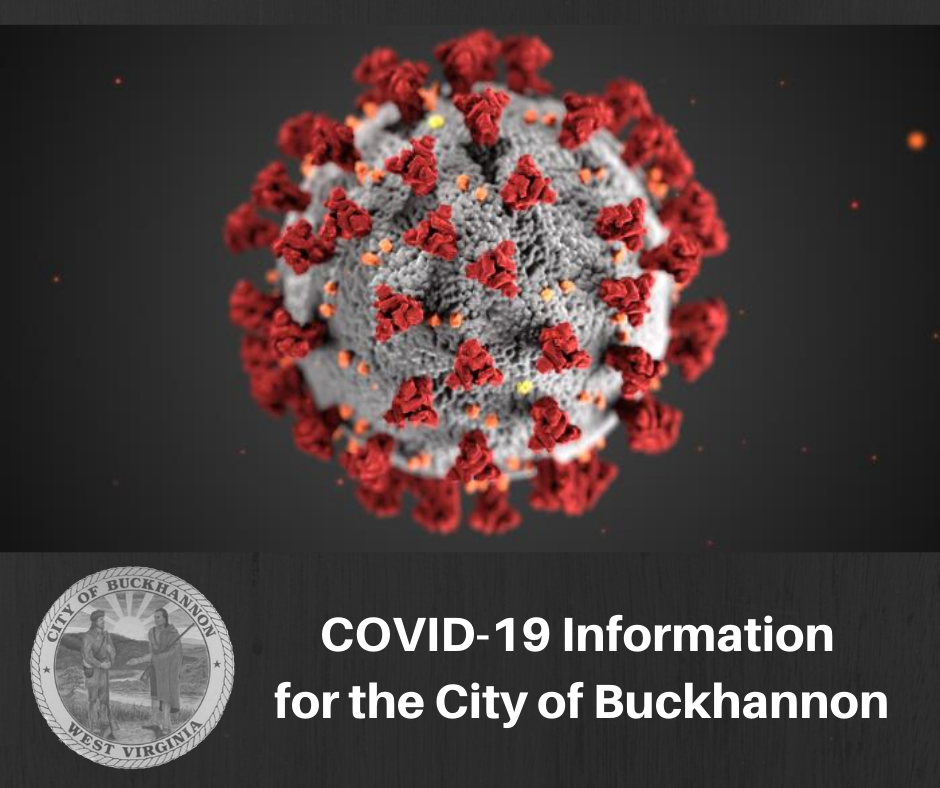 Link to the West Virginia Coronavirus Information Official Website (includes most recent data on the number of COVID-19 cases in WV):

Updated April 2, 2020
The City of Buckhannon encourages residents to practice thorough hand washing and social distancing as a preparedness and mitigation action against the COVID-19 pandemic. The special emergency operations plan is in effect for the duration of the State of Emergency related to the COVID-19 pandemic.
News & Resources (in chronological order, with the most recent post at the top):
Mayor's Statement and Additional COVID-19 Mitigation Measures taken on Thursday, April 2, 2020 by Buckhannon City Council during the Special Emergency Session prior to the regular meeting of City Council:
Governor's Executive Order Moving the Primary Election Day to June 9, announced 4/1/2020: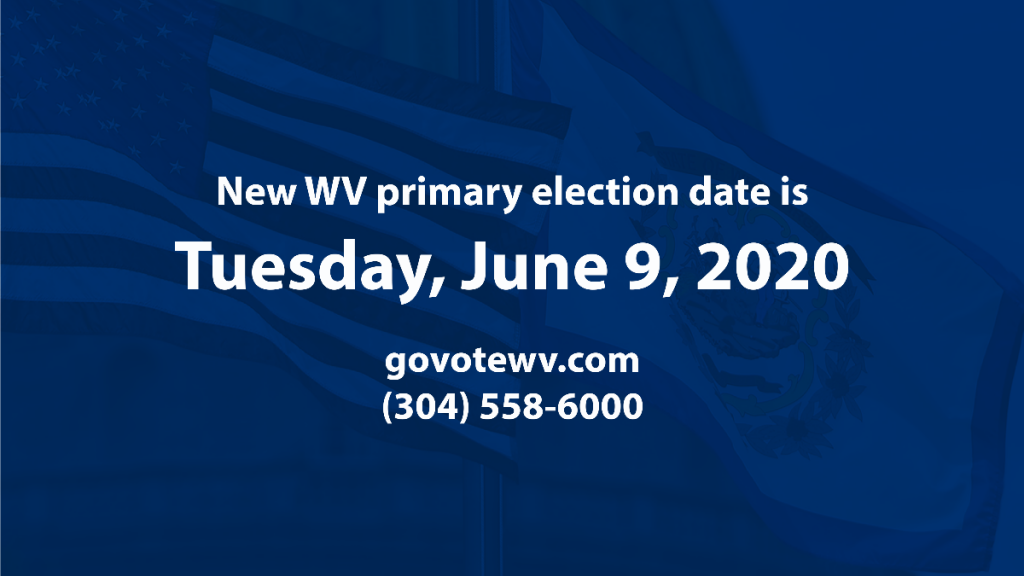 Link to the Executive Order: https://governor.wv.gov/Documents/2020%20Proclamations/EO%2018-20.pdf
Buckhannon-Upshur COVID-19 Community Task Force Update from Tuesday, March 31, 2020: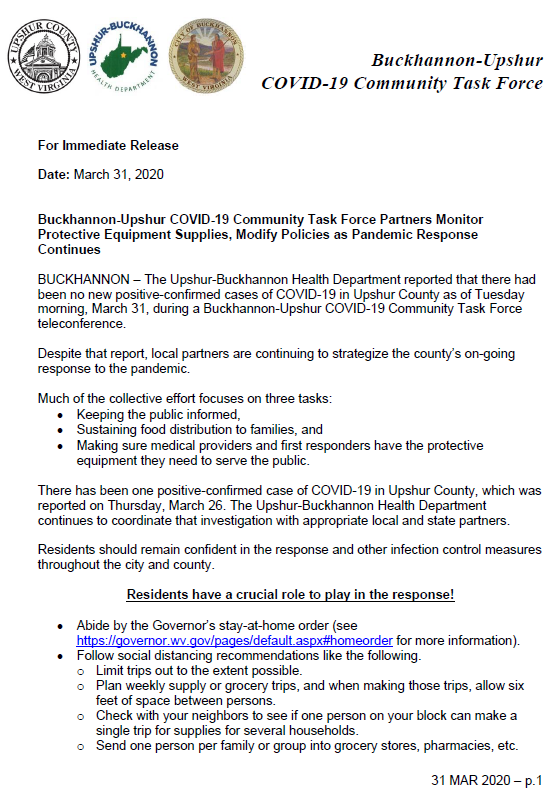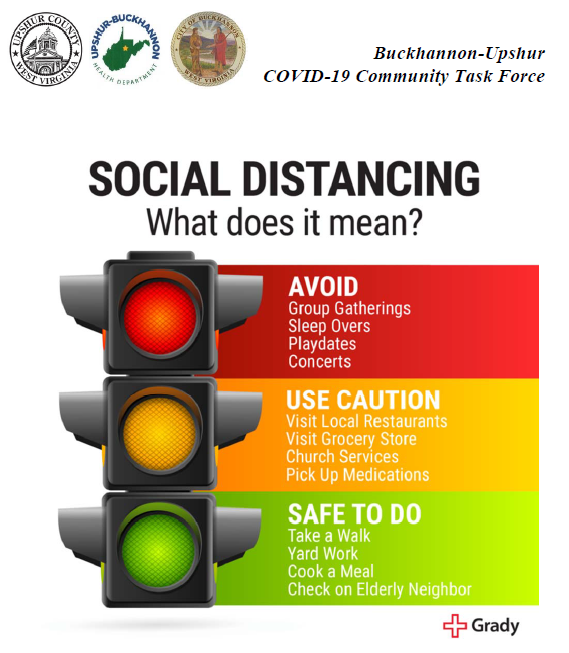 Buckhannon-Upshur COVID-19 Community Task Force Update from Friday, March 27, 2020: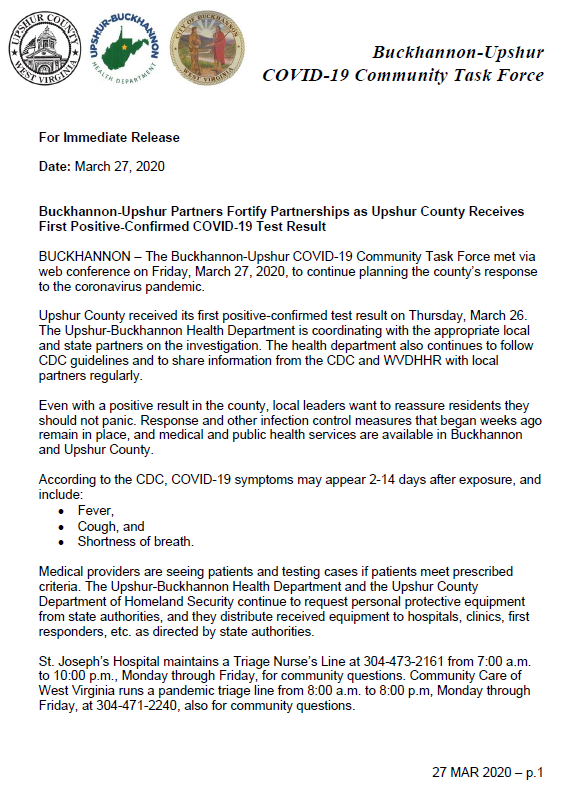 Upshur-Buckhannon Health Department Notice of first confirmed COVID-19 case in Upshur County (posted 3/27/20):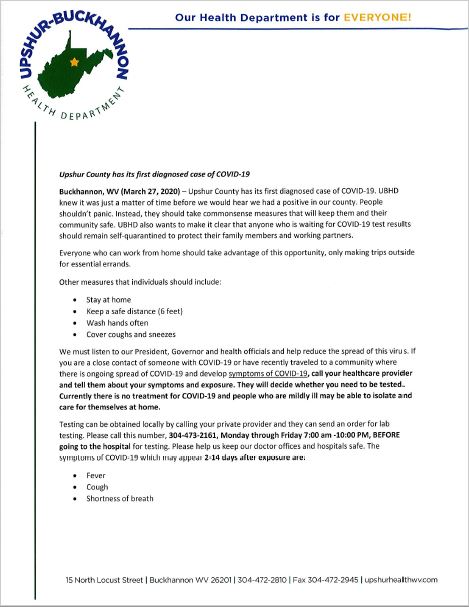 WV Schools Statewide Closure Extended to April 20, State Tax and Property Tax Deadlines extended (announced March 25 by Governor's Office):
https://governor.wv.gov/News/press-releases/2020/Pages/COVID-19-UPDATE-Gov.-Justice-extends-statewide-school-closure,-requests-extension-of-state-income-tax-filing-deadline.aspx
Joint Press Release of Upshur County Agencies Cooperating on COVID-19 Response, March 24, 2020:
City operations during the Stay at Home Order issued by the State of West Virginia, effective March 24, 2020:
Stay at Home Order, Office of the Governor, issued 3/23/2020 and effective 8PM 3/24/2020: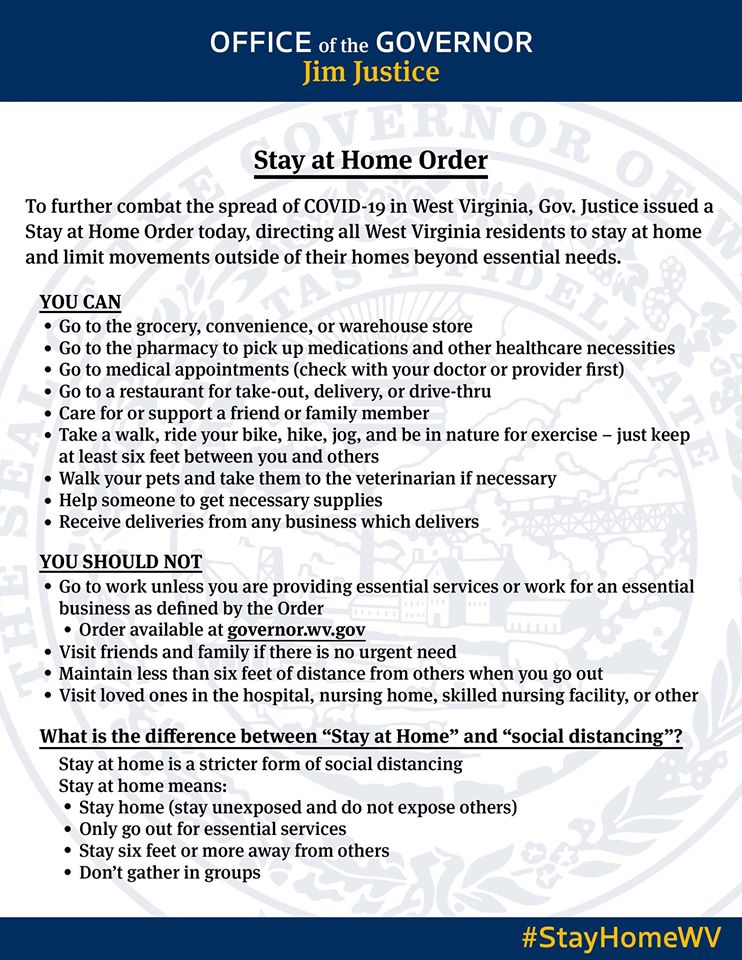 Upshur County Commission Press Release, March 20, 2020: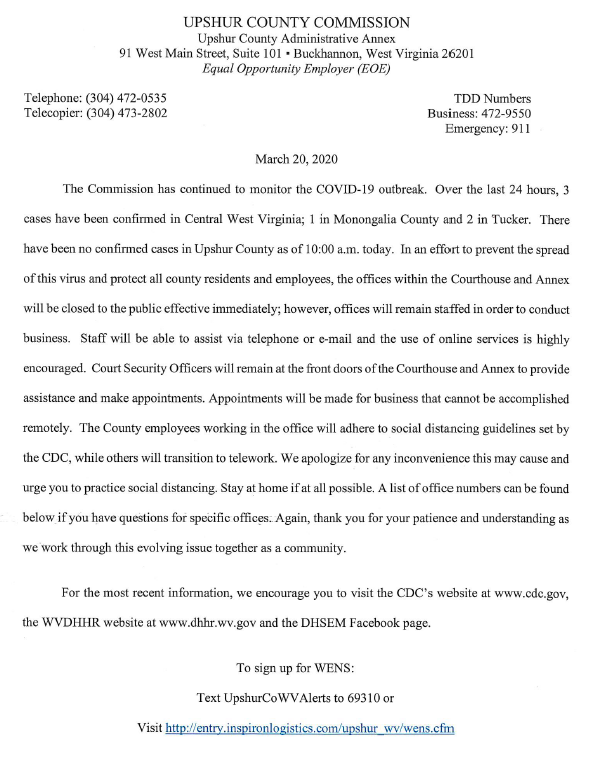 Buckhannon City Council Actions taken on Thursday, March 19:
Governor Justice has announced that restaurants and bars are to close, excluding take-out. Later, salons were added to the closures. Please see governor.wv.gov for more information.
Message from Buckhannon Fire Chief JB Kimble (3/17/20 on their FB page, 3/19/20 posted here):
In regards to the covid-19 pandemic:
We are restricting access to the fire station to members only at this time. Anybody needing non-emergency assistance should call the fire station to speak with on-duty personnel. It is of the utmost importance to our continued operation throughout this time that you honor this request.
All CPR courses and fire safety presentations that have been scheduled are canceled at this time. The use of the City of Buckhannon Public Safety Complex Training Room has also been closed to the general public until further notice. Any events that are currently scheduled are being reevaluated 14 days from their scheduled date.
We are communicating with our volunteer and career staff through our normal channels to ensure that if they feel ill, they will not be at the fire station or responding to any emergencies. We are also closely monitoring the availability of our responders to cover emergencies as many could possibly be facing restrictions from employers and due to childcare. If any response concerns arise, we will be making the appropriate decisions to increase staffing at the fire station using available responders and/or other fire departments.
At this time, we are operating as normal when dispatched to emergency incidents in Upshur County and will do our best to continue helping the other emergency agencies as our staffing and resources allow. Some non-emergency requests that are capable of being handled by other entities may not be fulfilled by the Buckhannon Fire Department. We are communicating daily with the Upshur County Office of Emergency Management to ensure the short term and long term delivery of emergency services without interruption.
Lastly, we ask that each of you stay calm, abide by all state and federal guidelines put into place, and acquire information concerning covid-19 from trusted sources such as the CDC and WVDHHR (Links below).
Message from Buckhannon Police Chief Matt Gregory (3/18/20):
Our lobby (Police Department at Public Safety Complex, 22 S. Florida St.) remains open at this time during regular business hours; however, we are currently discontinuing fingerprint services.
Access to police department offices is limited to official business or emergency situations. Public tours are currently discontinued at this time.
Regular police service and patrols remain in effect.
If calling Comm Center for police service, a dispatcher may ask the caller additional screening questions concerning possible illnesses in order to ensure a safer response from police officers and / or other public safety personnel.
The volunteer segment of the police department, VIPS, remains ready to assist in the community if needed.
St. Joseph's Hospital of WVU Medicine Fact Sheet (3/18/20):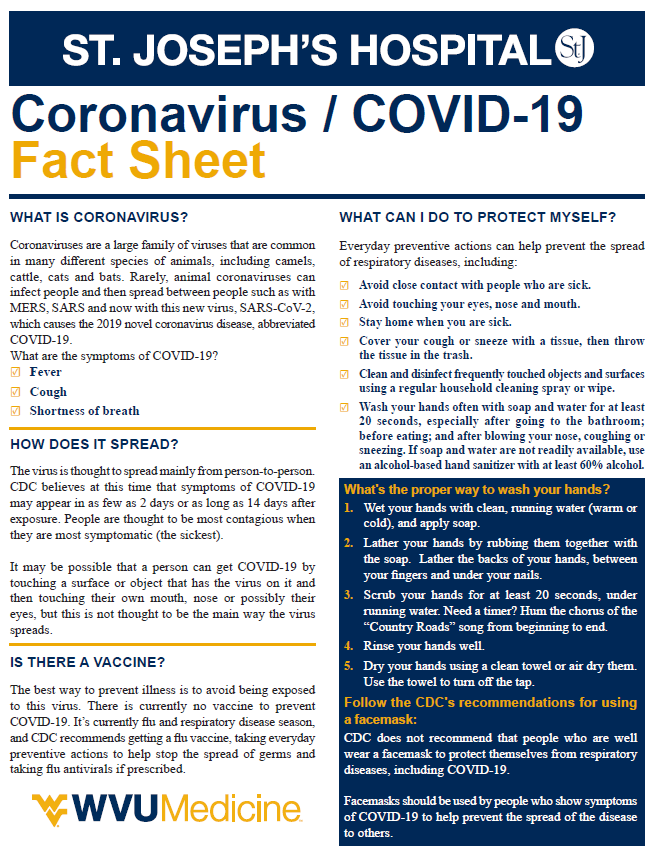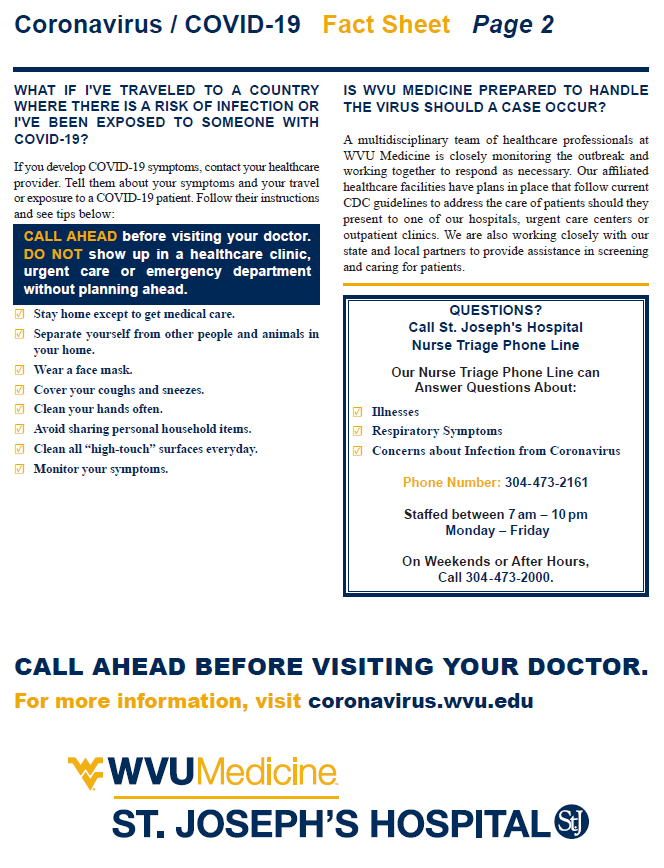 PDF for download:
Executive Order from the Governor's Office closing Restaurants & Bars, except for take-out (3/18/20):
https://governor.wv.gov/News/press-releases/2020/Pages/COVID-19-UPDATE-Executive-Order-limiting-restaurants-and-bars,-closing-casinos-statewide.aspx
Notice from the White House (3/16/20):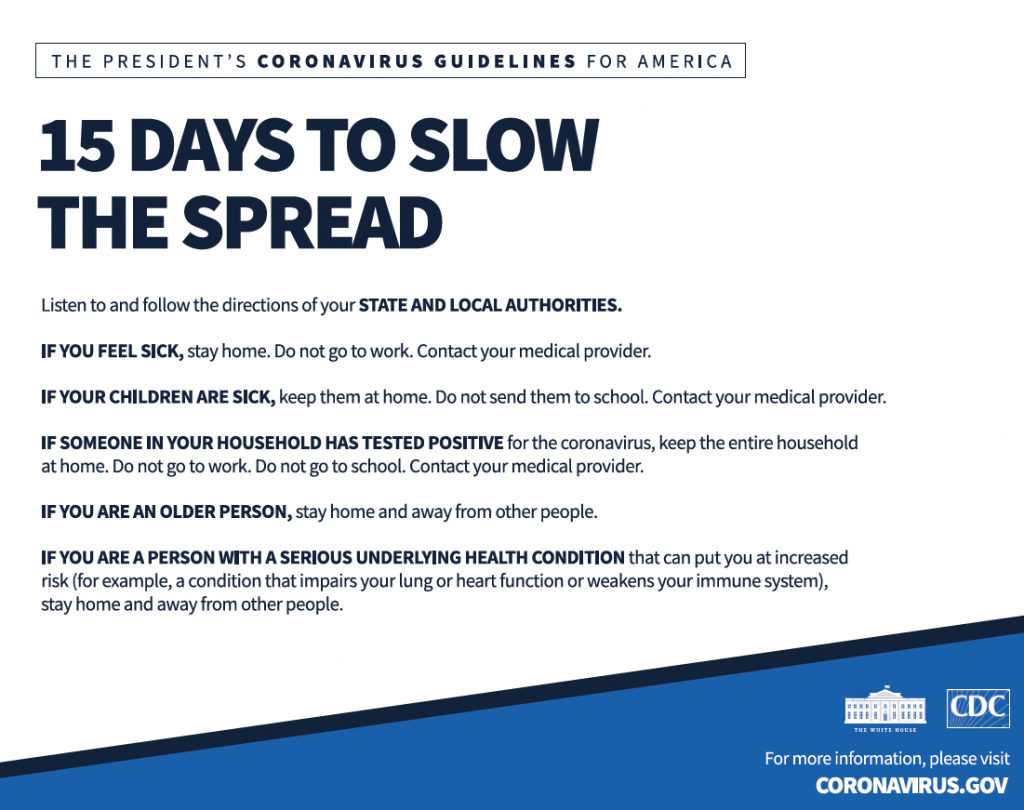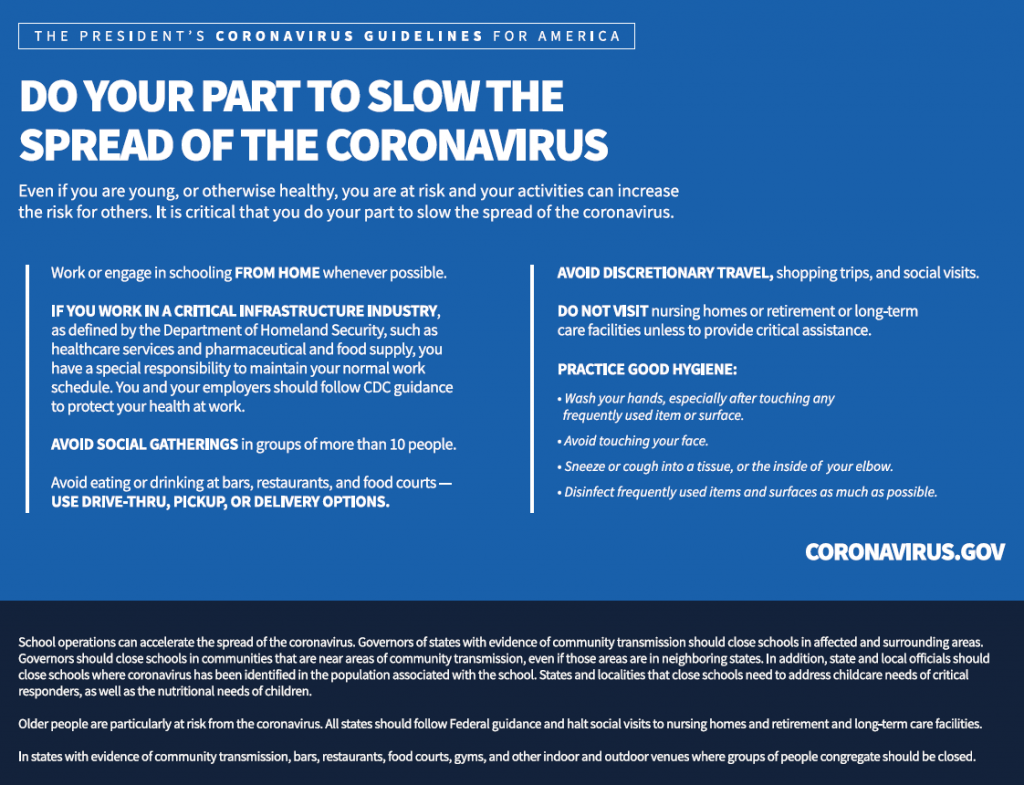 Read about how to pay your utility bill and request other city services remotely here:
Mayor's Statement on COVID-19:
Notices from the Upshur – Buckhannon Health Department: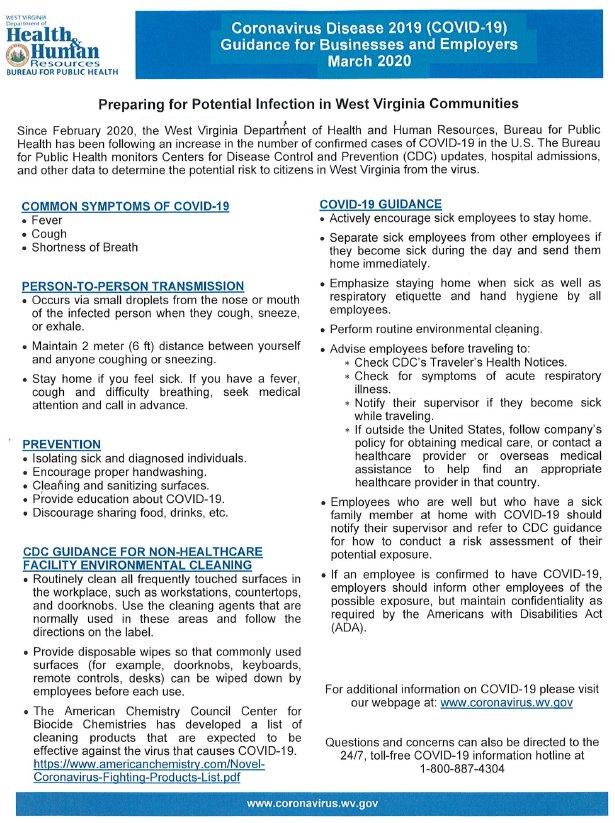 Link to the Center for Disease Control & Prevention Coronavirus Information Website: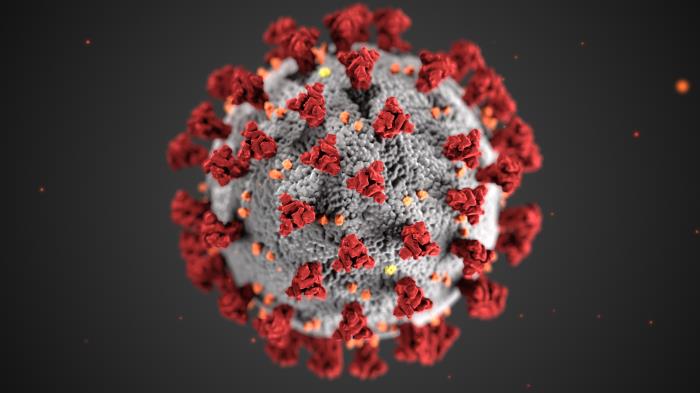 https://dhhr.wv.gov/COVID-19/Pages/default.aspx
The Upshur Buckhannon Health Department is posting updates on their Facebook page here:
Upshur Buckhannon Health Department Facebook
Link to the Governor's Office website:

https://governor.wv.gov/Pages/default.aspx
West Virginia Public Service Commission Preparedness Guide (3/16/2020):
Selected articles from the news media: