2nd Annual Hope & Help Assembly will highlight paths to recovery, freedom from addiction; the free event will be held Sunday, September 23rd at Jawbone Park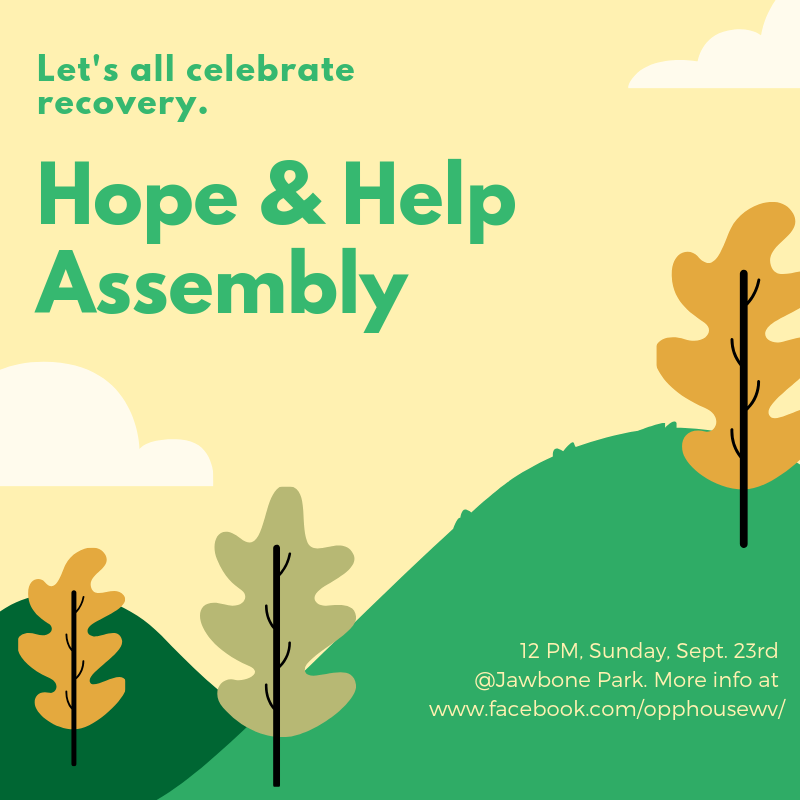 September 13, 2018
BUCKHANNON, WV: Recovery is possible. That is the message that will be shared at Jawbone Park on Sunday, September 23rd. The 2nd Annual Hope And Help Assembly (HAHA) invites those struggling with active addiction, those in recovery, and friends and family members to participate in a day full of supportive personal reflections on recovery, guidance for entering recovery, and local resources to help overcome addiction.
For those in recovery, or hoping to achieve recovery, professionals will be available to offer assistance in a nonjudgmental environment. And for family and friends, community members and service providers will be on hand to offer support, help in making a plan for living with addiction, and advise how to promote recovery with their loved one.
The event will be low-key, with music, yard games, and refreshments. Speakers will include individuals in recovery and recovery organization representatives. Music will be provided by Walter Debarr, Brasstaxx, Zachary Lee, & Bryce O'Loughlin & Friends.
The Opportunity House, led by Matt Kerner, is organizing the event in collaboration with the City of Buckhannon. Kerner, a recovering addict himself, noted that, "One of the hardest first steps–once you've decided that there is a problem, and you want to do something about it–is knowing where to go." David McCauley, mayor of Buckhannon, has had his share of dealing with the addiction crisis as well. His son, Connor McCauley, has suffered from addiction and recently was arrested on drug charges. McCauley urged, "We've got to reduce the stigma so that more people and their support networks will reach out..part of HAHA is "help" and we need to make that more readily available when…this issue rears its ugly face."
Our community is fortunate to have local recovery experts and resources close at hand for those in need, and continues to push for more resources to become available to fight this epidemic. Please join us if you can.


CITY OF BUCKHANNON – MAYOR'S STATEMENT ON ADDICTION
September 6, 2018
We all know that old saying, cliche that it is- "the elephant in the room" and I'd like to address my elephant this evening to begin our meeting.  Yesterday, my son, Connor, was arrested on drug charges.  Connor's battled addiction for the past several years now, and those of you who know me well, know my family has tried to fight the good fight to get him help & end this scourge.  Sometimes when a person is confronted with something so overwhelming, like addiction- there has to be a bottoming out, a wakeup call, an epiphany, a catharsis, whatever you want to call it- before that person can begin to heal.  I'm hopeful that this is my son's wakeup call.
On the one hand, I've been lied to, stolen from, manipulated, schemed against, played- by one of the closest people in my life.  On the other hand, it seems like yesterday that Connor was my little buddy who I reared alone- tagging along going to wherever I was going, reading books together every night before bed, playing baseball and basketball, learning about music and movies, and all of those things that we all try to nurture our kids with.  There is a natural impulse to ponder where I went wrong, that I'm responsible for poor nurturing, that he's the product of my parental mistakes.  I'm trying to avoid making this about me as I try to figure out where we go from here in getting his life straightened out.
On the one hand, I've had so many things taken from me these past few years, tangible things, but also peace of mind- the ability to sleep well at night is a luxury you're not entitled to when you have an addict in your midst.  You're always apprehensive about leaving your home, especially overnight, because you knew coming back, something you treasure will be gone.  You're always waiting for the phone call- THAT phone call, that your son has overdosed and he's been found, but he's gone.  These feelings are always there- gnawing at you, an incurable, omnipresent affliction.  This disease impacts so many other people, other than the addict.  On the other hand- there's this bright, talented, charming guy- a guy who can play any musical instrument well, who can quote famous philosophers and authors, who knows more about music and movies and books than his ole man who introduced him to such things, a super athlete who once represented BUHS as an all-state basketball player and who also performed quite well on the baseball diamond, a guy who's bright and college educated- who should be able to do anything he sets his mind to doing.
Some well intending folks have mentioned to me already that they're sorry for the shame, humiliation, embarrassment that I must be feeling about this situation.  I can only tell you from the deepest place in my heart- that of all of the possible human emotions and sensations- I could not care less about feelings for myself.  I am simply profoundly sad for Connor.  I'm grieving for my son and I lament the bad choices he has made.  I will remain ever hopeful that somehow he will survive this disease and return to playing music, doing wood projects, walking his dog, and getting healthy.  I hope that he's not introduced this disease to anyone else.  I would not wish that upon my most substantial detractor.
I have long been committed to advancing programs to give recovering addicts second, third, fourth, and fifth chances.  That commitment won't end because of this situation with my son, it only invigorates my efforts.  As I've observed on a number of occasions during my time as mayor, this drug epidemic is an equal opportunity plague- it knows no boundaries insofar as race, or gender, or religion, or socio-economic status, or age, or orientation.  If you don't have a family member or friend confronted with addiction, count yourself fortunate as you are blessed.  I apologize for any distraction this causes my mission to do the best job I can for our City, that entity and organization just like all of you- that I so dearly love and will always support.  I promise to continue to work hard to make our community the very best it can be.  Please join me in thinking about everyone who is battling addiction during our moment of silent reflection this evening.