Robbie Skinner: Bio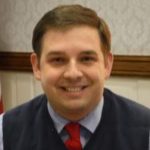 Robbie Skinner, III, Councilor
Current term: 2016 – 2020
A Buckhannon native, Robbie is a 2007 graduate of Buckhannon-Upshur
High School and a 2011 graduate of West Virginia Wesleyan College. He
is currently an insurance agent with Mountain Lakes Insurance Agency
and owner of Mountain State Photography. Robbie is also active in many
community organizations including President of the Buckhannon-Upshur
Chamber of Commerce, Board member and artist at Artistry on Main,
member of Buckhannon City Council, Historic Landmarks Commission,
Southern Upshur Business Association, Create Buckhannon, and Chapel
Hill United Methodist Church.