April Keating recognized as BEST for May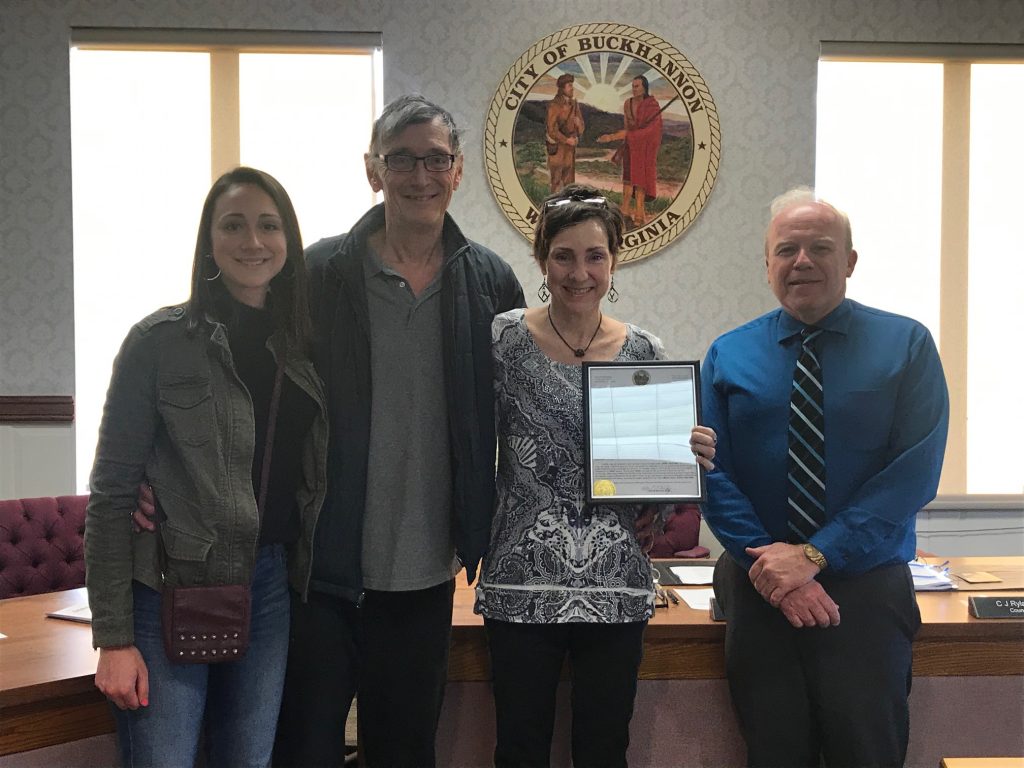 May 15, 2019
BUCKHANNON, WV: Buckhannon brings a sense of home and community to many of us living here now and to those who have spent part of their lives here at some point along the way. April Keating, while not originally from Buckhannon, came to feel at home here and has spent years advocating for clean water and strong communities.
During Thursday's City Council Meeting, the City of Buckhannon recognized Keating as one of our BEST with the Buckhannon Exemplary Service Testimonial award. Keating accepted the award surrounded by family and friends and thanked the council and community following Mayor McCauley's proclamation.
"I found myself welcomed, loved, and appreciated, despite my quirks," said Keating. "I have made lifelong friends and found some of the most generous and loving people, People of beauty and character, right here in this small town. I'm excited about the changes we are making together as a community. I'm excited by the productive energy, and I feel blessed to be a part of it. …
I want to thank Buckhannon, my home."
Keating also shared her connection to one of our state songs, This is my West Virginia, written by Iris Bell, Keating's mother. She hopes the song will be taught in every elementary school one day as part of music and arts education. The jazz tune, exultant in the character of West Virginian's, became an official state song on February 28, 1963, during the state's centennial celebrations (West Virginia Public Broadcasting & West Virginia Encyclopedia).
The City of Buckhannon and Buckhannon Volunteer Center applaud the efforts of Keating and all of our BEST honorees, who demonstrate a commitment to community and service.
Would you like to get involved in our community through volunteerism? Check out service opportunities at the Buckhannon Volunteer Center web database or reach out to Casey Gilbert, Buckhannon Volunteer Center Coordinator, at (304) 472-1651 ext. 1032.
The Buckhannon Volunteer Center is a grant-funded program through Volunteer West Virginia and the Volunteer Generation Fund. Visit the Volunteer West Virginia website to learn about statewide volunteer opportunities.
MAYOR'S PROCLAMATION
WHEREAS, the Council of the City of Buckhannon resolved during its regular meeting of October 18, 2018, to honor from time to time, residents of our Buckhannon-Upshur community who perform extraordinary service while embracing the kind & giving spirit of volunteerism; and,

WHEREAS, Buckhannon has long championed community service & has recognized persons who have given selflessly for the benefit of our City's Fire Department, Stockert Youth & Community Center, & Police Department, but had not until recently- formally recognized others who generally perform many other acts of service & kindness; and,

WHEREAS, with the 2018 establishment of our Buckhannon Volunteer Center, the City Council deemed it to be reasonable & appropriate to henceforth recognize our community's most giving volunteers with previous honorees of the Buckhannon Exemplary Service Testimonial (BEST) Award being Amanda Hayes, Zachary Mutchler, Robin Keough, Shirley Tinney, Bill Nicholson, Dr. Joseph Reed, & Dr. Paul Richter.

NOW, THEREFORE, I, DAVID W. McCAULEY, as MAYOR OF THE CITY OF BUCKHANNON, pursuant to the power & authority duly vested in me, do hereby proclaim as our City's eighth recipient of our Buckhannon Exemplary Service Testimonial (BEST) Award for May of 2019 to be APRIL KEATING. MRS. KEATING is a supreme protector of our environment. In addition to being the founder of Buckhannon's annual RiverFest, APRIL currently serves on the Buckhannon River Watershed Assn's Board of Directors, & is a volunteer water monitor for Trout Unlimited & the WV Rivers Coalition, a lobbyist for clean water at both our state & federal governments, a co-founder and currently president of the Mountain Lakes Preservation Alliance, a past Board member of the WV Sierra Club, a participant in Buckhannon's Community Unity & Kindness Day, the Equality march, the Science march, & other awareness activities. APRIL serves on the board of ICARE (International Cancer Alliance for Research & Education), is a fervent advocate for clean energy adoption & acceleration, a charter member of Create Buckhannon, & a member of SUBA (Southern Upshur Business Assn). APRIL KEATING has helped us all in our B-U community to be happier & healthier in many ways. I direct the establishment of our City's new BEST bench & installation of a permanent placard in Jawbone Park to forever honor & recognize APRIL KEATING & all past & future honorees of our City's BEST award.

I further urge all residents to join our City's most honored guest, APRIL KEATING, her husband, Chip, her family, friends & admirers, & me, along with all members of our City government family during our public ceremony to be conducted at 7:00 p.m. on Tuesday, May 14, 2019 as we honor our City's eighth recipient of our BEST award. We all wish APRIL the best as she continues to work for our B-U community. May every resident be mindful of the importance of community service & giving of one's self & be inspired to give selflessly for the benefit of others as we pay tribute to the many substantial contributions of our exceptional volunteers, including the eighth recipient of our City's BEST Award, APRIL KEATING.

Given under my hand and official seal of The City of Buckhannon upon this 14th day of May, 2019
David W. McCauley, Mayor
April Keating's Remarks following the proclamation:
Media: Callie Cronin Sams, callie.csams@buckhannonwv.org or (304) 472-1651 ext. 1052