ARTcab makes a stop at Stockert Youth & Community Center; Kids in the poster and mural classes create new art for the community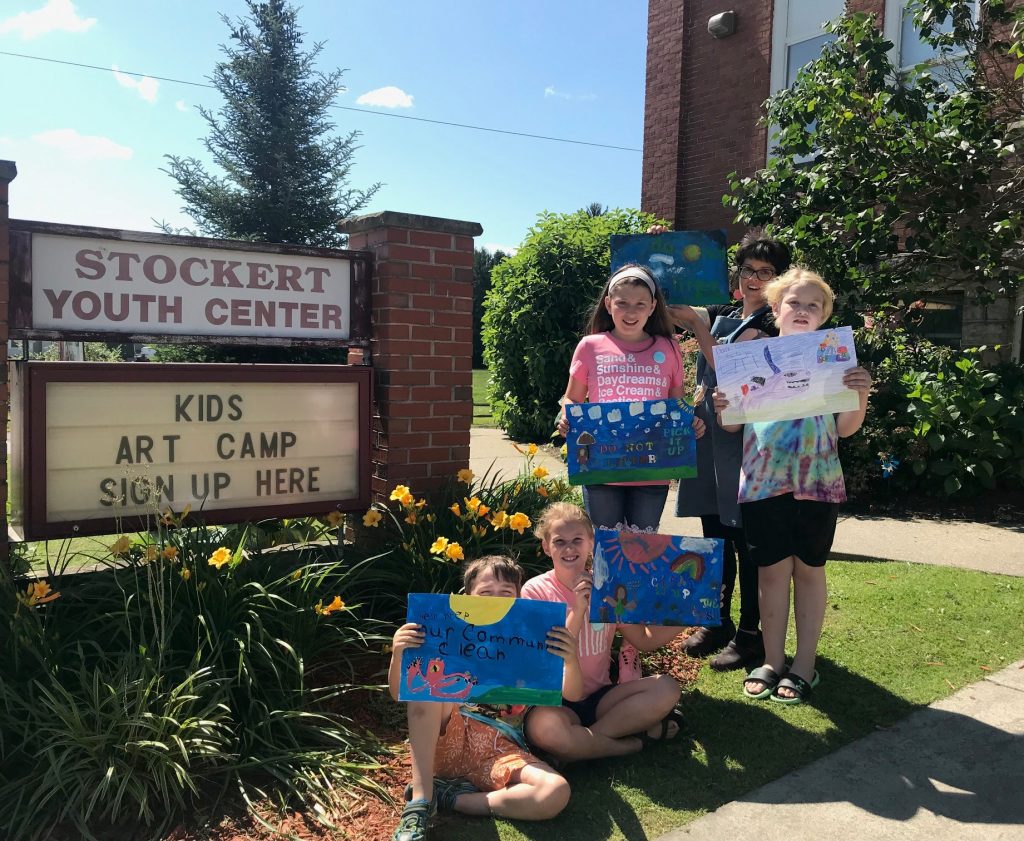 June 14, 2019
BUCKHANNON, WV: This week at Stockert Youth & Community Center, Summer Art Camp poster class participants created anti-litter posters to remind park visitors to put their trash where it belongs–in the trash cans! Meanwhile, mural class students painted a beautiful backdrop for the seating area at the local icon, Dairy Queen. Both classes were presented by Crystal Brown of ARTcab studio in collaboration with SYCC & Dairy Queen.
The kids' posters will be incorporated into anti-litter educational signs that will be installed at Buckhannon City Park, North Buckhannon Park, Stockert Youth & Community Center, Elizabeth J. "Binky" Poundstone Riverwalk Park, and Jawbone Park. The signs and installation will be paid for by a grant from the West Virginia Department of Environmental Protection's REAP program.
Riley Burkhammer, Layla Wooten, Emma Hardy, Eliot Hown, and Diego Espinosa participated in the Poster Making Class, which was one of two art camp classes offered this week, along with Mural Painting. Check out the new mural near Dairy Queen created by Navaira Self, Iris Dean, Diego Espinosa, Eliot Hown, and Emma Hardy!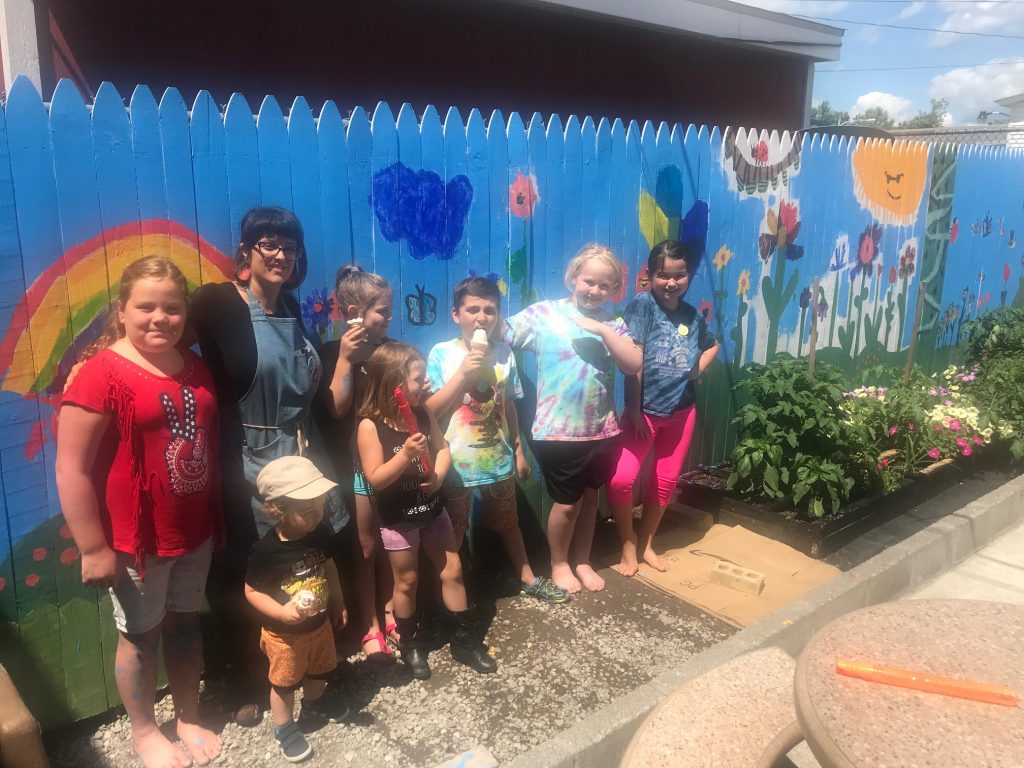 Additional classes will be offered in July and August, including Art & Nature, Pattern Making, Hand Crafts, and Experimental Art. Crystal Brown, artist, mother, and West Virginia Wesleyan College Sleeth Gallery Director, leads the camp and classes. Brown shared, "For the kids, it allows them to be part of something that is bigger than themselves. So, they are working together and understanding teamwork; I keep telling them teamwork leads to dreamwork!"
Brown continued, "The arts is something that is vital to a healthy community, and sometimes we overlook things and take it for granted, but when you start teaching art classes to children, they appreciate it and do not take it for granted. They enjoy being part of something bigger than themselves, and bigger than they had imagined."
Student Emma Harding is new to Buckhannon having recently moved here from Clarksburg, she said, "the class was really fun and I was able to learn more about painting." She also loved getting to meet new friends and invited her friend from Bridgeport down to check out her new home.
Kay Ware of Dairy Queen said that she "loves to see the children involved in the community and creating the mural was a way to get kids involved." She says her next project will be installing a butterfly and pollinator garden next to the mural. Ware already has tomatoes and flowers planted in front of the mural as a beautification and educational project. They will be holding a drawing for a tree this Sunday, so be sure to stop by and see the mural and put your name in for the drawing.
Watch for the new anti-litter signs featuring youth art to be installed at our parks soon, and, remember, please do not litter! If you see someone that does litter, remind them to use the trash bins and do their part to keep the parks clean for all to enjoy.
There is still time to sign up for the next ARTcab classes at Stockert Youth & Community Center! Call (304) 473-0145, email crystal.crystalbrown@gmail.com, or stop in at 79 E. Main Street in Buckhannon to enroll.
---
Media: Callie Cronin Sams, callie.csams@buckhannonwv.org or (304) 472-1651