Buckhannon 2025: Survey and Public Forum this Evening at Public Safety Complex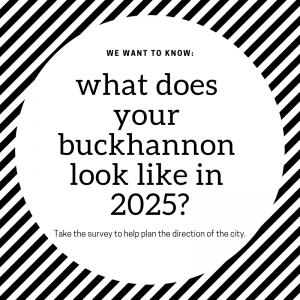 The City needs your input: Please complete survey for Buckhannon 2025 plan and attend a community forum

December 6, 2018
BUCKHANNON, WV: What is important to you as a resident of Buckhannon? The City's Planning Commission needs your input for the Buckhannon 2025 plan and asks that you attend the public forum this evening at 7:00 p.m. at the Public Safety Complex, or complete a brief survey. The resulting plan will guide the future direction of the City, by providing strategic goals and recommendations for City Council actions.
Cities are mandated by the state of West Virginia to create comprehensive plans as laid out in legislative code Chapter 8A. These plans must include citizen participation and "promote the health, safety, morals, order, convenience, prosperity and general welfare of the inhabitants."
A comprehensive plan should also recommend policies and actions that will enhance the "transportation, recreational, educational, cultural opportunities and historic resources" while reducing inefficiencies. The legislative code also puts a value on saving and preserving historic buildings, such as the Colonial Theatre, as part of revitalization efforts and conserving natural resources and parklands.
Curtis Wilkerson, chair of the Planning Commission, stated that "the survey being conducted by the Planning Commission is a key opportunity for the Buckhannon Community to provide input into recommendations for the future of our area.  The Planning Commission will take the data from these surveys as well as public meetings and develop a comprehensive strategy that City Council can use moving forward.  That's why it is vital that we have as many people, both inside city limits and in the greater community, participate in the survey."
For the full text of cod 8A-3-1 (Purpose and goals of a comprehensive plan), please follow the link below.
To complete the brief online survey, following this link: https://www.surveymonkey.com/r/RPYCTL8
All responses will be stored in a private account and remain confidential.
If you have questions, please contact Planning Commission member Susan Aloi at aloi_s@wvwc.edu
WV Legislative Code: http://www.wvlegislature.gov/WVCODE/code.cfm?chap=08a&art=1
Survey as a PDF file: City Planning Survey 2018
—
Callie Cronin Sams, callie.csams@buckhannonwv.org