Buckhannon Community Theatre pledges $25,000 to Colonial Theatre renovation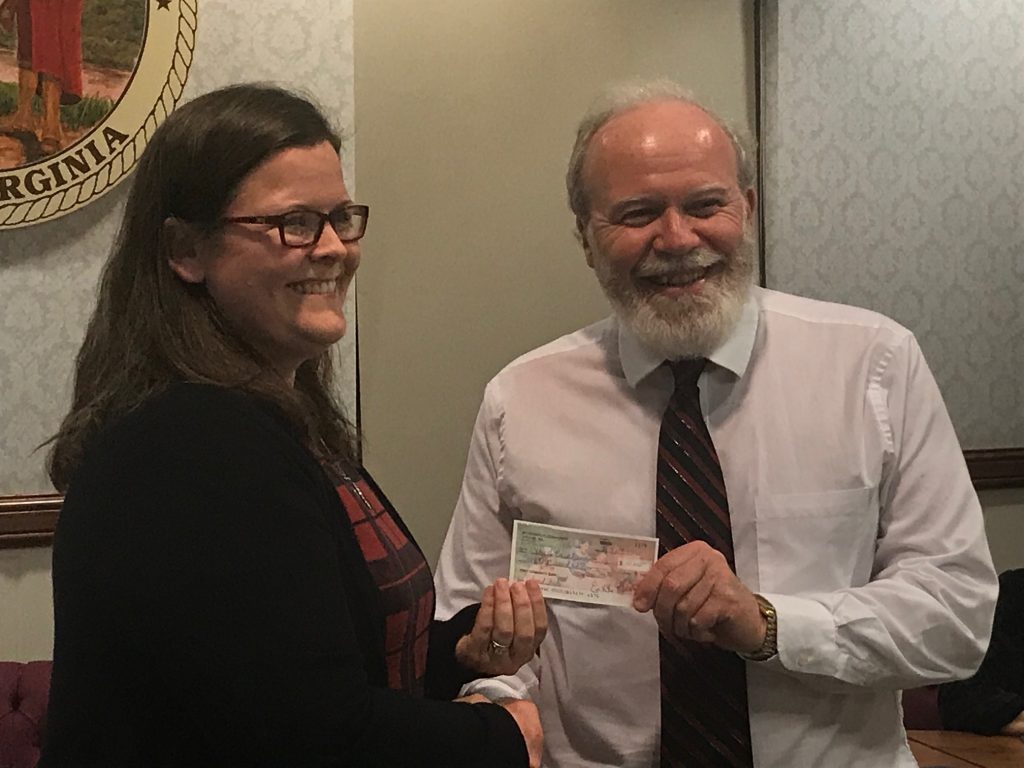 February 8, 2019
BUCKHANNON, WV: Imagine going to dinner downtown, followed by a show at the Colonial Theatre (perhaps with an ice cream scoop at intermission) and a chat with friends over your favorite beverage or sweet treat afterward. The Buckhannon Community Theatre (BCT) and the City of Buckhannon share a vision for a community arts center on Main Street, housed at the historic Colonial Theatre, surrounded by our many shops and restaurants downtown.
Thursday, during the Buckhannon City Council meeting, BCT pledged $25,000 to the Colonial's renovation in honor and memory of Jim Knorr, BCT founder, theatre and music arts educator, and former mayor. The restored theatre will provide a space for theatrical performances, music, dancing, and an art gallery, while providing our B-U children with arts' options galore.
BCT member, Risë Straight Hanifan, presented Council with a check for $10,000 as the first installment of the pledge, sharing that "the gift would recognize BCT's role in the community while honoring Jim Knorr's contributions to both the BCT and the community as a whole."
Mayor McCauley and Buckhannon City Council thanked Straight Hanifan and BCT, with McCauley noting, "Our City's participation with a primary partner like BCT to realize further expansion of the arts, while developing holistic programs for our kids is another one of those things that sets Buckhannon apart from many places in our region. BCT has demonstrated terrific ownership in our theater project, and we will be proud to have them call the Colonial their home for many decades to come while honoring our beloved former mayor, Jim Knorr. Long live Iggy! We all are thrilled with their gracious, financial commitment."
The City has also received significant gifts from the West Virginia Division of Culture & History, ART26201, the McMurtry family, fundraising events, and additional members of the Buckhannon community near and far.
The renovated theatre will provide opportunities for area youth to experience and participate in the arts through lessons, workshops, and performances. Buckhannon Community Theatre plans to utilize the theatre regularly, making the Colonial Theatre their home. ART26201's Young Filmmaker Camp will also utilize the space.
You may donate to the fundraising campaign any time by calling Buckhannon City Hall at (304) 472-1651 or electing to make a recurring monthly contribution via your utility payment. Follow this link for the enrollment form: https://buckhannonwv.org/wordpress/wp-content/uploads/2018/04/Monthly-Recurring-Gift-Form.pdf
Attachments:
Monthly Recurring Gift Form for donations to Theatre, SYCC, floral displays, and Dog Park
—
Callie Cronin Sams, callie.csams@buckhannonwv.org