Celebrate Riverfest IV Online with Us All Next Week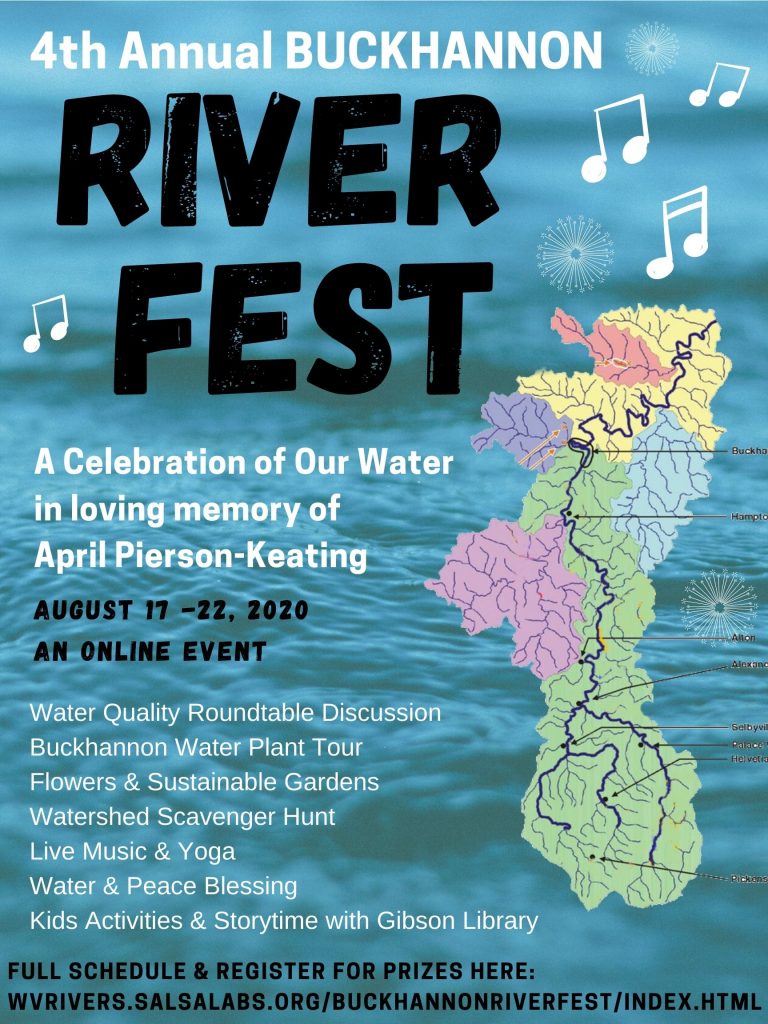 From August 17 through 22, the public has an opportunity to participate in activities celebrating drinking water protection in the City of Buckhannon. Please join us!
August 14, 2020
BUCKHANNON, WV: West Virginia Rivers Coalition, the City of Buckhannon, and Mountain Lakes Preservation Alliance are hosting the 4th Annual Buckhannon Riverfest. In light of the ongoing COVID-19 Pandemic, Buckhannon Riverfest is going virtual! Fun and educational activities will take place online through the week of August 17 – 22, 2020. This year's Riverfest is being held in memory of April Pierson-Keating, the event's founder, who sadly passed away last year after a long battle with breast cancer.
The event is designed as a fun and engaging way for citizens to learn about drinking water protection and local efforts to protect public drinking water supplies and our beloved Buckhannon River. Several organizations and agencies will present online throughout the week to educate the public about how they work to improve water quality and protect drinking water sources. Activities hosted by the City include a virtual water plant tour, sustainable gardens and flowers talk, and storytime at the Gibson Library. Mom's Clean Air Force will present a fun kid's activity about the water cycle. The educational activities will culminate with a roundtable discussion on water quality with WV Department of Environmental Protection, WV Rivers Coalition, Mountain Lakes Preservation Alliance, and Mom's Clean Air Force.
In addition to educational activities, the event also features yoga, live music by Seth Maynard, Carrie and Michael Cline, EMay, and April's son, Pierson Keating. Be sure to register for door prizes and enter the Photo Scavenger Hunt; the winner of which will be crowned the 2020 April Pierson-Keating Water Hero. The event will also feature an interfaith water blessing. All activities will take place virtually to keep the community safe. Go online and get outdoors at a safe distance from others to spend the week celebrating water flowing from the Buckhannon River to your tap. For more information and registration visit: https://wvrivers.salsalabs.org/buckhannonriverfest/index.html
---
Media:
Callie Cronin-Sams, City of Buckhannon, (304) 472-1651, callie.csams@buckhannonwv.org
Autumn Crowe, WV Rivers Coalition, 304-992-6070, acrowe@wvrivers.org
Kevin Campbell, Mountain Lakes Preservation Alliance, kevincampbell0@gmail.com