City of Buckhannon dedicates Sewer Plant to innovative engineer Sam Ludlow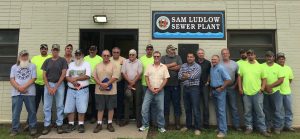 City of Buckhannon dedicates Sewer Plant to innovative engineer and longtime manager Sam Ludlow
 June 21, 2018
BUCKHANNON, WV: Colleagues, family, and friends gathered Thursday afternoon to rename the Buckhannon Sewer Plant in honor of longtime engineer and creative, kind manager, Sam Ludlow. While Ludlow is not retiring just yet, the City wanted to recognize his dedication and ingenuity in managing the storm and sanitary sewer systems for thirty years for the City of Buckhannon and forty-five years of service to the community in various engineering-related roles with the Region VII Planning & Development Council and the engineering firm responsible for the design of the Buckhannon Sewer Plant.
The Sam Ludlow Sewer Plant was constructed in 1987 thanks in part to funding from the United States Environmental Protection Agency (EPA). Since then, the plant, led by Ludlow established a "firm policy regarding control of sewer extensions and has become actively engaged in the construction of extensions, replacement sewers, and storm sewers" (Combined Sewer Operations Long Term Control Plan Update). His leadership and innovative practices allowed a system that normally would reach its lifespan in thirty years, continue to operate with an expected operation for another forty or more years, saving City residents millions of dollars.
Thank you, Sam Ludlow!
—
Callie.csams@buckhannonwv.org
Dedication:
**SAMUEL S. "SAM" LUDLOW**
SAMUEL S. "SAM" LUDLOW WAS BORN ON SEPTEMBER 29, 1946 IN FELTON, DELAWARE, SON TO LOUISE & LOTT LUDLOW.  AFTER GRADUATING FROM FELTON HIGH SCHOOL IN 1964, SAM ENROLLED AT THE UNIVERSITY OF DELAWARE, GRADUATING WITH A BACHELOR OF SCIENCE DEGREE IN CIVIL ENGINEERING IN 1969.  HE PARTICIPATED IN UNDERGRADUATE SCHOOL IN R.O.T.C., & UPON COMPLETING HIS STUDIES AT DELAWARE, PERFORMED SIX MONTHS OF ACTIVE DUTY IN OUR MILITARY SERVICE.  SAM THEN WENT ON TO EARN HIS MASTER'S DEGREE IN SANITARY ENGINEERING AT CORNELL UNIVERSITY IN 1971.
AFTER WORKING FOR TWO YEARS FOR EDWARD H. RICHARDSON & ASSOCIATES IN NEWARK, DELAWARE, SAM TOOK A JOB AS ENVIRONMENTAL ENGINEER WITH THE REGION VII PLANNING & DEVELOPMENT COUNCIL IN BUCKHANNON WHERE HE WORKED FROM 1973-80.  HE PROVIDED VALUABLE, TECHNICAL SUPPORT TO CITIES & COUNTIES THROUGHOUT OUR REGION, BUT BUCKHANNON WAS SAM'S HOME.  FROM 1980-88, SAM WAS EMPLOYED AS AN ENGINEER & OFFICE MANAGER FOR KELLEY, GIDLEY, BLAIR, & WOLFE'S BUCKHANNON OPERATIONS, KGBW HAVING SERVED AS OUR CITY'S PRIMARY CONSULTING ENGINEERING FIRM DURING THAT TIME.  SAM WAS INTEGRAL IN CONSULTING WITH BUCKHANNON CITY OFFICIALS FROM 1973-88 REGARDING OUR CITY'S WATER WORKS, SEWER WORKS, STORM SYSTEM, & DAM PROJECTS.
IN 1988, MAYOR TONY GUM LURED SAM INTO ACCEPTING THE POSITION OF CITY ENGINEER & SUPERINTENDENT OF BUCKHANNON'S SEWER DEPARTMENT.  THE BUCKHANNON SEWER PLANT LARGELY DESIGNED BY SAM LUDLOW, WAS THEN INTENDED TO SERVE OUR COMMUNITY FOR 30-40 YEARS WHEN IT OPENED IN 1987.  THANKS TO SAM'S EXCELLENT STEWARDSHIP OF THIS FACILITY, IN 2018, IT'S NOW ESTIMATED THAT OUR SEWER PLANT HAS A LIFE EXPECTANCY OF AN ADDITIONAL 40-50 YEARS, MOSTLY ATTRIBUTED TO SAM & HIS EXCELLENT STAFF'S OVERSIGHT OF OUR PLANT DURING THE PAST 30 YEARS.  UNDER SAM'S LEADERSHIP, THE "IN-HOUSE" MAINTENANCE PROGRAM OF OUR SANITARY & STORM SEWER SYSTEMS HAVE REALIZED TREMENDOUS EXPANSION INCLUDING 30 MILES OF NEW SANITARY & STORM SEWER LINES & WELL MORE THAN A MILLION DOLLARS OF MATERIAL INVESTMENT IN OUR SEWER PLANT & SUPPORTING PUMP STATIONS.  THE TRUE VALUE OF SAM LUDLOW'S SERVICE & CONTRIBUTIONS TO OUR COMMUNITY IS INCALCULABLE.
SAM MARRIED ANN IN 2003, & HE HAS TWO LOVING & DEVOTED STEPDAUGHTERS IN CECILIA DELOACH LYNN & RACHEL DELOACH PLUNKET.  GIVEN THE IMMENSE OWNERSHIP THAT SAM LUDLOW HAS STEADFASTLY ASSUMED RESPECTING SO MANY EXCELLENT PROJECTS THAT HE HAS OVERSEEN FOR OUR CITY & COMMUNITY DURING HIS 45 YEARS OF SERVICE HERE, BUT PARTICULARLY TO SEWER WORKS & ESPECIALLY TO THIS SEWER PLANT, OUR CITY OF BUCKHANNON NOW & FOREVER ON THIS DAY REDEDICATES THIS FACILITY AS "THE SAM LUDLOW SEWER PLANT" IN PERMANENT TRIBUTE TO THE RICH LEGACY OF OUR VISIONARY FRIEND, CONSULTANT, EMPLOYEE, & SERVANT- SAM LUDLOW- WHOSE SKILLS & LEADERSHIP HAVE VASTLY IMPROVED OUR QUALITY OF LIFE HERE FOR EVERY RESIDENT.
DEDICATED BY THE CITY OF BUCKHANNON DURING THE REDEDICATION OF OUR CITY'S SEWER PLANT – JUNE 21, 2018
-Mayor David W. McCauley