City seeking input through the Bicycle Friendly Community survey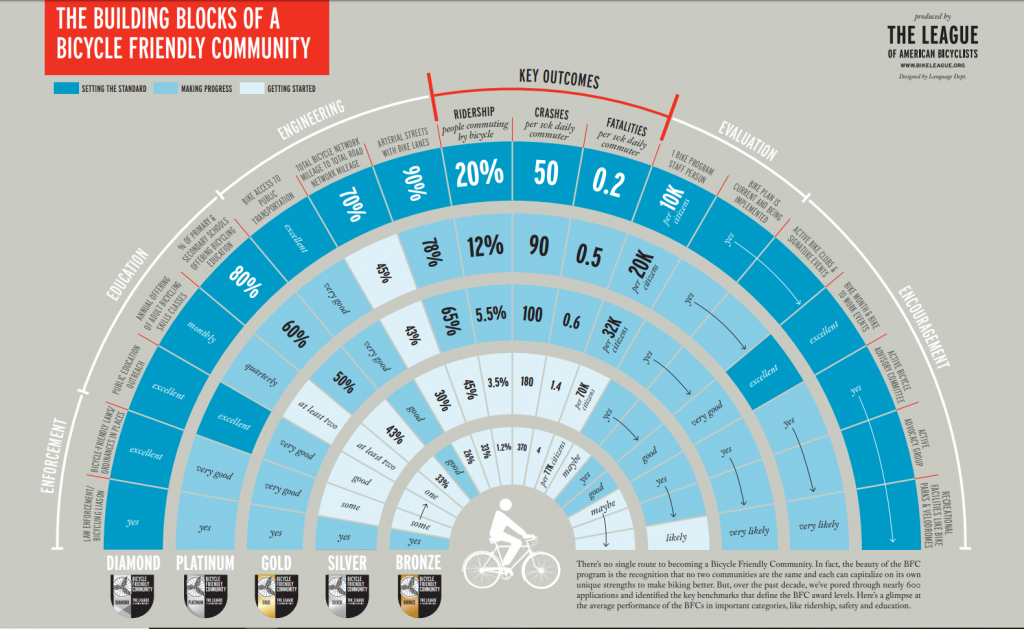 February 26, 2019
BUCKHANNON, WV: Are you a resident or visitor of Buckhannon? Do you bike often around town? Why or why not? We want to hear from you. We have submitted an application to the League of American Cyclists for consideration as a Bicycle Friendly Community. We feel that we have made strides toward bicycle and pedestrian-friendly accommodations in the past years, with the Riverwalk Trail and extensions, bike racks on Main Street, and two-wheel parking spaces on-street facilities as notable accomplishments. That said, we know there is more work to be done.
Please help us become even more bike-friendly by completing the public survey through the League of American Bicyclists:
https://www.surveymonkey.com/r/app_BFC_SP19
The league will compile and analyze the results, which will determine our rating as a Bicycle Friendly Community. Currently, Morgantown is the only city with this designation in West Virginia. Help us become a better community for biking by completing the brief (10-15 minute) survey!
In 2018 and early 2019, the City has made progress through the Traders Alley and North Florida Street sidewalks. Both projects contribute to the Elizabeth J. "Binky" Poundstone Riverwalk Trail system, which connects downtown Main Street to Riverwalk, Jawbone, and North Buckhannon Riverfront Parks. The system also creates a network of pedestrian sidewalks and bike-friendly trails for commuting, recreation, and business accessibility. These projects are aligned with the Complete Streets initiative of the Buckhannon 2020 (and forthcoming 2025) comprehensive planning documents, which provide that our city's street planning and design "help encourage safe and active transportation, decrease pollution, and reduce the incidence of health-related and social issues within the community."
The City of Buckhannon Streets Department maintains 26 miles of streets, 19 miles of sidewalks, seven parking lots, and the River Walk & River View trails, equaling 3,800,000 square feet of paved surface in streets and 400,000 square feet in sidewalks. This considerable infrastructure attracts residents, businesses, and tourists to the City, increasing quality of life and enhancing the local economic environment. Maintaining this vital infrastructure requires a considerable financial commitment, but the benefits far outweigh the investment. After all, where would we be without our streets, sidewalks, trails, and parks?
Learn more about bicycle friendly communities here: https://bikeleague.org/community
—
For questions, contact Callie Cronin Sams, callie.csams@buckhannonwv.org.