Dr. Joseph Reed is our BEST Volunteer for March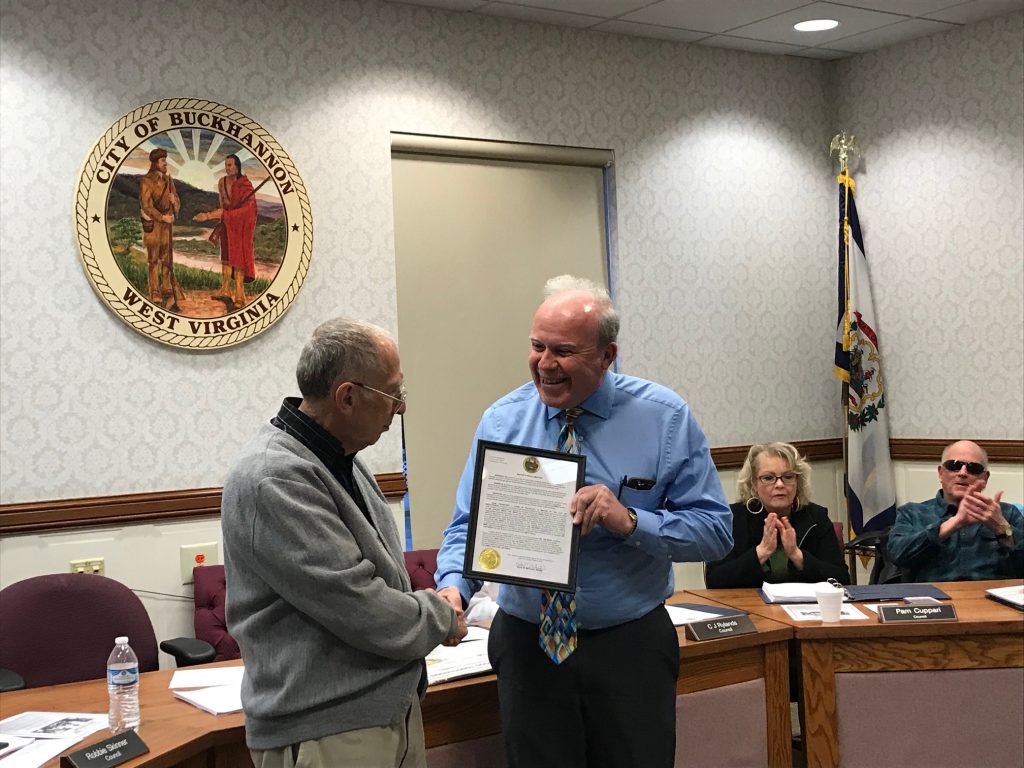 March 22, 2019
BUCKHANNON, WV: At Thursday's City Council meeting, the City of Buckhannon and Buckhannon Volunteer Center recognized Dr. Joseph Reed for his outstanding service to our community. Dr. Reed is a familiar face at community events, always available to lend a hand where needed. Dr. Reed has been especially active with health-related initiatives and recently established the annual Green Bean Celebration, which encourages healthy eating and active lifestyles.
After accepting the award, Dr. Reed shared stories from medical school and then when on to say, "I came to Buckhannon and I celebrate the cooperative efforts of the physicians, (including) Dr Huffman, Allman, Chamberlain, (and) all the other physicians I've worked with here. I grew up in a town where the physicians at the hospital didn't get along together, so I looked very hard around the state for a place.. I was dumbfounded about the lack of cooperation in many places… I've had a good time here. The community has been very supportive, (and) allowed me to do many things that I wanted to do. And, they still do. Then there are some people like Carol Long (She is in the audience. Dr. Reed is giving her a shout out here.) who say they're not getting anything done and they have probably done more than I even thought about. Thank you very much." Applause.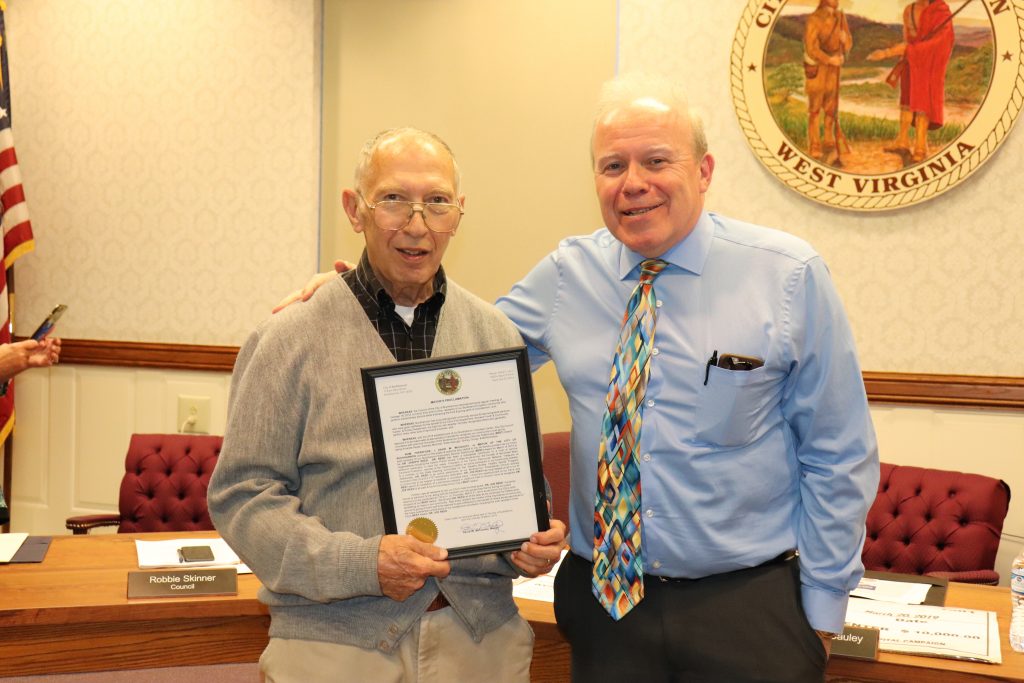 MAYOR'S PROCLAMATION
WHEREAS, the Council of the City of Buckhannon resolved during its regular meeting of October 18, 2018, to honor from time to time, residents of our Buckhannon-Upshur community who perform extraordinary service while embracing the kind & giving spirit of volunteerism; and,
WHEREAS, Buckhannon has long championed community service & has recognized persons who have given selflessly for the benefit of our City's Fire Department, Stockert Youth & Community Center, & Police Department, but had not until recently- formally recognized others who generally perform many other acts of service & kindness; and,
WHEREAS, with the 2018 establishment of our Buckhannon Volunteer Center, the City Council deemed it to be reasonable & appropriate to henceforth recognize our community's most giving volunteers with previous honorees of the Buckhannon Exemplary Service Testimonial (BEST) Award being Amanda Hayes, Zachary Mutchler, Robin Keough, Shirley Tinney, & Bill Nicholson.
NOW, THEREFORE, I, DAVID W. McCAULEY, as MAYOR OF THE CITY OF BUCKHANNON, pursuant to the power & authority duly vested in me, do hereby proclaim as our City's sixth recipient of our Buckhannon Exemplary Service Testimonial (BEST) Award for March of 2019 to be DR. JOSEPH REED. DR. REED has been a substantial contributor to a host of service organizations including the Upshur Parish House, Create Buckhannon, the founder of the Green Bean weekend celebration to feed the needy, President of the Family Resources Network, Treasurer of Farmland Protection, member of the Tobacco Coalition, an active participant in our Community Garden, & a member of the State Steering Committee for the "Healthy Bodies, Healthy Spirits" Program, Additionally, DR. REED is an active parishioner at our Buckhannon Presbyterian Church actively involved in the Church's 170th anniversary celebration. DR. JOE REED has long helped us all in our B-U community to be happier & healthier in countless ways. I direct the establishment of our City's new BEST bench & installation of a permanent placard in Jawbone Park to forever honor & recognize DR. JOE REED & all past & future honorees of our City's BEST award.
I further urge all residents to join our City's most honored guest, DR. JOE REED, his family, friends & admirers, & me, along with all members our City government family during our public ceremony to be conducted at 7:00 p.m. on Thursday, March 21, 2019 as we honor our City's sixth recipient of our BEST award. We all wish DR. REED all of the best as he continues his tireless work benefitting so many in our community. May every resident be mindful of the importance of community service & giving of one's self & be inspired to give selflessly for the benefit of others as we pay tribute to the many substantial contributions of our exceptional volunteers, including the sixth recipient of the City's BEST Award, DR. JOE REED.
Given under my hand and official seal of The City of Buckhannon
upon this 21st day of March, 2019
David W. McCauley, Mayor