J.D. Hinkle, Jr. Terrace Dedication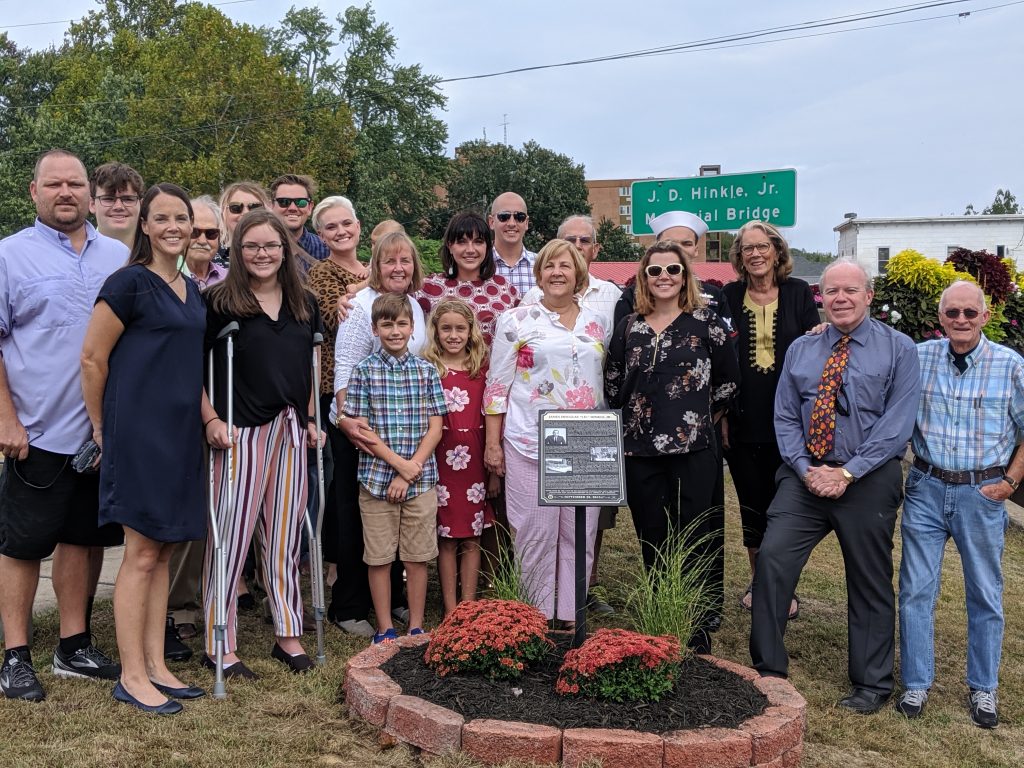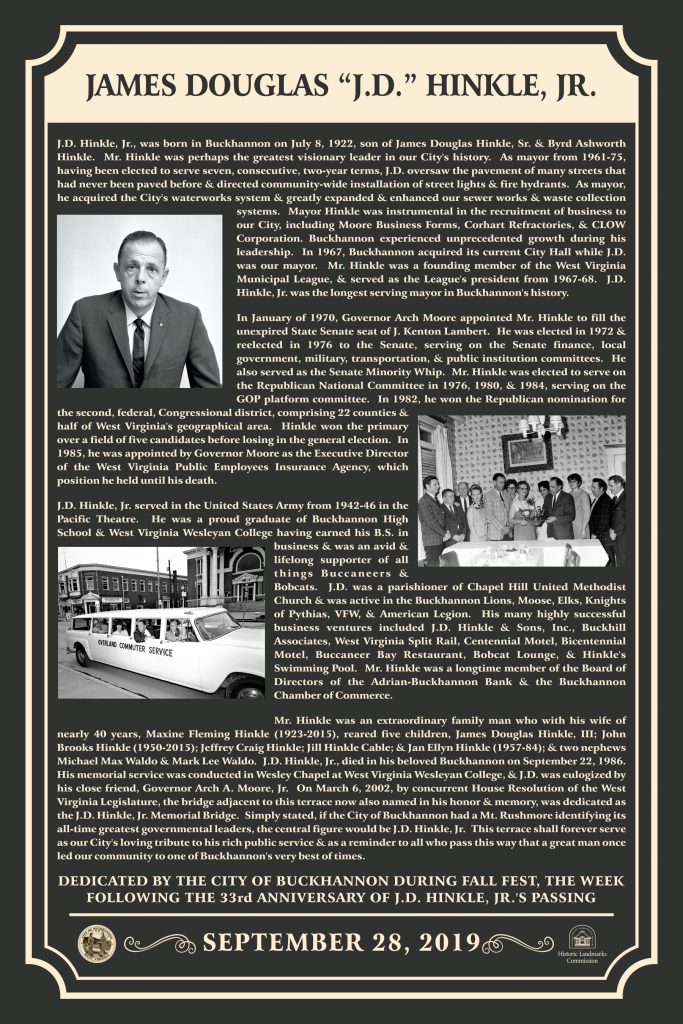 ** JAMES DOUGLAS "J.D." HINKLE, JR.**
J.D. Hinkle, Jr., was born in Buckhannon on July 8, 1922, son of James Douglas Hinkle, Sr. & Byrd Ashworth Hinkle.  Mr. Hinkle was perhaps the greatest visionary leader in our City's history. As mayor from 1961-75, having been elected to serve seven, consecutive, two-year terms, J.D. oversaw the pavement of many streets that had never been paved before & directed community-wide installation of street lights & fire hydrants.  As mayor, he acquired the City's waterworks system & greatly expanded & enhanced our sewer works & waste collection systems. Mayor Hinkle was instrumental in the recruitment of business to our City, including Moore Business Forms, Corhart Refractories, & CLOW Corporation. Buckhannon experienced unprecedented growth during his leadership.  In 1967, Buckhannon acquired its current City Hall while J.D. was our mayor. Mr. Hinkle was a founding member of the West Virginia Municipal League, & served as the League's president from 1967-68. J.D. Hinkle, Jr. was the longest-serving mayor in Buckhannon's history.  

In January of 1970, Governor Arch Moore appointed Mr. Hinkle to fill the unexpired State Senate seat of J. Kenton Lambert. He was elected in 1972 & reelected in 1976 to the Senate, serving on the Senate finance, local government, military, transportation, & public institution committees. He also served as the Senate Minority Whip. Mr. Hinkle was elected to serve on the Republican National Committee in 1976, 1980, & 1984, serving on the GOP platform committee. In 1982, he won the Republican nomination for the second, federal, Congressional district, comprising 22 counties & half of West Virginia's geographical area. Hinkle won the primary over a field of five candidates before losing in the general election. In 1985, he was appointed by Governor Moore as the Executive Director of the West Virginia Public Employees Insurance Agency, which position he held until his death.

J.D. Hinkle, Jr. served in the United States Army from 1942-46 in the Pacific Theatre. He was a proud graduate of Buckhannon High School & West Virginia Wesleyan College having earned his B.S. in business & was an avid & lifelong supporter of all things Buccaneers & Bobcats. J.D. was a parishioner of Chapel Hill United Methodist Church & was active in the Buckhannon Lions, Moose, Elks, Knights of Pythias, VFW, & American Legion. His many highly successful business ventures included J.D. Hinkle & Sons, Inc., Buckhill Associates, West Virginia Split Rail, Centennial Motel, Bicentennial Motel, Buccaneer Bay Restaurant, Bobcat Lounge, & Hinkle's Swimming Pool. Mr. Hinkle was a longtime member of the Board of Directors of the Adrian-Buckhannon Bank & the Buckhannon Chamber of Commerce.

Mr. Hinkle was an extraordinary family man who with his wife of nearly 40 years, Maxine Fleming Hinkle (1923-2015), reared five children, James Douglas Hinkle, III; John Brooks Hinkle (1950-2015); Jeffrey Craig Hinkle; Jill Hinkle Cable; & Jan Ellyn Hinkle (1957-84); & two nephews Michael Max Waldo & Mark Lee Waldo. J.D. Hinkle, Jr., died in his beloved Buckhannon on September 22, 1986. His memorial service was conducted in Wesley Chapel at West Virginia Wesleyan College, & J.D. was eulogized by his close friend, Governor Arch A. Moore, Jr. On March 6, 2002, by concurrent House Resolution of the West Virginia Legislature, the bridge adjacent to this terrace now also named in his honor & memory, was dedicated as the J.D. Hinkle, Jr. Memorial Bridge. Simply stated, if the City of Buckhannon had a Mt. Rushmore identifying its all-time greatest governmental leaders, the central figure would be J.D. Hinkle, Jr. This terrace shall forever serve as our City's loving tribute to his rich public service & as a reminder to all who pass this way that a great man once led our community to one of Buckhannon's very best of times.

DEDICATED BY THE CITY OF BUCKHANNON DURING FALL FEST, THE WEEK FOLLOWING THE 33rd ANNIVERSARY OF J.D. HINKLE, JR.'S PASSING – SEPTEMBER 28, 2019

Mayor McCauley Remarks – Dedication of J.D. Hinkle, Jr., Memorial Terrace during Fall Fest
City Hall – 70 East Main Street, Buckhannon, WV – Saturday, Sept. 28, 2019 – 12:00 p.m.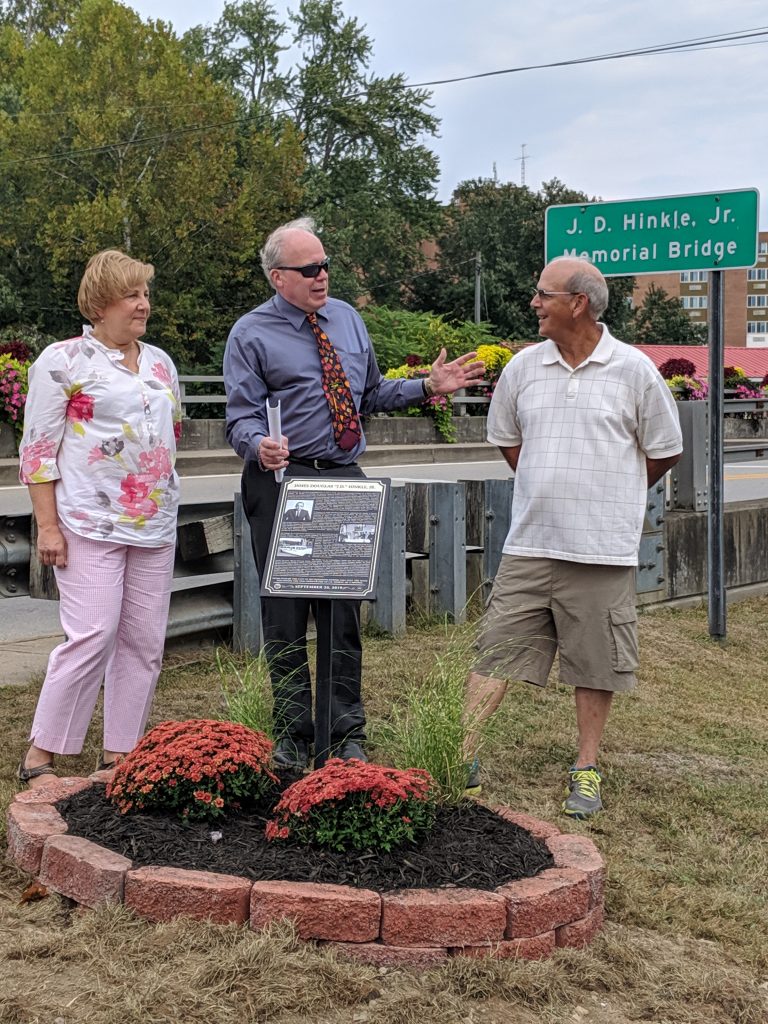 Good afternoon ladies & gentlemen, & welcome to our very special dedication of the J.D. Hinkle, Jr. Memorial Terrace- perfectly situated between City Hall, which Mr. Hinkle was responsible for acquiring for our City back in 1967, & the bridge here that is named for him.
I'm Mayor David McCauley, & it's my extraordinary honor to be able to participate in this ceremony today recognizing a giant, & I would submit the single most important person in Buckhannon's history who undertook more to develop this community than anyone who came before or followed him. About three & a half years ago, our City set out to recognize those historical figures who had brought us notoriety or celebrated persons who started their life's journey here or those who otherwise contributed notably to our high quality of life enjoyed here. J.D. Hinkle, Jr. may not have been famous in the sense that a Ted Cassidy, or Pare Lorentz, or Ace Mumford, or Gray Barker, or Jimmy Pankow is "famous." He wasn't an actor, a filmmaker, a football coach, an author, or a musician, but J.D. was metaphorically the conductor of a great symphony orchestra, the author of a great literary work, & the creator of an epic production.
          When we've performed these dedications in recent years, I usually wait until the very end to read the bio sign legend, but today, I think that's where we need to start.  Please indulge me for a couple of moments while I share the script to the sign that we'll unveil in a few minutes after we hear from others who knew J.D. Hinkle, Jr., well.- (see sign script above.)
DEDICATED BY THE CITY OF BUCKHANNON DURING FALL FEST, THE WEEK FOLLOWING THE 33rd ANNIVERSARY OF J.D. HINKLE, JR.'S PASSING – SEPTEMBER 28, 2019"
I think too often- we drive past things bearing a name, & we don't come to find out about who that person really was, why they were so important. Many people know this bridge as the Hinkle Bridge, there's a sign here. But this sign, this legend- now & forever will tell those of today, as well as those who will follow us- of the greatness of J.D. Hinkle, Jr.
Several folks wanted to be here today but couldn't be with us, including J.D.'s son, Jim, his nephews Mike & Mark Waldo, J.D.'s friend & longtime counselor, Bob Wallace, & former city recorder & mayor Nancy Shobe. Bob Wallace sent this message to me for sharing today- "David- Great that you are recognizing J.D. and all that he did for our City. We all owe him a great deal. Great Mayor, Great Guy, and Great Friend."
Nancy Shobe wrote- "I began my employment with the city of Buckhannon serving as the Mayor's secretary in 1969 and that Mayor was J D Hinkle, Jr. Mayor Hinkle was wonderful to work for. He was a great visionary for the city of Buckhannon and its citizens. He was instrumental in the streets being paved, our water and waste collection service just to mention a few. But I think he was most proud of acquiring our present city hall from the United States government and that made it possible to house not only city hall but the utility boards as well. Both were housed in different locations before that.
When he became State Senator, I also served as his secretary. There is one funny story I like to tell about when he was State Senator and he came to my house one Saturday morning to have me type a letter for him. I lived in a little house on Fifth Street and when I ran the washer it would bounce out into the middle of the floor unless you sat on it during the spin cycle. Well, needless to say, the one Saturday morning J D came by to have me type the letter I was in the middle of doing a load of laundry. I answered the door and told him to come in. I told him I would type the letter once the spin cycle was done. He said, "No you type and I'll sit on your washer", so that's exactly what he did. That's the kind of guy J D was, very down to earth and always looking out for the betterment of Buckhannon and its citizens. I have many fond memories of my time serving him as his secretary. No offense to our current mayor or any past mayor's, but J D was my favorite. I'm sorry I could not be here at this dedication but I feel any way we can honor J D is still not enough for everything he did for Buckhannon while he served as our Mayor and State Senator. Thank you David for honoring a great man today, J D Hinkle, Jr. -Nancy Shobe"
          Next, I'd like to ask former mayor Tony Gum to share his memories about J.D.  Tony- (former mayor, Tony Gum, provided remarks.)
          Mel Hager, former City council member who served under J.D. has asked to bring remarks.  Mel- (Mel Hager remarks)
          I ask Jill & Jeff to come forward & unveil the J.D. Hinkle sign here in our new terrace forever dedicated to his memory-  We all would like to hear from J.D.'s children- Jeff & Jill.  Folks- presentation of mini-bio signs to Hinkle children. (Remarks by Jeff Hinkle & Jill Hinkle Cable)
          Before we close, I'd like to quickly share a couple of my best memories about J.D.  While I only knew J.D. for about three & a half years before his 1986 death- he has had a lasting impact upon my life.  I proudly consider myself part of that J.D. Hinkle, Jr., municipal family tree.  (1) March of 1983 Buccaneer Bay- lunch with Coleman & Wallace/J.D. Hinkle & my decision to come to Buckhannon influenced by J.D.; (2) Hinkle pool party about first of July 1985 following Bill Short's mayoral defeat; (3) Bob Wallace – landfill, aka "dump" story.
Thanks for joining us today to remember J.D. Hinkle, Jr. Enjoy your weekend!