John Young and Marshall Day Proclamation at City Hall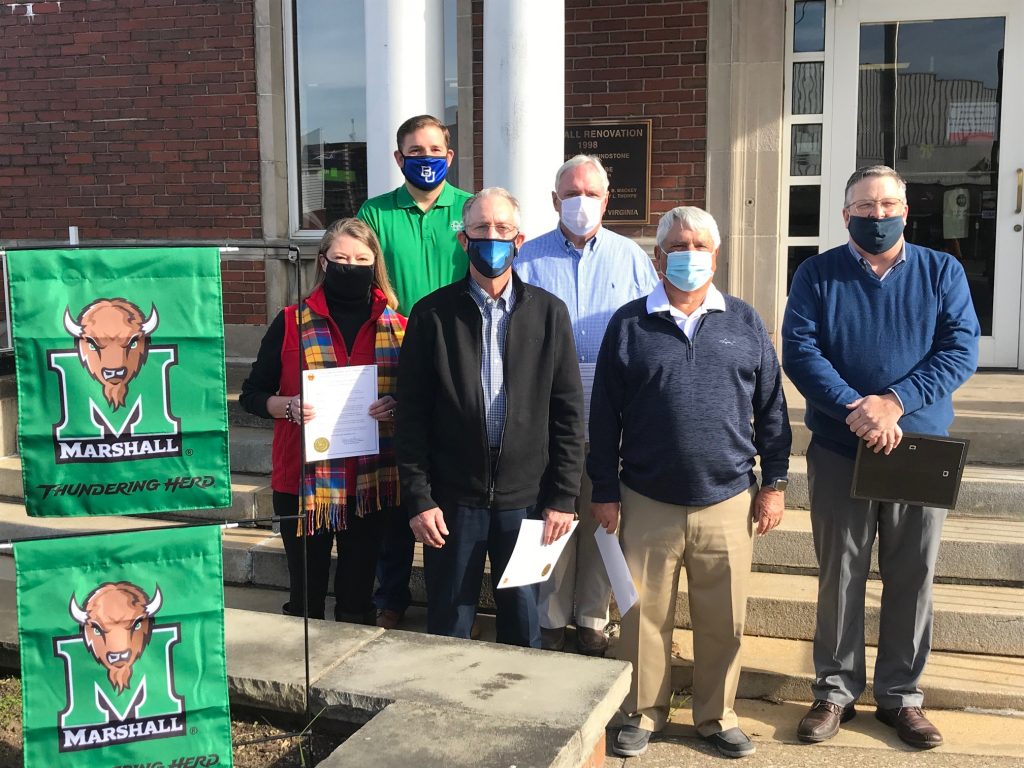 November 6, 2020
BUCKHANNON, WV: Thursday, the friends and family of John Young and the Marshall community joined Mayor Robbie Skinner at Buckhannon City Hall to remember and honor the lives lost during the tragic plane crash in 1970, killing 75 people.
Next Saturday, November 14, 2020, will mark the 50th anniversary of the tragedy.
— News Release from Sharon McNemar and the B-UHS Class of 1968 —
John Young was an exceptional athlete at Buckhannon-Upshur High School, graduating in 1968. He continued his football career at Marshall University as a tight end, # 86. He represented our town with sportsmanship and class.
At 7:36 p.m. November 14, 1970, Southern Airways Flight 932, carrying the Marshall football team, coaching staff, boosters and flight crew crashed into a hill just short of Huntington's Tri-State Airport. John Young was one of the 75 people killed in that crash.
Sharon McNemar, representing the Class of 1968, "The crash sent shockwaves through our community and the nation. We all remember where we were when we heard about the crash. By making this proclamation, we are honoring John Young and all the men and women who made a mark on our hearts."
Marshall University is honoring the football team members by presenting a diploma to their family, Friday. November 13th. John's brother, G. O. Young, is accepting the diploma. Marshall is also having their annual memorial at the fountain, Saturday, November 14th. John's sister, Suzanne Young Hyre, will be placing a rose at the fountain to honor John.
There will be a local memorial at John's grave at Heavner Cemetery, November 14th for his family and close friends.  Attendance will be limited because of social gathering guidelines.  
—
Huntington news broadcaster WSAZ will be broadcasting a special about the Marshall plane crash on November 12:
https://www.wsaz.com/2020/11/06/wsaz-to-air-50th-year-commemoration-special-about-marshall-plane-crash/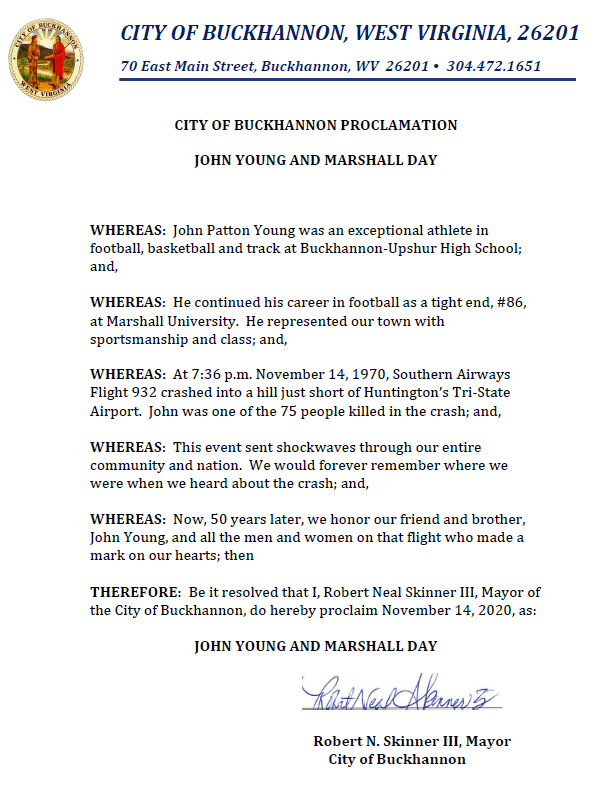 ---
Media: Callie Cronin Sams, callie.csams@buckhannonwv.org or (304) 472-1651