Justin Atwell receives Rookie Water Operator of the Year Award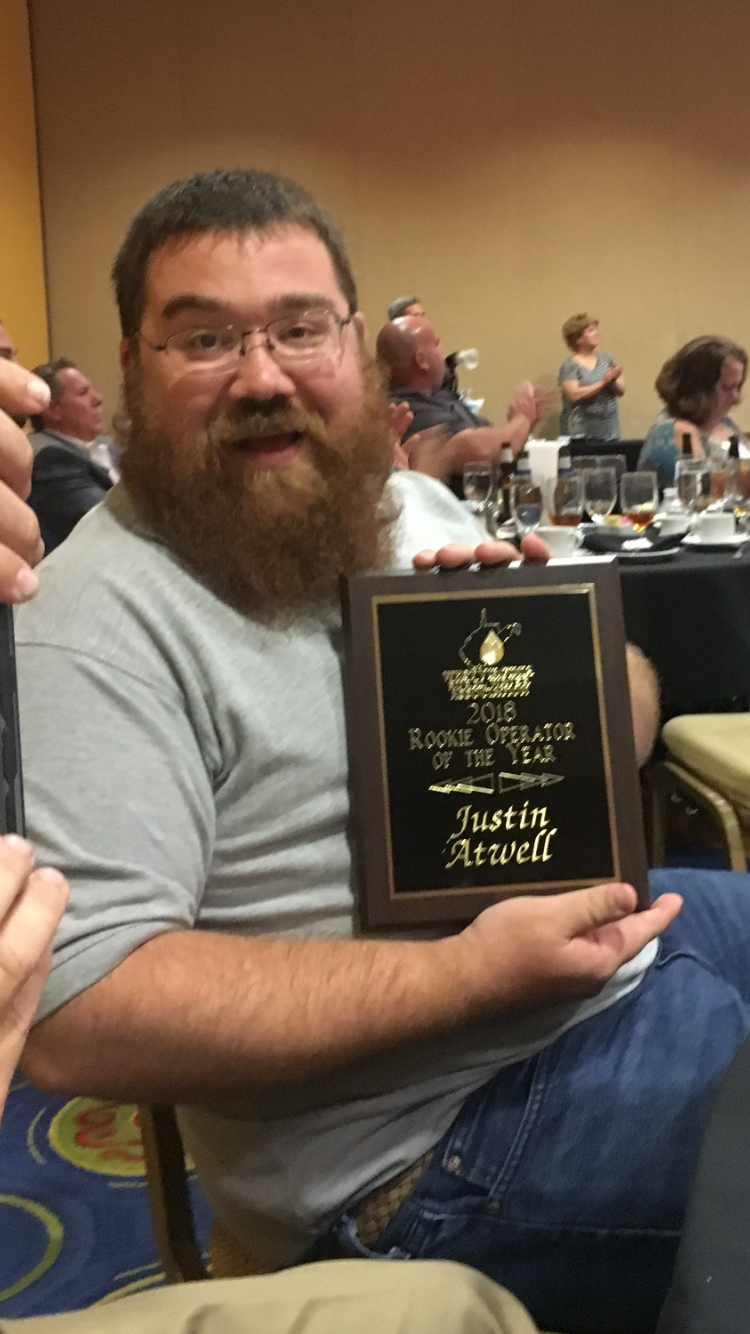 October 4, 2018
BUCKHANNON, WV: The Buckhannon Water Department continues to rack up awards! This time it's Justin Atwell receiving accolades as Rookie Operator of the Year, announced at the West Virginia Rural Water Association (WVRWA) Annual Conference recently in Charleston. The award–voted on by association members–is new for 2018, making Atwell the first-ever recipient. Last year, Buckhannon received an award for "2017 Water System of the Year" through the WVRWA. This spring, the water department won second "best tasting water in the state" through the American Water Works Association, and has previously been recognized for meeting and exceeding all water quality standards.
Atwell joined the Buckhannon Water Department as a full-time customer service representative in June of 2015, after previously working at the department as an intern during college in 2009. In April of 2016, he transferred to the water plant operator role. The Water Department Supervisor, Kelly Arnold, shared that Atwell is "a hard worker (who is) helpful, kind, and respectful toward co-workers and the public." Atwell enjoys spending time with his girlfriend Jen and her two kids, his family & friends, as well as his two dogs. He enjoys reading, listening to music, and loves his job as a water treatment operator. In addition to his regular duties at the water plant, Atwell is currently taking an electrical class to acquire a journeymen's electrician license. This will allow him to receive a class 3 public water treatment license.
The Harley A. Brown Memorial Water Plant and Buckhannon Water Department provide water service to more than 4,000 customers in Buckhannon and surrounding area. The Buckhannon system also provides water to four public service districts in Upshur County, serving over 20,000 customers combined. The water plant maintains equipment with the technology to treat and monitor a maximum of 5.56 million gallons of water, averaging over 2 million gallons per day. The department also maintains 42 miles of water lines serving customers throughout the City and surrounding area. To ensure high-quality service, each water department employee holds a valid water distribution license or plant operator license. The City of Buckhannon Water Department is consistently ranked in the top tier of the state's water systems for both affordability and financial soundness, as well as meeting all health and environmental standards.
West Virginia Rural Water Association
(www.wvrwa.org)
---
For inquiries, Callie.CSams@buckhannonwv.org