Knorr, Buchanan, McCauley provide additional $1,200 to Colonial Theatre renovation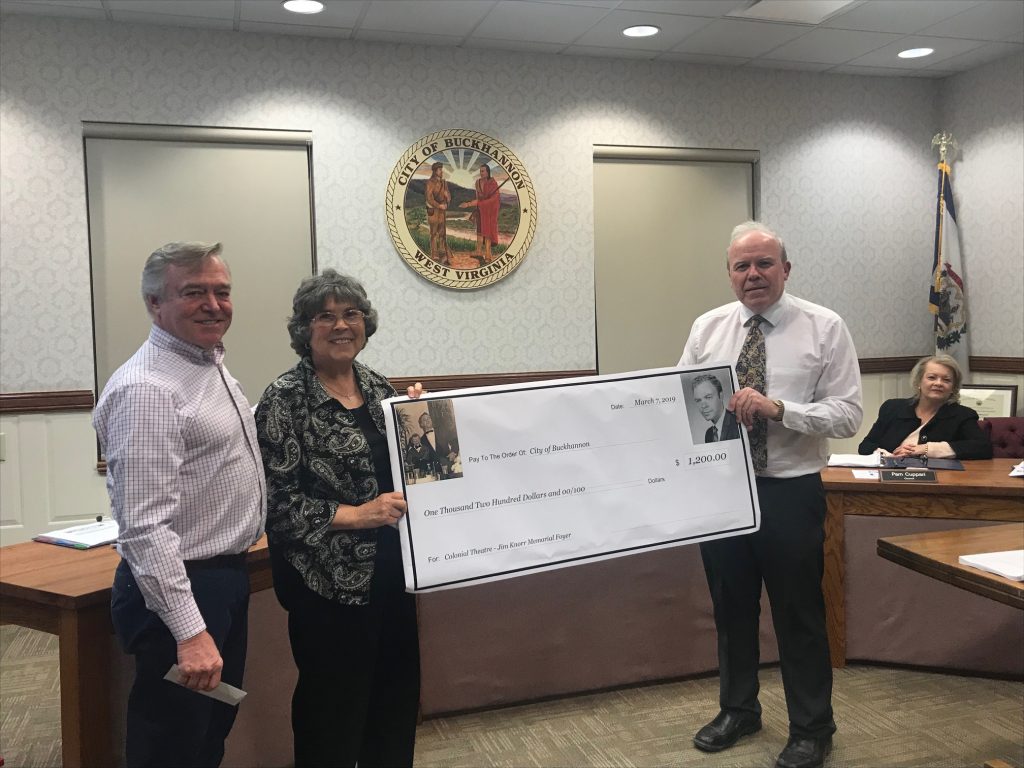 March 8, 2019
BUCKHANNON, WV: At the start of Thursday's City Council meeting, Judy Knorr and Keith Buchanan presented a check for $1,200 to council for the continued renovation of the Colonial Theatre.
The Colonial Theatre, built in 1924, sits between the famous Buckhannon Dairy Queen and the brand new JesterLine Gaming Technologies. The theatre was once a popular entertainment feature of Main Street, showing many films between 1930 and 1980, as the Colonial Theatre and the Cinema V. Then, for many years the facility was operated as a night club and the building fell into disrepair.
The City and partners, especially ART26201 and the Buckhannon Community Theatre, plan to restore the theatre to its former glory and bring arts programming back to Main Street Buckhannon.
You may learn more about the theatre and renovation efforts here: https://buckhannonwv.org/theatre-renovation/

Mayor McCauley's remarks at the City Council meeting:

            Good evening, & welcome to this evening's City Council meeting.  Tonight, I'd like to start out our meeting by remembering the amazing $25,000 gift & pledge made by Buckhannon Community Theatre just one month ago during our February 7 Council meeting in honor and memory of the late Jim Knorr.  Everyone remembers Jim as the founder of Buckhannon Community Theatre, a long-time high school music and theatre teacher, and his decade of service either as a council member or mayor of our town. 
Spurred by that gracious commitment to our Colonial Theatre project, Jim's wife Judy remembered that she had continued to receive statements from another arts' account long maintained by Jim consisting of $864. Judy asked me if she could contribute those funds toward our theatre project in Jim's honor and memory. I committed another $136 toward this amount to get us to a cool grand, and upon learning of this gift, longtime BCT member Keith Buchanan and his wife wanted in on the gift, too, so the Buchanans very kindly kicked in another $200 to make a new, $1200 gift, bringing those contributions toward the Jim Knorr Memorial Foyer at the Colonial Theatre to a whopping $26,200.
I have no doubt that many others within and without our community- former students & fellow performers alike- would like to contribute to this fantastic restoration while honoring the rich legacy of the great Jim Knorr. Please contact City Hall to find out how you can make your gifts while remembering Mayor Knorr.
We are blessed this evening to have Judy Knorr, Keith Buchanan, & I think some Buckhannon Community Theatre &/or ARTS26201 folks with us, and I'll ask all of them to join me in the front of our room. Before we assemble behind the entirely bogus check that City Engineer Jay Hollen created today- I'd like to just utter that famous line that's associated with all things "Jim Knorr" and in tribute to his ventriloquism partner, I won't call him a "dummy"- "Long Live Iggy!"
Judy, Keith? Thanks so much everyone!
Judy Knorr: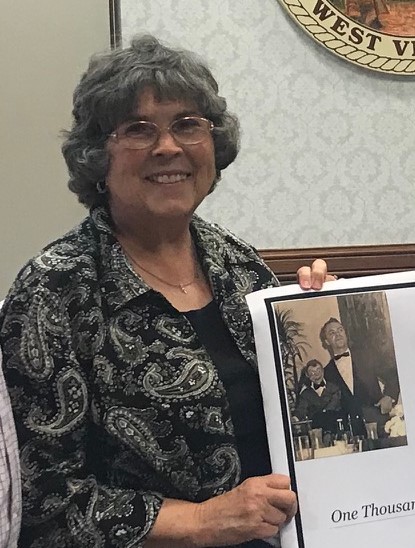 "Jim had a group he called the "Heritage Singers". A lot of them were grads of his choirs and were also in BCT, and when he would be called upon to put on a music program, he would call these people and they would just miraculously show up because they really enjoyed making music just like Jim did. In fact, one Christmas, right in this chamber, (now none of the council members that we performed for then are here (now)), but anyway, we sang and each council member had a little speech that they gave along with the Christmas program. We also sang for different nursing homes, and on the Courthouse steps for the 4th of July, and of course, the 4th of July celebration at the high school football field. So, these were some of the things the Heritage Singers performed for. I asked him one time, "Why did you call them the Heritage Singers?" And he said, "Well, I really didn't want to tell them they're getting old…" (laughter) I'm sure there is some money included in that check from the Night on Broadway. The first two Night on Broadway programs: The first was on the top floor of the (West Virginia Wesleyan College) campus community center, and we had to keep bringing in chairs, because there's not too much seating. And then the college had its new Performing Arts Center and the second Night on Broadway was absolutely the first thing that ever happened on that stage. And that was really something to be proud of. They had a very glossy baby grand, or maybe even grand, piano, and we had to be very careful of that.
My daughter Sherry just called right before I was walking out the door, and she said, "just tell them how much Dad loved working with everyone, he truly loved music, and sharing it with others was his passion." So, I think Jim would be humbled to see what all has happened and to know the foyer (at Colonial Theatre) is named after him. On behalf of Jim and my whole family, I'm very glad that we can do this tonight."
Keith Buchanan:
"This is for the City of Buckhannon, it's in memory of Jim Knorr, and it's for the Colonial Theatre. And the reason is, because great things happen in small towns in America when there is a public and private collaboration. And you say, man, this is the coolest town I've ever been to, that's probably what's happening there. And that is what is happening here (in Buckhannon). This is the latest project in a series of projects. Look at Jawbone Park; that started as an idea. Look at Traders Alley; that's an idea. Look at the mural; that started as an idea. And then people saw what could happen. The possibilities. It's a vision. And everyone who bought it had the same thing in mind. They started with a vision: it took not a few people, it took a collaboration. Every step along the way, the city, public, and private business folks got involved. Even SYCC kids painted the blades of grass at the bottom of the mural. That is an amazing thing; it is a legacy. It's Jim's legacy, BCT's legacy, and what is happening is all because of the fantastic collaboration between the City, and the public, and private sector."
To make a donation to the Colonial Theatre renovation, please call Buckhannon City Hall at (304) 472-1651. You may also make a recurring monthly gift through your regular utility payment. Please fill out this form and return to City Hall: https://buckhannonwv.org/wp-content/uploads/2018/05/Monthly-Recurring-Gift-Form.pdf
Media: callie.csams@buckhannonwv.org or (304) 472-1651.