Main Street Closure Schedule For Holiday Events
December 1, 2022, BUCKHANNON, WV: Main Street will close at 5:00 PM on Friday, December 2, 2022, for the annual Buckhannon Christmas Parade (presented by the Buckhannon Fire Department), with the lineup at 5:30 p.m., and the parade starts at 6:00 p.m.  The parade will travel from Madison Street, north on Route 20, and then down Main Street, ending at the Buckhannon Fire Department where Santa will take a seat in the firehouse for all the kids to visit.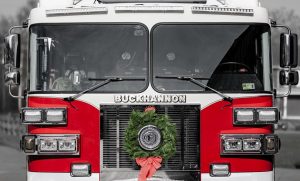 Main Street will close at 1:00 PM on Saturday, December 3, 2022, for the West Virginia Dickens Christmas Festival & Faire, presented by Create Buckhannon, activities, and parade.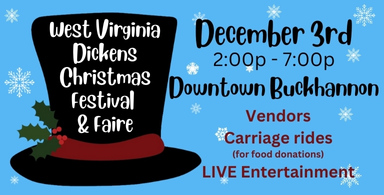 The community is reminded that per City Ordinance, no motor vehicle shall be parked on-street along any street, way, alley, or route which is designated as a parade or procession route. The prohibition is in effect beginning one hour before the start of the parade.  Thank you for your cooperation.