Mayor Skinner and City Council Members Sworn In at City Hall Wednesday
July 2, 2020
On Wednesday, the new and returning members of City Council, including Pam Bucklew, Jack Reger, and Cj Rylands, City Recorder Randy Sanders, and Mayor Robbie Skinner were sworn into office at Buckhannon City Hall.
City Recorder, Randy Sanders, presented an introductory bio for each, with Amby Jenkins reading the introduction for Sanders' swearing-in.
Welcome aboard to all our returning and new City Council members and Mayor Robbie Skinner!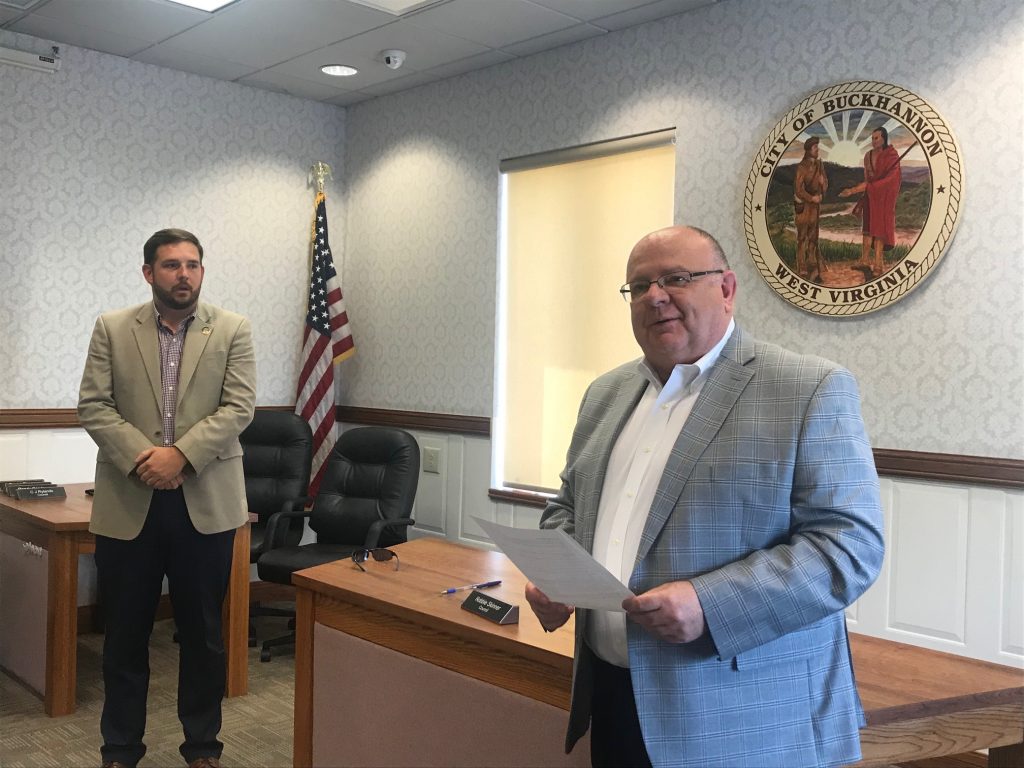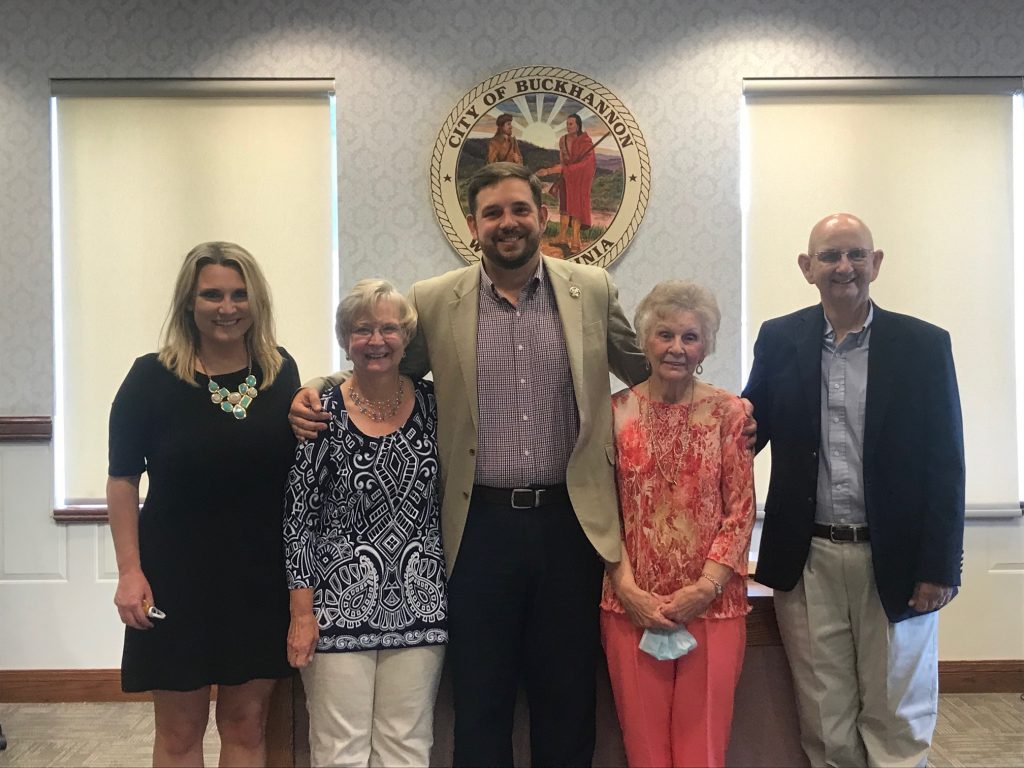 Robert Neal Skinner Ill

Born and raised in Buckhannon, Robbie is a 2007 graduate of Buckhannon-Upshur High School, and a 2011 graduate of West Virginia Wesleyan College.
An insurance agent, he manages Mountain Lakes Insurance Agency located on Main Street. He is also:

An Executive Board member and past-President of the Buckhannon-Upshur Chamber of Commerce;

A member of-

The St. Joseph's Hospital Foundation Board of Directors;

Artistry on Main;

Create Buckhannon;

Southern Upshur Business Association;

The West Virginia Independent Insurance Agents Association Board of Directors;

West Virginia Municipal League;

and, the West Virginia Chamber of Commerce.
Robbie works diligently each day to help make Buckhannon the shining star of the region. From taking it upon himself to clean and paint city streets, to personally donating his time and photography to dozens of local charities, he wears his dedication and spirit of his hometown proudly on his sleeve in all he does.
He has been honored as a "Tamarack: The Best of West Virginia," contributing artist showcasing his photography. He has also been honored by the Buckhannon-Upshur Chamber of Commerce as the 2013 "Businessman of the Year," and most recently, the Chamber's highest honor: the 2019 Upshur County "Citizen of the Year."

Robbie has just completed his first term as a member of the Buckhannon City Council. On June 9, 2020, the citizens of Buckhannon elected Robert Neal Skinner III to a four-year term as the Mayor of Buckhannon.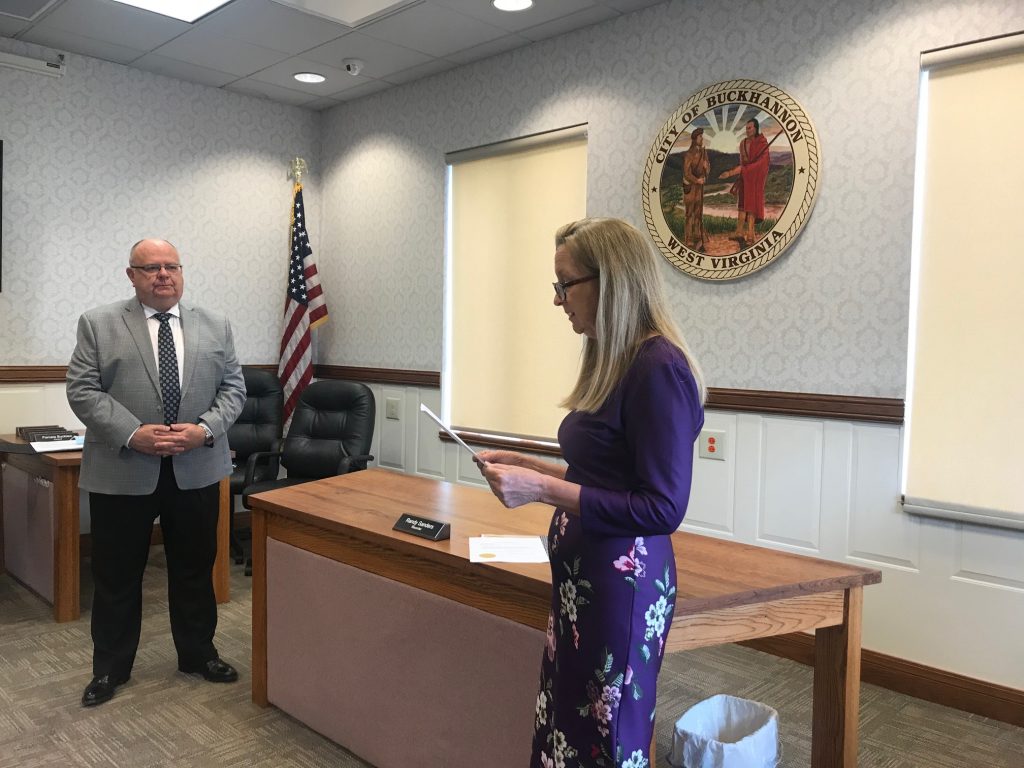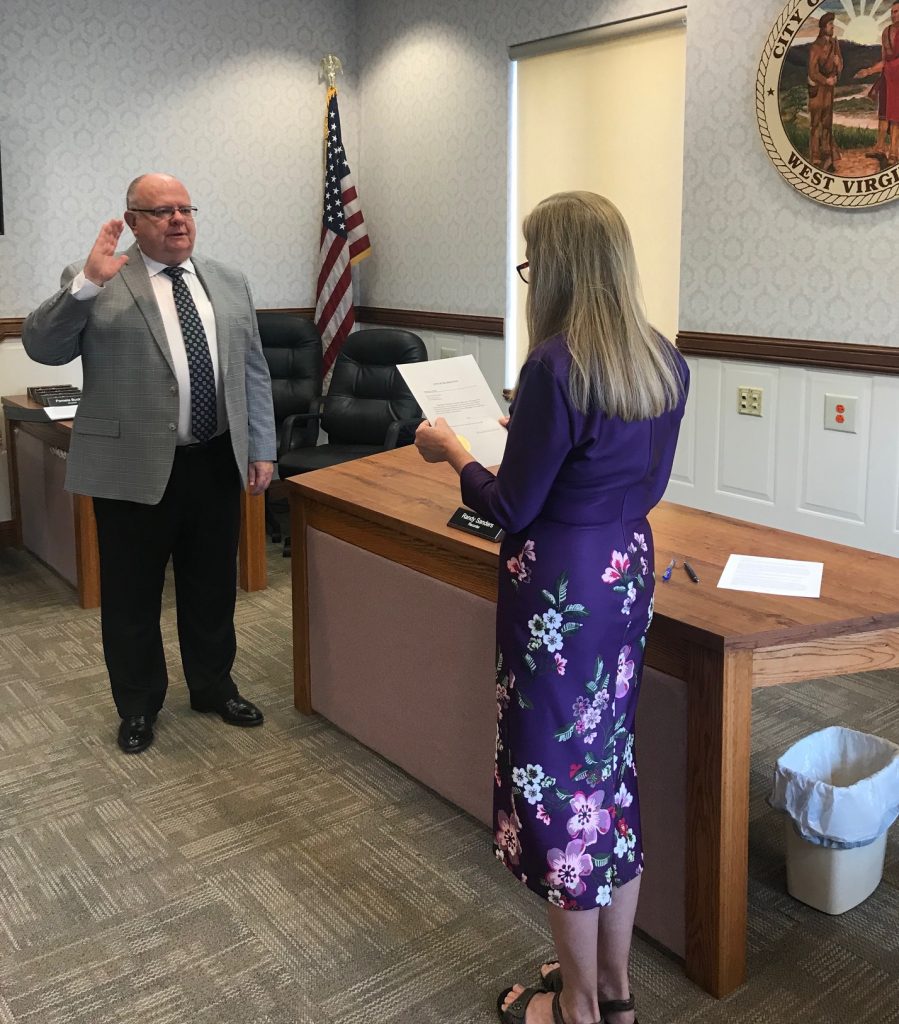 Randy Sanders
A native of Upshur County, Randy Sanders grew up in Rock Cave and moved to Buckhannon after graduating from Buckhannon-Upshur High School with the class of 1976.

It was his work with the West Virginia Strawberry Festival that cultivated an interest in the production of live events, specifically pageantry. In 1987, he accepted a full-time position in the pageant industry; a career in which he still enjoys success as the owner of his own production company, Sanders & Associates, Inc., known more commonly as Pageant Associates. He has produced Miss USA and Miss Teen USA state preliminary pageants in Connecticut, Indiana, New York, Pennsylvania, Vermont, and West Virginia. He recently narrowed down his commitment down to just West Virginia, which he plans to produce here in Buckhannon.

Randy is an active member of the Rotary Club of Buckhannon – Upshur and Create Buckhannon. Additionally, he is a long-time member of the Miss Universe State Directors Advisory Council.

He has concluded one-year as the City Recorder for Buckhannon, having been appointed to fulfill an unexpired term June of 2019.

On June 9, 2020, Randy received 59.3% of the votes cast in a two-person race providing him the opportunity to complete the unexpired term. He will continue as a voting member of City Council and the Stockert Youth & Community Center, and as the Ex Officio Secretary for the Consolidated Public Works Board; Sanitary Board; Water Board; and the Waste Collection Board. He is also a non-voting member and recording secretary for the Animal Care and Control Commission; Fire Civil Service Commission; Historic Landmarks Commission; Housing Enforcement Board; Planning Commission; Police Civil Service Commission; Television Cable Board; and the Zoning Board of Appeals.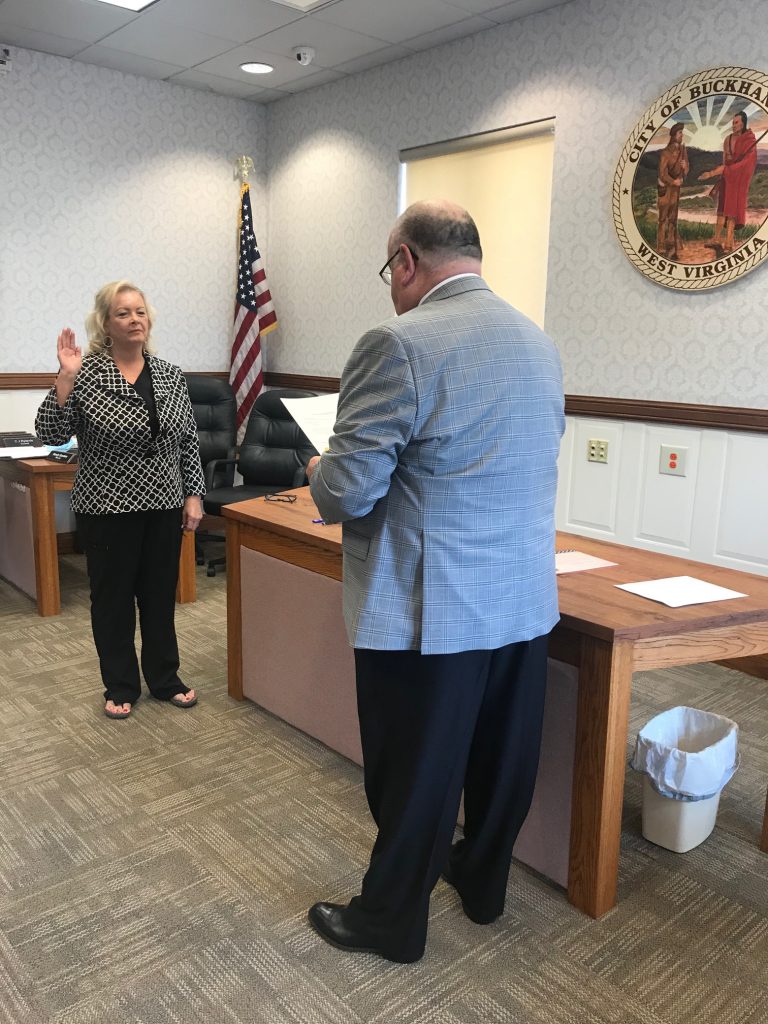 Pamela M Bucklew
Pamela Bucklew, was born and raised in nearby Braxton County, in a family of seven girls and one boy. Being from a large family has taught her integrity, patience and to not be selfish.

After being married and working for the family business, she attended cosmetology school with her then spouse while raising two small children. Being in business for nearly thirty-five years, she has learned to respect all types of people and loves to socialize.

Pam recently married her high school sweetheart from forty-eight years ago, who has retired here from Florida.

Even more recently, she opened her new business, Salon 88, which offers shampoos, cuts, styles, and dye, pedicure, as well as men's haircuts.

Proud of raising a son and daughter who both attended West Virginia Wesleyan College, she also has three granddaughters and four grandsons.

Pam is most proud to have been a servant to the people of Buckhannon for nearly twenty-years. She believes she has supported that which the community stands for.

Her friends would describe her as responsible, reliable, realistic and, most importantly, lots of fun.

On June 9, 2020, Pam received the 2nd largest number of votes cast in the City Council race of 10 candidates and she now looks forward to continuing serving the people of our city for another 4 years.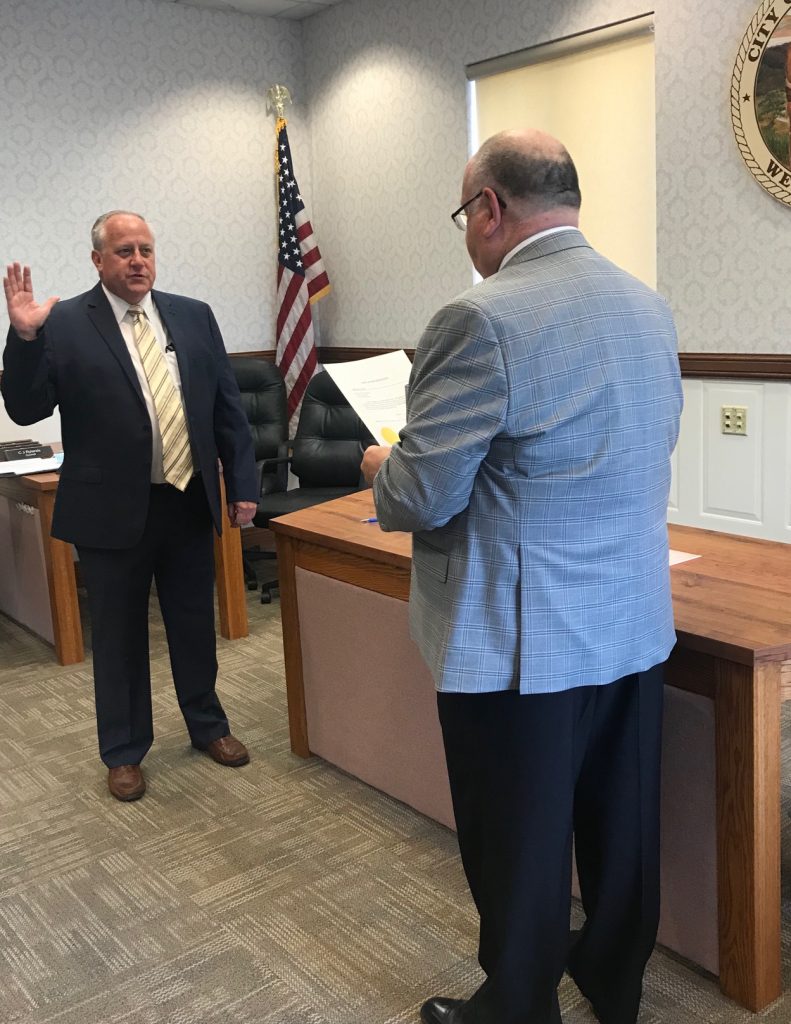 Jack L Reger
Mr. Jack Reger is a native of Buckhannon and a 1976 graduate of Buckhannon-Upshur High School.

He is also a graduate of West Virginia University where he earned both his Bachelor's and Master's Degrees. Jack has served on the City of Buckhannon Planning Commission; is a past member of the Chamber of Commerce, and of the Convention and Visitor Bureau Board. He is an active member of Grace Church.

Mr. Reger is the Chief Financial Officer for MONCO Constructors, Inc. located in Buckhannon, where he has worked since his retirement from Upshur County Schools. Jack served in education for thirty-eight years both administratively and as a classroom teacher. He has overseen governmental regulatory compliance at the local, state and federal levels, personnel and human resources for a workforce exceeding seven hundred employees and has worked with budgets exceeding thirty million dollars.

Mr. Reger also served as consultant and trainer for The Reger Group, a defense contracting company, located in Stafford, Virginia.

Jack is married to Charla Reger. Together, they own and operate the renowned "A Governor's Inn" Bed and Breakfast in Buckhannon. The couple has one son, one daughter and four grandchildren.

On June 9, 2020, the citizens of Buckhannon spoke decisively as Jack received the most votes cast in a 10-person race for 3 seats on Buckhannon's City Council.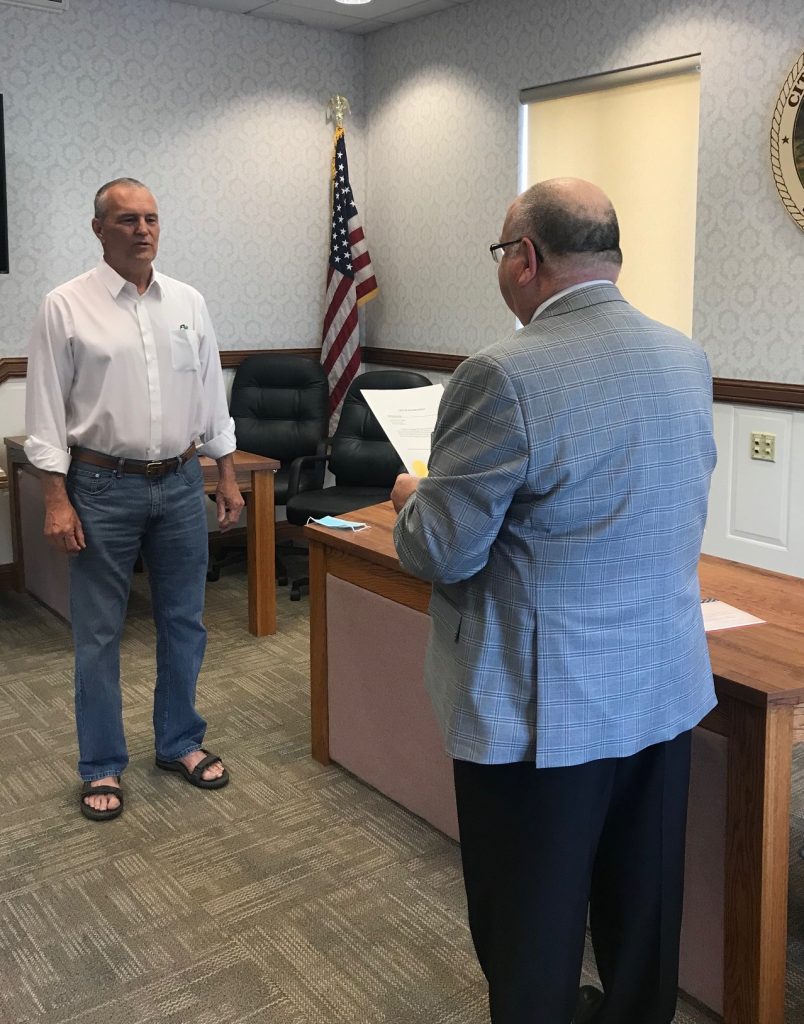 Clifford J Rylands III Cj Rylands grew up in Glenshaw, PA, arriving in West Virginia during the summer of 1970 to attend West Virginia Wesleyan College, where he graduated in 1974 with a major in psychology and a minor in business administration.

Prior to starting his own business, he worked in construction, historic restoration, real estate sales and underground coal mining.

In November of 1992 he and his wife Jeannie bought the Cheshire Cat restaurant in downtown Buckhannon, and opened C.J. Maggie's American Grill. Interesting fact, the restaurant's name is a combination of their children's initials and names. Daughter, Catherine Jean and son, Clifford James IV, both with the initials C.J., and daughter Margaret Leigh who has always been called Maggie. Voila – C.J. Maggies!

In 2006, as part of the Buckhannon Planning Commission, Cj helped develop a new grass roots comprehensive plan for the City of Buckhannon. This launched him into his longtime role as Executive Director of Create Buckhannon, whose mission is to initiate and facilitate the goals and objectives of the Buckhannon 2020 Plan, by partnering with anyone willing to focus on successful outcomes.

His primary interest is in property development and downtown revitalization. He serves on the Board of Directors of the West Virginia Community Development HUB, Buckhannon/Upshur Airport Authority, and Upshur County Development Authority. On June 15, 2020, the results were final with the citizens of Buckhannon returning Clifford James Rylands III to another 4-year term of the Buckhannon City Council.
—
Buckhannon City Council will convene for their next regular meeting, today, July 2, 2020 at Buckhannon City Hall. The meeting will be live-streamed by Channel 3 on their Facebook page. You may submit comments to the Council by emailing buckhannon@buckhannonwv.org.
—
Media: Callie Cronin Sams, callie.csams@buckhannonwv.org or (304) 472-1651.