Mayor's April 16 Statement on COVID-19 and Additional Mitigation Actions Approved by City Council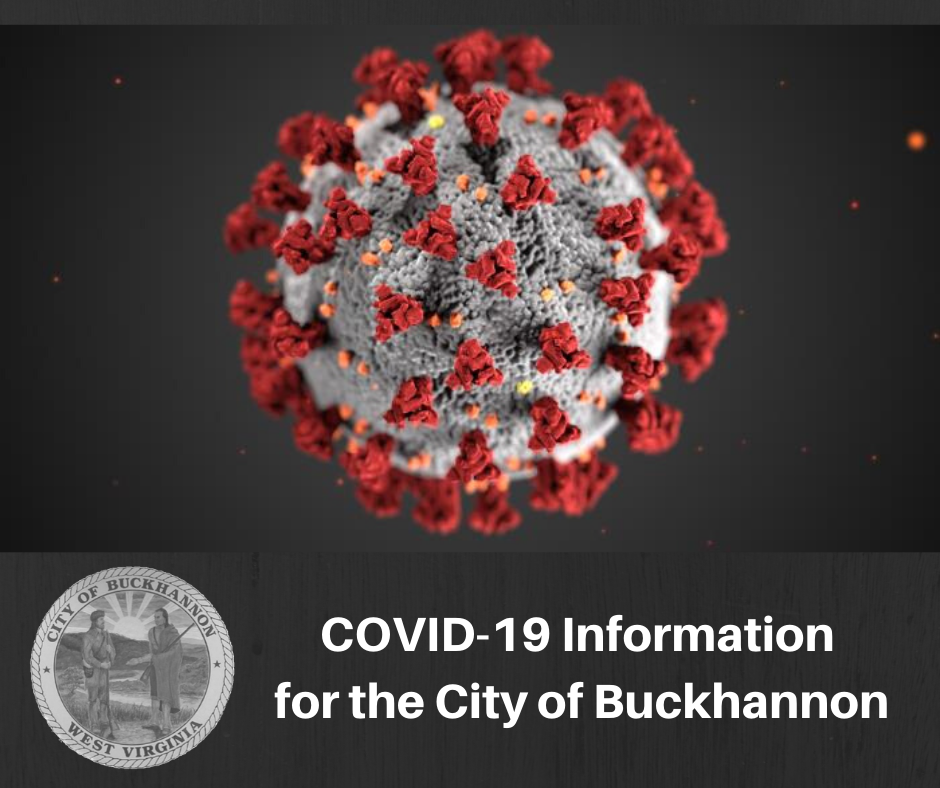 CITY OF BUCKHANNON – MAYOR'S STATEMENT– PANDEMIC, COVID-19 VIRUS
April 16, 2020

Good evening. Once again, our City officials want to reassure the citizens of our B-U community that our City continues to work closely with county & state health department officials, & our primary healthcare providers regarding the threat posed by the corona virus. Testing for the virus is available at three locations in Buckhannon- St. Joseph's Hospital, Community Care, & Dr. Khan's office. We continue to have regular conversations with all of our primary partners. Everyone in our City organization is committed to minimizing as much as possible the threat posed to our citizenry & our staff by covid-19. The twice per week teleconferences with health department, healthcare providers, & county representatives continue, & City officials participate in those discussions. We continue to collaborate & interact as public officials as we collectively address this global health crisis.
I remind our residents that we are all working under declared state & federal emergencies. Our global, regional, & local situation with this virus is very fluid & issues with the pandemic change daily. We remain alert & responsive to federal & state directives & recommendations, processing & acting upon new information daily. One of the new measures our City is about to implement was just handed down today from the State of West Virginia. We have had three positive tests confirmed here in Upshur County. A dozen of our fellow mountaineers have now succumbed to the virus, and more than 700 have tested positively here. More than 31,000 Americans have now died from covid-19, and the total number of Americans who've contracted the disease has eclipsed 650,000, with more than two million cases worldwide. I am recommending the Council's adoption of additional measures this evening that are intended to "flatten the curve" and which will be implemented immediately upon Council's approval. These measures are intended to further minimize the spread of the covid-19 virus. If followed, these measures will help prevent contraction & spread of this virus. It pains me- to recommend our Council's adoption of additional measures necessitated by this plague.
It is imperative that as an organization, that our City continue to offer our most essential services, delivery of utilities- water, sewage, waste collection; & first response from our police & fire departments. In order to assure continuity of all of these services, we need to protect the health of our employees first & foremost while they discharge their important tasks. Also, our citizenry will be better protected from this health threat if they're not out & about tending to non-essential chores. To that end- I am proposing our Council approve the following additional, emergency measures until our state & federal authorities have determined that this threat has passed. These measures are in addition to those approved by City Council on March 13, 19, 24 & April 2, & are intended to be consistent with our federal & state mandates & guidelines.
(1) We have received a letter dated April 9, 2020 executed by all of the members of our police & fire departments.  Our first responders are specifically requesting that our City Council presumptively find that if any member of our fulltime police or fire departments would contract the covid-19 virus & die as a consequence of the virus- that such death would be considered by our organization as a "line of duty" death, thus entitling any fallen member's family to receive benefits coming from the "line of duty" death designation.  There is attached in your packets this evening the April 2020 flier from the Public Safety Officers' Benefits Program regarding the coronavirus/covid-19 update explaining the particulars. We need to approve this presumption this evening for the benefit of all of our fulltime first responders & their families. To avoid any possible misunderstanding, our Council now finds that any fulltime member of our Buckhannon Police or Fire Department who contracts the covid-19 virus, & succumbs to the virus, shall be deemed for all purposes as having contracted the virus while in the "line of duty."
(2) While we excepted Jawbone Park & our River Walk Trail from parks' closures during our April 2 meeting, there have been suggestions that commercial activities could ensue or may resume at these locations.  In the spirit of maintaining social distancing & deterring our residents from coming together in groups, we need to prohibit all commercial activities within Jawbone Park & our River Trail until the states of emergency have been lifted.  This would include but is not limited to the farmers' market activities normally conducted in Jawbone Park. To that end, all commercial activities are prohibited for the duration of the state of emergency in Jawbone Park & at our River Walk Trail. 
(3) With so many of our residents "sheltering in place," & we thank those of you who are staying at home to the maximum extent possible- many have engaged in cleaning & de-cluttering of their homes.  Some have planned yard sales & garage sales. We need to restrict such sales for the immediate future for several reasons. First, we should not send the message that congregating people at sale sites is anything but a bad idea right now.  It would defy the social distancing mandates. Second, the Parish House, GoodWill, & Salvation Army operations are not accepting most non-food stuff, contributions at this time. The Parish House & Salvation Army pantries continue to operate, but the opportunity to leave things for those in need- aside from food – has been suspended indefinitely.  Third, our City Waste Collection crews are not currently engaged in either curbside recycling or bulky goods pick-ups.  Residents need to warehouse their things they seek to discard for future yard & garage sales after the state of emergency has been lifted.  To that end, all yard, garage, patio, attic & similar sales or giveaways of domestic property items is prohibited for the duration of the state of emergency within Buckhannon's corporate limits.    
(4) Pursuant to Emergency Legislative Rule 64-114-1 et seq., entered just today, i.e., April 16, 2020, by the West Virginia Department of Health & Human Resources, "essential businesses" shall permit "no more than two individual members per 1,000 square feet of customer floor space at any given time."  For essential businesses consisting of less than 1,000 square feet, no more than five persons including employees shall be permitted at any given time.  The City of Buckhannon hereby adopts & incorporates this State legislative rule as part of our municipal state of emergency. 
(5) Governor Justice by executive order has reduced the number that is deemed to constitute a "group of people" from 10 to five in a number of West Virginia counties, however, Upshur County has not yet been identified as one of those reduced "group" counties.  Our City will automatically adopt the State criteria- that is, upon the Governor's declaration in Upshur County that any assemblage of people exceeding five in number is mandated for social distancing. To be clear, assemblage of groups of 10 right now continues to be strictly prohibited in all public places.  This directive will be closely monitored by our Police Department & first steps will be to order dispersal of any group exceeding 10 (for now) in number. Refusal to comply with this directive may result in citation issuance.  
(6) Travel by residents of our community to places outside of our community continues to be strongly discouraged.  Similarly, visitors are strongly discouraged from coming to Buckhannon at this time. Simply stated, strong measures need to be taken by all of us to avoid transporting the virus to our community.  We need to consider this as a lockdown moment to minimize the spread of the virus. Simply stated, now is not the time to socialize in person. Please- phone & facetime your friends & family, check in on your neighbors especially the elderly or ill, but do that while socially distancing.
(7) Our City strongly recommends continued, self-quarantine, "shelter in place," measures by all of our citizens to the maximum extent possible until this health threat has passed & the state of emergency has been lifted.  The more we isolate ourselves from others, the less likely we are to contract & spread the virus. Please try to limit trips to the grocery store to once per week. Consider the wearing of masks when in public.
We all continue to appreciate our excellent City staff, the hospital & healthcare employees who are on the front line of battling this threat, the staffs at our grocery stores who are working overtime to stock shelves so that we may all continue to be fed, the restaurants that continue to offer delivery or pick-up food services, & the food delivery efforts of our school system.
We continue to be all in THIS together, & I know as we get through the coming weeks, that we'll remain strong as a community with minimal impact upon the health of our residents.  Anyone having an emergency should contact 911 as you normally would. The best source of information about Covid-19 remains the Centers for Disease Control website.   
Note: All actions proposed above were approved unanimously by City Council with all members voting.