Mayor's Statement on Racism
October 4, 2018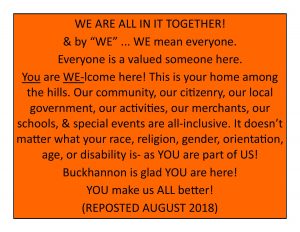 CITY OF BUCKHANNON – MAYOR'S OPENING STATEMENT ON RACISM
I know from the quantity of residents who've weighed in that many of us were alarmed to read this August 31, 2018 post from Jessica Fabbricatore on Facebook. Jessica is a former colleague of mine at Wesleyan & further served on our City's Stockert Youth & Community Center Board of Directors. Here is her post:
"Bear with me because I don't do this ever. I work at the college, and have several black students. I've heard countless awful stories about things that have been said to them or done to them around town over the years when they're just trying to be productive students. Most recently, one student told me that the other day a guy told my student's friends to "go back where they came from," using racial slurs. The guy stood in front of their vehicle so they couldn't leave, and spat in the face one of the friends. All because they were in the same place at the same time, and their skin color didn't match. The whole situation was obviously scary and frustrating.
It's easy to say this doesn't impact you, but is this really how you want the students at Wesleyan (who do contribute to the economy, and volunteer all over town) to live while they're here? Is it how you want them to remember Buckhannon? It's easy to say, "Well, I didn't say it." That may be so, but this is only one incident, and only one person. It happens more than most realize. You wouldn't want your family or friends to feel unwelcome or unsafe. It's easy to say, "I can't do anything about it." You can be a good person though. You can treat everyone with dignity and respect, and encourage others to do the same. I guess I just wanted to provide some food for thought. Racism is alive and well. Racism is in Buckhannon. Recognize it, and try to create a positive change."
I want to be clear about our City government position on such atrocious behavior- we simply will not tolerate it. Situations such as that described by Jessica are despicable and unacceptable. We appreciate everyone who is here, & value all who reside here. Last August, I & others delivered to businesses throughout our city, a little orange sign with a simple message. I had intended to deliver the revised version of the sign last month, but life's events in August disrupted my best intentions, & we all know about the best-laid plans of mice & men. Next week, I will resume delivery of this simple sign with this short message. [Read sign] I encourage us all to prominently display this sign- sending the message that everyone is welcome in our terrific town.
I implore us all to be positive in our collective message that racism, or marginalizing anyone based upon their gender, religion, ethnicity, national origin, disability, age, familial status, or orientation- will not be tolerated here. Our B-U community is better than that. We value & support everyone here, & as a community- we will not put up with anyone being harassed, intimidated, marginalized, or discriminated against. We truly are all in it together- & the "We" means ALL of US-
-David McCauley, Mayor of Buckhannon, speaking at the meeting of City Council, Thursday, October 4, 2018