Mike Ross to community: "Make an investment" in our youth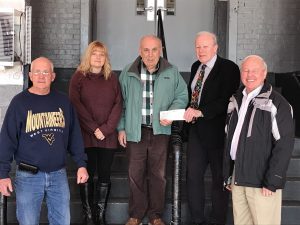 Mike Ross to community:  "Make an investment" in our youth;
Donates $10,000 for Stockert Youth Center expansion
January 19, 2018
BUCKHANNON, WV:  Mike Ross has a challenge for others in the community who are able to donate to the Stockert Youth Center expansion project: donate now, and he will match each donation up to $10,000.
On Friday, Mr. Ross joined Debora Brockleman, Executive Director of Stockert Youth Center, Don Nestor, Stockert Youth Center Board of Directors member, Troy "Buddy" Brady, Upshur County Commissioner and Stockert Board of Directors member, and Mayor David McCauley of the City of Buckhannon, at Stockert Youth Center to present a check for $10,000 for the much-needed expansion. But, there is a catch: his dollars must be matched by other contributions; hence, the challenge to other donors to join the fundraising campaign.
Brockleman noted that the existing facility is heavily used by a wide variety of groups and a larger space is necessary to better serve the community. Basketball, karate, tumbling, yoga, dance, zumba, kickboxing and drill teams all use the facility regularly for practice, classes and competitions.
The center is also utilized during special events, such as the West Virginia Strawberry Festival, Children's Festival, and Fall Fest.  Craft shows and art exhibitions have also displayed in the facility. However, the current space is much too small to house larger events and sports games. Therefore, the Stockert Youth Center Board of Directors plans to create a larger, multi-purpose auditorium, but funding is needed.  Donations of any size are greatly appreciated.
To donate, please call (304) 472-1651 and ask for Amby Jenkins  or go to the GoFundMe page online by following this link: gf.me/u/f8xszf .
—
For questions, contact Callie Cronin Sams, callie.csams@buckhannonwv.org.