No Turkey Trot Near You this Year? Take Your Family for a 5K Thanksgiving Day, and Every Day, Using the Convenient Buckhannon 5K PATH Route with More to Follow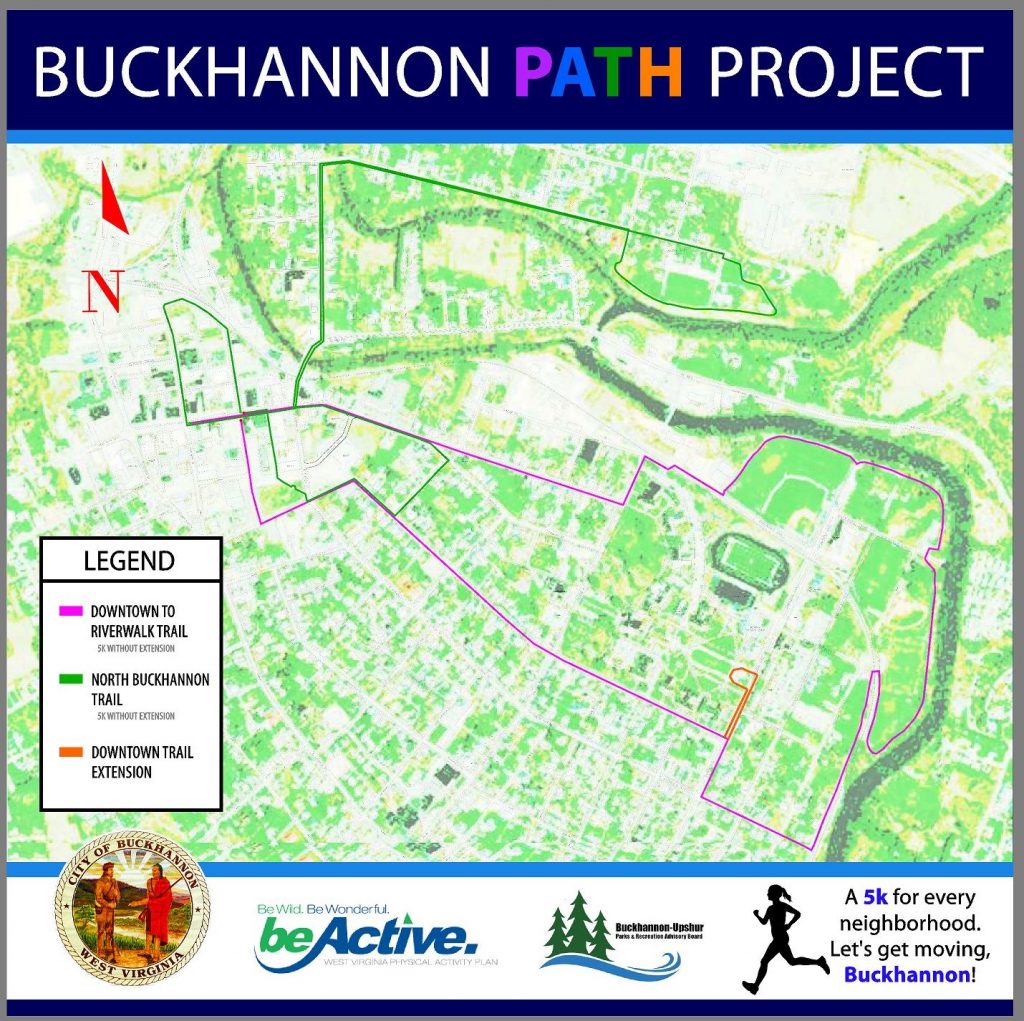 November 25, 2020
BUCKHANNON, WV:  The first of the Buckhannon PATH 5K routes is in place and ready to guide runners, walkers, and rollers from downtown Buckhannon to the Buckhannon Riverwalk Park and back by following the purple PATH markers. Maps, signs, wayfinding markers, and additional routes are on the way soon!
The City of Buckhannon values the physical fitness of our residents and seeks to continually improve our infrastructure to encourage walking, jogging, and cycling. To increase physical activity and improve resident health, we listened to community members at Move 304 and Create Buckhannon for ideas. These conversations resulted in a successful grant application to map four 5K biking, walking, and running routes in the City limits.
Pre-pandemic, the City hosted frequent charity 5K races throughout the year. By creating highly visible routes, more residents will have the opportunity to begin physical training along the routes, possibly leading to participation in 5K races and improved health and wellness.
Host to both an afterschool program and summer camp program, Stockert Youth & Community Center is centrally located on E. Main Street and the hub of the PATH Network. All of the PATH 5K routes will connect to Stockert Youth & Community Center and Jawbone Park, allowing the facility and park to serve as a central trailhead. Once complete, signs with the 5K route maps will be placed at Jawbone, Riverwalk, North Buckhannon Park. Additionally, a map and brochures will be available at Stockert Youth & Community Center, Buckhannon City Hall, and the Charles W. Gibson Library.
According to data found in the Health Disparities in Appalachia report produced by the Appalachian Regional Commission, Upshur County residents report feeling physically and/or mentally unhealthy 4.5 – 6.5 days per month on average. This places the county in the worst national quintile for these indicators. Additionally, 36.2% of Upshur County adults are obese (worst national quintile), and nearly 30% (29.3–second worst quintile) report engaging in no physical activity in a typical week. We must do better in promoting physical activity and healthy lifestyles in our community, and these biking, walking, and running routes will help.
Last year, Jena Fealy, a fitness instructor at Move 304, spoke with City officials about the idea to identify and paint fitness routes that connect to Jawbone Park near their gym. Fealy said, "As a fitness and nutrition coach at Move 304, I am beyond excited to see the Buckhannon PATH Project take shape. I believe giving people the opportunity to walk out their doorstep with a route mapped out for them will be a great motivational factor to get them moving more. I love how the PATH routes also encompass all the wonderful areas downtown Buckhannon has to offer. I look forward to using these routes and I hope I see others utilizing such a great community asset as well."
Create Buckhannon, the highly successful volunteer organization dedicated to positive community development and responsible for the popular "Festival Fridays" series, participated in planning the Buckhannon PATH project. Cj Rylands, Create Buckhannon Director, said the group is happy to continue "working together towards successful outcomes that are in the best interests of the community."
The Buckhannon PATH 5K Project will improve upon the sidewalk and trail infrastructure in our community, increasing opportunities for physical activity for residents and visitors. Doing so will improve the quality of life in our community. The Buckhanon PATH Project is funded through a grant from the West Virginia University Take Back Our Health Physical Activity Community Grant Program.
The City of Buckhannon Streets Department maintains 26 miles of streets, 19 miles of sidewalks, seven parking lots, and the River Walk & River View trails, equaling 3,800,000 square feet of paved surface in streets and 400,000 square feet in sidewalks. This considerable infrastructure attracts residents, businesses, and tourists to the City, increasing the quality of life and enhancing the local economic environment.
---
Media: Callie Cronin Sams, callie.csams@buckhannonwv.org or (304) 472-1651.