November is National American Indian Heritage Month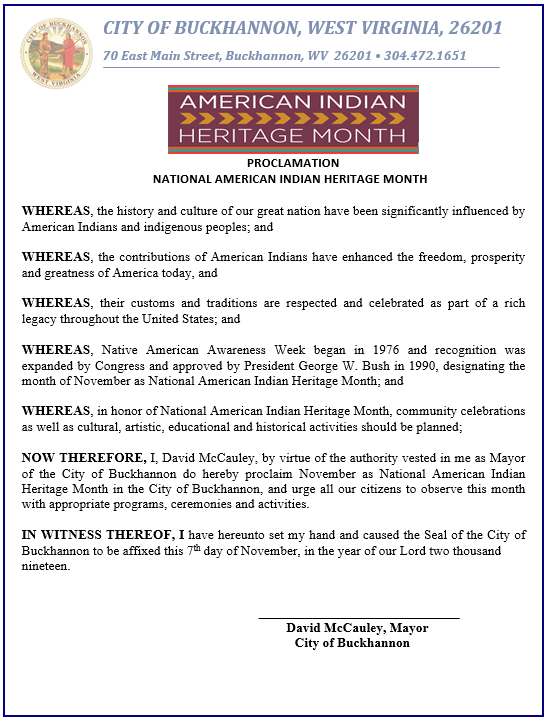 November 7, 2019
BUCKHANNON, WV: National American Indian Heritage Month allows us to learn about the traditions, history, and current initiatives of Native Americans. Delores Wilson and Georgette Ward of the Elizabeth Zane Chapter of the Daughters of the American Revolution joined Mayor David McCauley on Thursday morning to proclaim November as National American Indian Heritage Month in Buckhannon.
To learn more about the history of native people in this area, please visit the Upshur County Historical Society Document Repository and Museum. The Repository is open Tuesday evenings from 6:00 – 8:00 p.m. year-round.
The Smithsonian Institution and other federal agencies and organizations collaborate to celebrate the heritage month on the national level. You may find resources and news here: https://nativeamericanheritagemonth.gov/
The Daughters of the American Revolution offers college scholarships of $4,000 to Native American students. Eligible students may find more information here:
https://www.dar.org/national-society/scholarships/american-indian .
Applications are due on February 15 each year.
The City of Buckhannon welcomes people of all backgrounds to our community and seeks to collaborate with tribes and organizations that promote American Indian history and current initiatives. Please reach out by calling Buckhannon City Hall at (304) 472-1651 if you want to get involved.
---
Media: Calllie Cronin Sams, callie.csams@buckhannonwv.org