Pare Lorentz Dedication at the Theatre Today at 2:00 p.m.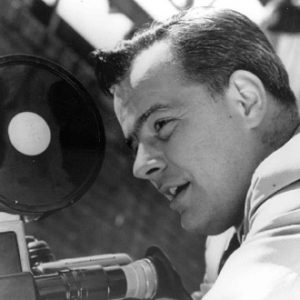 March 5, 2018
LEONARD MACTAGGART
"PARE" LORENTZ
On December 11, 1905, in Clarksburg, West Virginia, was born one of the most acclaimed documentarians in American history.  Pare Lorentz attended West Virginia Wesleyan College and resided here in Buckhannon during most of his childhood.  He later also attended West Virginia University.  During his amazing career comprising several decades, Mr. Lorentz went on to become the official documentary filmmaker for President Franklin Delano Roosevelt.  Mr. Lorentz's parents, Pare Hanson Lorentz and Alma MacTaggard Ruttencutter Lorentz, moved to Buckhannon when Pare was very young.  Pare Lorentz attended Buckhannon schools growing up, and at age 11 enrolled at West Virginia Wesleyan College to take violin lessons.  Mr. Lorentz later enrolled as a fulltime student at Wesleyan, taking classes from 1921-23, but interestingly didn't graduate from Buckhannon High School until 1922.  While at Wesleyan, he mostly registered for American government courses.  Pare Lorentz's biography maintained at the Pare Lorentz Center states that his father was a printer and publisher of high school and college yearbooks while his mother was a professional singer.  The Pare Lorentz Center's site offers this interesting passage about his early life.  "There was always music in the Lorentz home, which led to his lifelong love & appreciation of music; young Leonard studied the violin for 10 years….  He played fiddle in an orchestra & was editor of "Moonshine" [WVU's humor magazine] & a member of an honorary journalistic fraternity "Sphinx."
Lorentz left WVU before graduation and applied his early writing experience for the newly-launched magazine "The New Yorker."  Soon thereafter, Mr. Lorentz adopted his father's first name "Pare" for all future publications and projects.  In 1925, still not 20 years old, Pare Lorentz was promoted as editor of The Edison Sales Builder.  Within the year, he was hired by the popular humor magazine "Judge" and shortly thereafter was named as the magazine's motion picture critic.  Soon he was writing film criticism for the New York Evening Journal newspaper and magazines including Vanity Fair, Town & Country, & McCall's.  Lorentz strongly believed that movies held enormous potential for social justice and education.  In 1930 he partnered with attorney Morris Ernst on the book "Censored: The Private Life of the Movies," assessing the importance of early film.  In "Pare Lorentz & the Documentary Film," biographer Robert L. Snyder wrote, "Lorentz was twenty-five and had been a critic and student of film only two years; yet he clearly revealed a powerful insight into the potential of motion pictures, a potential he was among the first to fulfill in this country."
In 1931, Lorentz married actress Sally Bates, successfully conniving newspaper tycoon William Randolph Hearst to finance his European honeymoon under the pretext that he would interview director Rene Clair in France while also meeting Alfred Hitchcock in England.  Rehired later by Hearst Newspapers, Lorentz was dispatched to Washington to write about spies who were rumored to be lurking in the Roosevelt Administration.  Pare Lorentz was fascinated by the Roosevelt presidency from its inception.  Lorentz authored "The Roosevelt Year" that was published in 1934.  In 1935, Lorentz met with FDR's Agriculture Secretary, Henry A. Wallace, who introduced him to Rexford Guy Tugwell, Roosevelt's chief of the Resettlement Administration.  Tugwell was enthused with Lorentz's film-making ideas, suggesting that they make 18 films.  As the initial subject, Lorentz suggested the Dust Bowl.  With a very meager $6,000 budget, Lorentz's very first film, "The Plow That Broke The Plains," had him serving as both producer & director.  The film premiered was on the second floor of the White House in early March of 1936 and this was the first time that Lorentz met the president.  When the film finished, FDR was brimming with enthusiasm and praised Lorentz during a long talk with him.  The film received excellent press but not wide distribution as many or the larger distributors labeled it as political propaganda.
Discouraged, Lorentz was on the cusp of quitting government filmmaking, however, later in 1936 undertook "The River," about the Mississippi River.  President Roosevelt was greatly impressed, and Lorentz premiered the film in New Orleans and then traveled up and down the Mississippi to promote it.  The enormously positive reviews led to national distribution and a highly successful premiere in Great Britain.  "The River" was entered in the 1938 Venice Film Festival where it received first prize as best documentary becoming the first American film ever to be honored in this category.  The success of "The River" led to the establishment of the United States Film Service.  Lorentz's next major project "The Fight for Life," about infant and maternal mortality in the U.S. was released in 1940.  Dr. Walter M. Simpson, chief pathologist of the Miami Valley Hospital for Research wrote to Lorentz, "Have heard only enthusiastic praise from every good obstetrician.  Generally agreed that it will revolutionize obstetric practice, save thousands of lives & help correct social conditions that contribute to present high maternal and infant morbidity rates."
Lorentz supervised two other important documentaries, "The City" and "The Land," while also creating the radio drama "Ecce Homo!" about unemployment, all while working for the U.S. Film Service.  Lorentz later served heroically during WWII filming more than 2,500 hours of bombing raids to create 200 briefing films for pilots assigned to fly unfamiliar routes.  He was promoted to Lieutenant Colonel.  After the war, Lorentz was commissioned by the War Department to create a film version of the Nuremberg Trials for which he spent years editing more than a million hours of harrowing footage of Nazi atrocities, propaganda footage, and footage of the trials themselves.  It was one of the first films to extensively document the trials of Nazi leaders after the war.  "Nuremberg: Its Lesson for Today," was shown for two years to packed houses in American occupied Germany and other European nations, but oddly and due to changing political tensions was not shown in the U.S. until 1979, despite Lorentz's vehement protests.  Lorentz produced one final film, "Rural Co-op," in 1947 about farmers in Rockingham County, Virginia, before he retired from public life.
Records show that Lorentz had several other ideas for documentary films, but he was never able to obtain the necessary funding to make them.  He remained politically active & in 1955 served as the Washington Post's special correspondent to the First United Nationals Conference on the Peaceful Uses of the Atom.  In 1960 he authored with environmentalist Rachel Carson, the Democratic National Committee's pollution platform.  He also continued to work as a film consultant on various projects and taught at several universities & schools.  Among his many special honors & awards was the Doctor of Letters bestowed upon him by West Virginia Wesleyan College in 1972, the Doctor of Humanities by West Virginia University in 1978, and the Lifetime Achievement Award presented posthumously by the West Virginia Division of Culture & History in 1990.
Pare Lorentz died in Armonk, New York, on March 4, 1992 at the age of 86.  Mr. Lorentz and his first wife, Sally, had two children, Pare Lorentz, Jr., and Matilda Lorentz Grey.  His first marriage ended in divorce and he married again in 1943 to Elizabeth Meyer who also had been an employee with the U.S. Film Service.  Pare Lorentz visited what he regarded as his home of Buckhannon on many occasions.  This placard is installed as a permanent tribute to one of the greatest filmmakers in U.S. history who grew up in Buckhannon and once traversed this very street and perhaps took in a film in our own Colonial Theatre.  Our community will forever remember and cherish his many contributions to our American society.
DEDICATED BY THE CITY OF BUCKHANNON ON MARCH 5, 2018
Learn more at the Pare Lorentz Center website: http://www.parelorentzcenter.org/who-was-pare-lorentz/