Statewide Community Development Think Tank in Buckhannon
October 30, 2019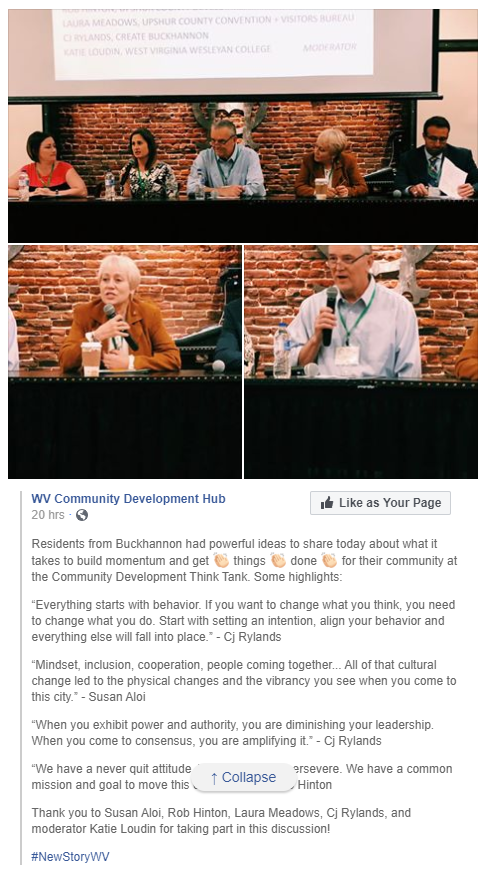 BUCKHANNON, WV: On Tuesday, West Virginians creating positive changes in their communities joined together at the Opera House on Main Street in Buckhannon. Participants at the West Virginia Think Tank shared their successes and helpful resources while planning for a new community development network in West Virginia.
The City of Buckhannon took an active role, not only hosting the educational event, but also by participation via Mayor McCauley's opening remarks and City representatives past and present sitting on a panel discussion that highlighted the downtown transformation as seen in Jawbone Park, Main Street, Traders Alley, and beyond.
Councilor Cj Rylands, who chairs Create Buckhannon, the service organization that has been instrumental in projects such as the creation of Jawbone Park & Festival Fridays among others, discussed how proactive citizens were able to collaborate to bring about positive changes in the community and especially downtown. Create Buckhannon was formed with help from the West Virginia Community Development Hub.
Katie Loudin, Director of the Center for Community Engagement at West Virginia Wesleyan College moderated the discussion, which also included Laura Meadows, Director of the Upshur County Convention & Visitors Bureau, Dr. Susan Aloi, Director of the School of Business at West Virginia Wesleyan College, and Rob Hinton, Director of the Upshur County Development Authority.
You can get involved with the Hub and keep up with the latest developments in community development in West Virginia here: http://wvhub.org/blog/ .
Mayor Greetings – WV Community Development HUB Meeting
The Opera House, East Main Street, Buckhannon, WV – October 29, 2019 – 9:00 a.m.

Good morning ladies & gentlemen, & a very special welcome to all of our friends & colleagues with our West Virginia HUB. It is Buckhannon's distinct pleasure & honor to have you all here in our beloved "Sunnybuck" for the Hub's conference. Perhaps we're best known around our State as the place where West Virginia College is located, or maybe it's the venue of the Strawberry Festival, or it could be you've heard about our flower & landscape program, or our terrific public arts program- but however it is that you know about Buckhannon, it all comes together amazingly well here for us to produce one great town that's right here in the near epicenter of West Virginia.

We hope you'll enjoy your time here in the newly completed Opera House. Before you head back home, be sure to pose for a photo with Lurch, Ted Cassidy once resided here in Buckhannon, & attended Wesleyan. Be sure to check out the City Seal mural, the Evening Star mural, & the rooster mural on the side of CJ Maggie's restaurant. The monkeys mural, the sails' fence, & the four newly installed Charley Harper murals may all be enjoyed in the middle of our newest project, Trader's Alley, that connects Main Street with Jawbone Park. In Jawbone Park, you'll find the highly acclaimed sculpture of Buckongahelas & Mahonegon created by the late Ross Straight, one of our most acclaimed artists, & the ginormous French Creek Freddie statue.

Peek in at our City owned & operated Colonial Theatre that hosted four performances of Buckhannon Community Theatre's production of Dracula this past weekend. It was operated from 1973-80 by the most famous UFOlogist, Gray Barker, who produced the books that led to the movies, Men in Black, the Mothman Prophecy, & the Philadelphia Experiment. We also have a dedication there to Pare Lorentz, FDR's documentarian who grew up in Buckhanon & attended Wesleyan. Jimmy Pankow, the world's most famous trombonist of the rock band with horns, Chicago, & who created the rock opus, "A Ballet for a Girl in Buc[k]hannon" about his girlfriend Terry Heisler who left him to attend Wesleyan way back in 1968 is recognized in Jawbone Park. Our City operates its own Stockert Youth & Community Center & we manage a fleet of busses to bring our kids there for after-school programs. If you find your way to campus, you'll be heartily welcomed by our college community. Wesley Chapel features the largest sanctuary in West Virginia & is well worth the five block walk amid the most beautiful campus around. Pop in at Fish Hawk Acres, Stone Tower Brews, CJ Maggies restaurant, the ¾ Cafe, Mama Roma's, Pita My Heart, the 88 Restaurant & lounge, or Don Pacos to name but a few. Standing in front of the Opera House, there are 24 eateries within a 2,000 feet walk. Check out some of our specialty retail establishments such as Buckhannon's mini-Tamarack "Artistry on Main" or Main Street Antiques, or catch a quality show on weekends at the Lascaux micro theatre.

There is a feeling of fullness as you walk our Main Street. With the recent headquartering of Community Care & Orion Strategies here, coupled with new construction of the Innovation Center & Citizens' Bank, & 20 or so deluxe apartment units in the upper floors of a number of our downtown buildings- Buckhannon has realized nearly 20 million dollars of development during the past four years alone. It may be tempting to observe our town's successes from an outcomes' perspective as we tell our story- but as or more important to our growth is citizen engagement through Create Buckhannon, ART26201, Buckhannon Community Theatre, & others.

The nurturing of inter-organizational relationships as our City's mission is to create success with our partners is at its core- the recipe for success. Last Friday evening at 10:00 p.m. we somehow crammed more than a hundred folks in an alley who enjoyed the dedication of our newest art. Virtually every performance of BCT's play this weekend sold out. Last night we had a hundred folks participate in our inaugural zombie walk as kids 5-12 got their zombie groove on from the Colonial Theatre to Jawbone Park. Tonight we'll do the 13+ version. Plugging kids into our formula is critical to our successes, because if you involve & engage your kids- we know we will retain some of them. Fun- is a key ingredient to our developmental stew.

Again, thanks for being here. We appreciate each of you being in our Buckhannon, enjoy a terrific conference-