Stockert Youth & Community Center's new MultiPurpose Facility receives $100,000 Gift from Citizen's Bank; SYCC Board aims to begin Construction of the newly minted Citizens Bank Arena later this year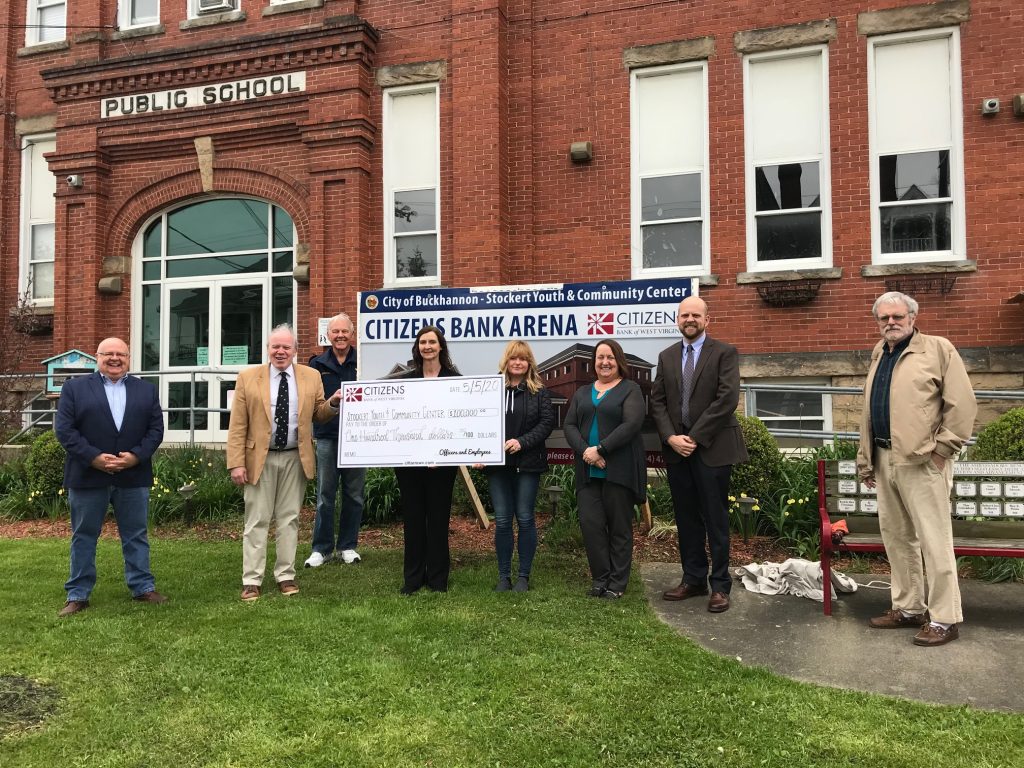 May 5, 2020
BUCKHANNON, WV: While our community may not currently be able to gather at Stockert Youth & Community Center, the center's board of directors continues to work toward the construction of the new multipurpose facility expansion. Tuesday, Citizens Bank presented Mayor McCauley, SYCC Board Chairperson, and Debora Brockleman, SYCC Director, a check of $100,000 toward the project, which will provide space for additional indoor recreation and special events. The gift brings the capital campaign total to nearly $440,000 and grants naming rights to Citizens Bank.
Once complete, Citizens Bank Arena will host the hugely successful youth basketball program, an indoor walking/biking track, and a multitude of fitness and recreation activities for people of all ages. The new space may also accommodate Jawbone Park events, such as Festival Fridays and the farmers market, in times of inclement weather.
The Stockert Youth & Community Center Board and the City of Buckhannon thanked Citizens Bank for this incredible contribution to our community, with Mayor McCauley enthusing, "Much of what we do as a City, as an organization- is undertaken for our children. This new building at Stockert is all about our kids. The Colonial Theatre project just one block up the street from Stockert is mostly about our kids. These two facilities in tandem will offer vast opportunities for generations of our children to come. It truly is an exciting time to live in Buckhannon, West Virginia!"
SYCC Director, Debora Brockleman, expressed gratitude to Citizens Bank, saying, "We are very excited knowing we are very close to having a new multi-purpose facility for our kids and community.  This means so much to all of us. Thank you Citizens Bank."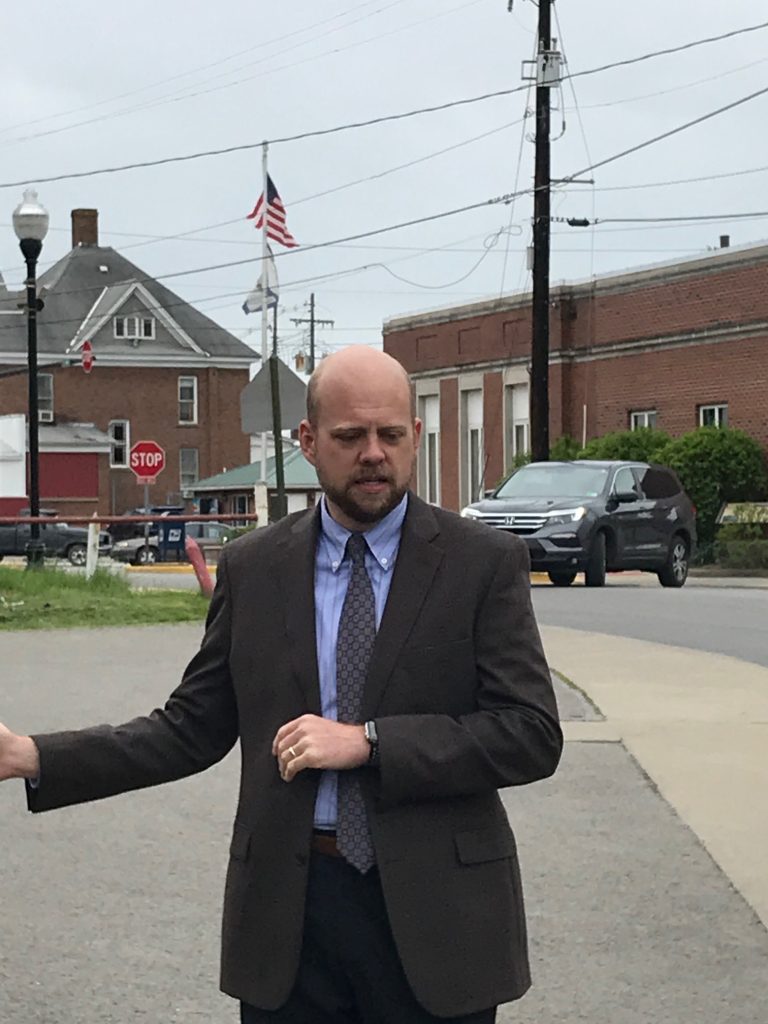 During the presentation, Citizens Bank CEO & President, Nathaniel Bonnell, remarked, "On behalf of the board of directors of Citizens Bank, our officers, and all our staff, we are thrilled to be able to do this. Buckhannon has been our home since 2014 where we opened just down the street…We are excited about what this gift can do for the youth in Upshur County and we are thrilled to be a part of this."
Stockert Youth & Community Center, now in its 27th year of serving our community, hosts an afterschool program and summer camp with academic support and recreational activities for local youth. Both programs provide a snack and/or meal for participating children, filling a critical need in an area where food insecurity is a real concern for some families. On average, 13,000 youth hours are realized every month at Stockert.
To donate to the SYCC capital campaign, call City Hall at (304) 472-1651 or go to: www.buckhannonwv.org/about-the-city/donate-syc/
Volunteers serve 1,000 hours on average each month at SYCC. You may also get involved by volunteering! For SYCC volunteer needs, call the Center at (304) 473-0145 or go to the Buckhannon Volunteer Center website at:
www.buckhannonwv.org/volunteer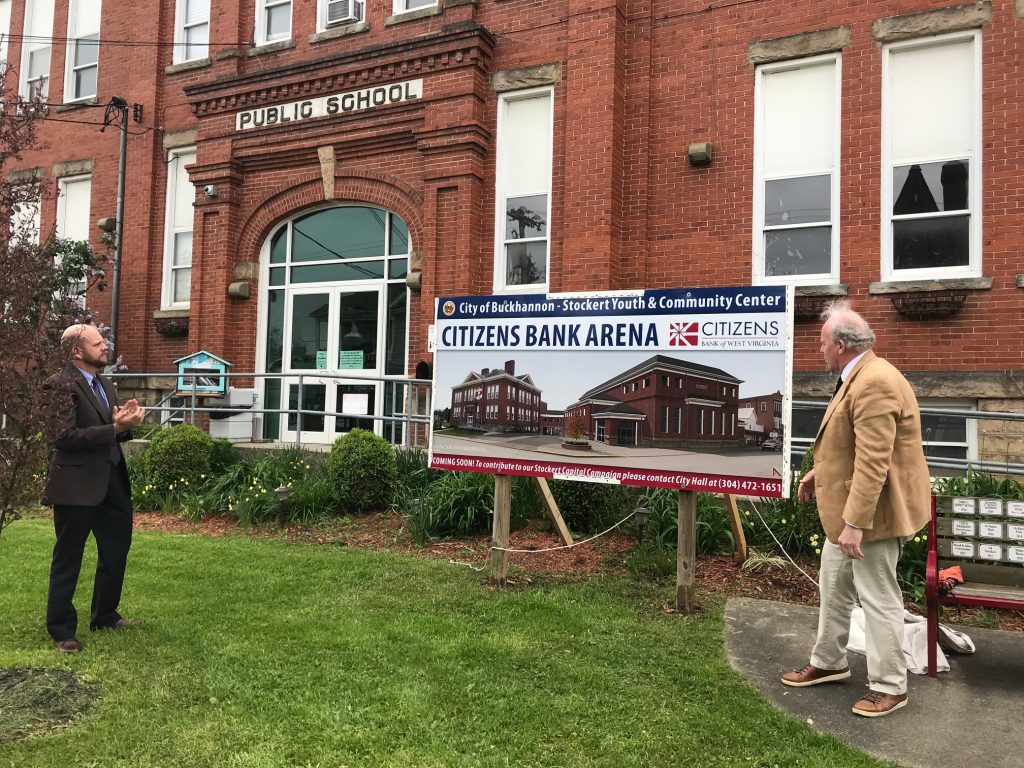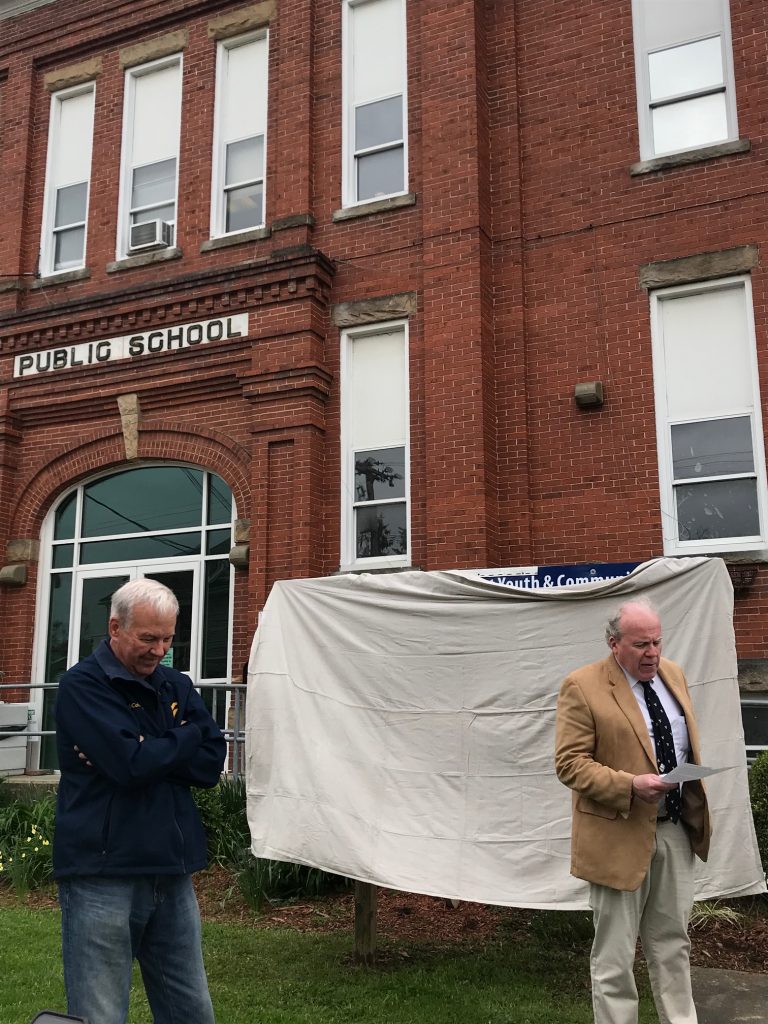 MAYOR McCAULEY REMARKS DURING PRESENTATION OF CHECK BY CITIZENS BANK TOWARD STOCKERT YOUTH & COMMUNITY CENTER CAPITAL CAMPAIGN
AT SYCC – TUESDAY, MAY 5, 2020, 2:30 P.M.
Buckhannon's Joyce S. Stockert died on March 16, 1994. Pursuant to her last will & testament Mrs. Stockert bequeathed $500,000 to the County Commission for the purchase, construction, & operation of a youth center facility to be designated & named "The Stockert Youth Center." Mrs. Stockert specifically provided that "the operation of the youth center shall … provide for entertainment, instruction, recreational athletics, sport & other wholesome activities for the youth of Upshur County." Until 2004, the County Commission honored the spirit & express purpose of the Stockert bequest. In 2004, the partnering County, City, & Board of Education, recognized & agreed that notwithstanding the previous sustaining of SYC facilities & programs under County ownership & operation, that a different method whereby the City would assume SYC ownership & operation with future financial & other assistance forthcoming from the County Commission & the Upshur County Board of Education, & other in-kind assistance from the College, would best assure SYC's continued, long-term operation together with improvement of SYC facilities, programs, & staffing.
The first program at Stockert was the girls' drill team. Soon after-school tutoring programs were added. Basketball, martial arts, Stock-Art, & other programs later followed to provide fun, safe, after-school & summer experiences for the children of our B-U community. No child has ever been turned away from SYC that was renamed "Stockert Youth & Community Center" in 2018. Now in its 26th year, thousands of kids from our community have benefited from our SYCC programs. For some time we've known that the needs of our kids had outgrown this wonderful, old building. Simply stated, we need more space to accommodate our children. In December of 2017, our City launched its long dormant capital campaign & with the gift we're about to officially receive, our capital campaign will have reached $440,000. We're so thankful for the gifts of the Jenkins family & Jenkins Ford ($25,000) the Minsker family & Buckhannon Toyota ($20,000), Buckhannon Rotary ($15,000), Weyerhaeuser ($15,000), Tim Critchfield & High Point Construction ($11,000), Mike Ross ($10,000), & a host of other gracious donors including some here today. Councilor Dave Thomas has pledged $12,000.
In April of 2018, our Stockert Board & City Council approved a donor model that would authorize naming rights of our new building, the "fill-in-the-blank" Arena- at Stockert Youth & Community Center. Acquisition of naming rights required a gift of $100,000. The largest gift ever received by our City had been until today- the $25,000 gift of the Jenkins family & Jenkins Ford made just last year toward our Stockert capital campaign. We've been courting several people & enterprises in hopes of selling our naming rights. I am so pleased to announce that we've now "filled in our blank." Citizens Bank of West Virginia has gifted $100,000 to take our capital campaign to $440,000. Citizens' CEO, Nathaniel Bonnell, & the Citizens' board of directors are friends & wonderful partners of our City of Buckhannon & our SYCC programs & facilities.
We're still pursuing additional funding & possible financing before we can break ground on our new building, but we hope that later this year that the long-anticipated construction may begin on our Citizens Bank Arena. We remain hopeful & optimistic that our Abandoned Mines Land grant seeking $3.8 million will prove successful. That matter is on Governor Justice's desk right now. Before I defer to Mr. Bonnell for his remarks, I'd like to thank our entire SYCC Board, a few members being here today, City Recorder Randy Sanders; longtime, stalwart Stockert supporters Rob Rupp & Don Nestor; & former City Recorder & Mayor Nancy Shobe. I also need to thank all of my colleagues on our City Council, & our Director of Finance & Administration, Amby Jenkins, Public Works Director Jerry Arnold, City Engineer Jay Hollen, City Attorney Tom O'Neill, & our grant writer & information officer, Callie Cronin Sams, all of whom have been huge contributors to getting us to this day & beyond with this project. Please join me in giving a warm welcome & ginormous thanks to Nathaniel Bonnell & Citizens Bank of West Virginia- Nathaniel- Citizens Bank Arena indeed! Our floor is yours!