Downtown parking during WV Strawberry Festival
Downtown Buckhannon Parking during the West Virginia Strawberry Festival
May 7, 2018
During Festival week (May 12 -20th), the West Virginia Strawberry Festival Association has requested the use of the following: 
Lot 2 – Across from the Post Office
Lot 3 – Off of Spring St in front of Salvation Army and behind China Wok
Lot 6 – Latham House Lot Madison St
Lot 7-   Farmers Market Jawbone Park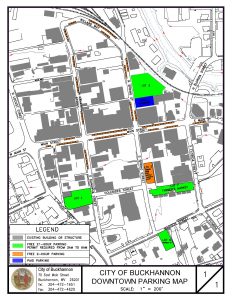 Anyone parking in lots 2, 3, 6 & 7 should have his/her vehicle removed from the lot by the end of the day Friday, May 11, 2018.  Lot 1 should remain unaffected. During this time, all may park free of charge at any legally available space.  The two-hour time limit still applies, as do all other normal parking laws and ordinances.
If you have any questions, please feel free to contact City Hall by calling 304.472.1651 or emailing contactcityhall@buckhannonwv.org.