SYCC Elimination Dinner this Friday!
November 4, 2019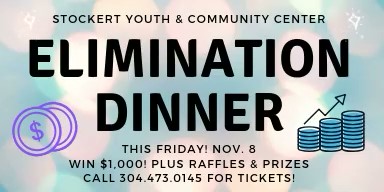 BUCKHANNON, WV: Are you looking for something fun to do this Friday? Want to support a great cause? You are in luck because you can do both if you attend the Stockert Youth & Community Center's Elimination Dinner this Friday at the Event Center at Brushy Fork. The big winner will walk away with $1,000–plenty of other prizes and raffles will also be available, so everyone has a chance to win!
A very limited amount of tickets remain, so call (304) 473-0145 or stop in Stockert Youth & Community Center at 79 E. Main Street to purchase tickets and reserve your seats or table.
All proceeds from the event will go toward the capital campaign for the facility expansion. SYCC is located at 79 E. Main Street in Buckhannon, West Virginia and offers youth and adult recreation, an afterschool program, and Camp Buccaneer summer camp.
The facility, operated by the City of Buckhannon, is located conveniently on East Main Street and the Elizabeth J. "Binky" Poundstone Riverwalk Trail System and serves as the central trailhead for cyclists, walkers, and runners. The center is adjacent to the Traders Alley Arts District and the Colonial Theatre.
We hope you'll come out and support a great cause, and you'll have the chance to win $1,000 plus loads of raffles and prizes!
---
Media: Callie Cronin Sams, callie.csams@buckhannonwv.org