Take Action Against Substance Use in our Community at WV Recovers Workshop on Dec. 12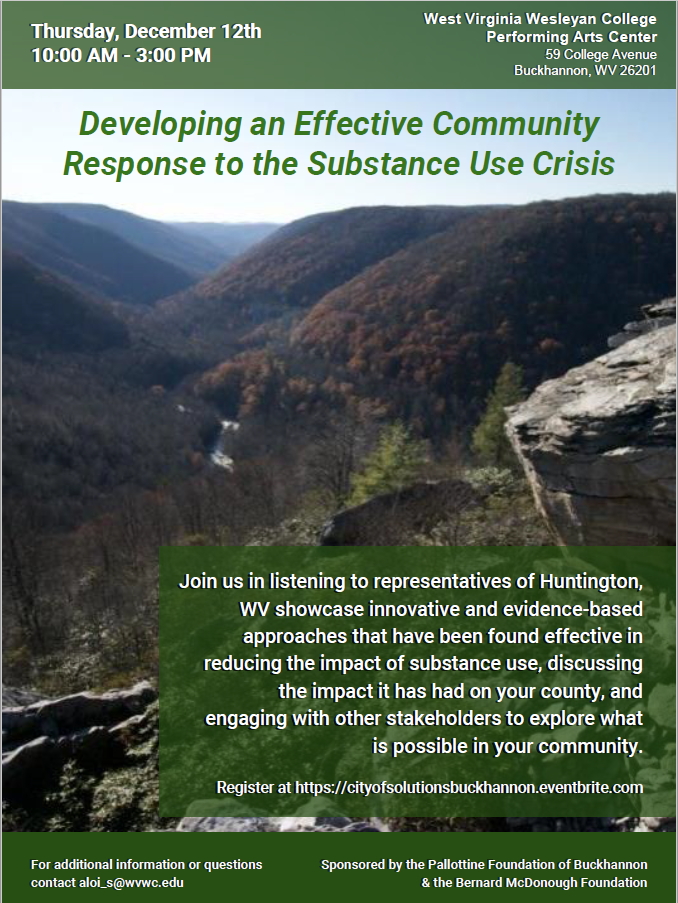 December 3, 2019
BUCKHANNON, WV: The West Virginia Recovers Coalition encourages community members, and particularly first responders, to participate in an upcoming workshop and seminar on effective community response to substance use. The free event will be held on Thursday, December 12, at the Performing Arts Center of West Virginia Wesleyan College.
The City of Solutions presentation, funded by a grant from the Pallottine Foundation, will share successful interventions that have effectively reduced substance use in other areas, such as Huntington, West Virginia. Then, presenters, first responders, and community members will discuss what will work best in our region and develop an action plan.
The workshop is free to attend, and lunch will be provided. However, you must pre-register at https://cityofsolutionsbuckhannon.eventbrite.com.
For additional information or questions, contact Dr. Susan Aloi at aloi_s@wvwc.edu.

Flyer in PDF format: