Thank you, American Legion Baseball Team!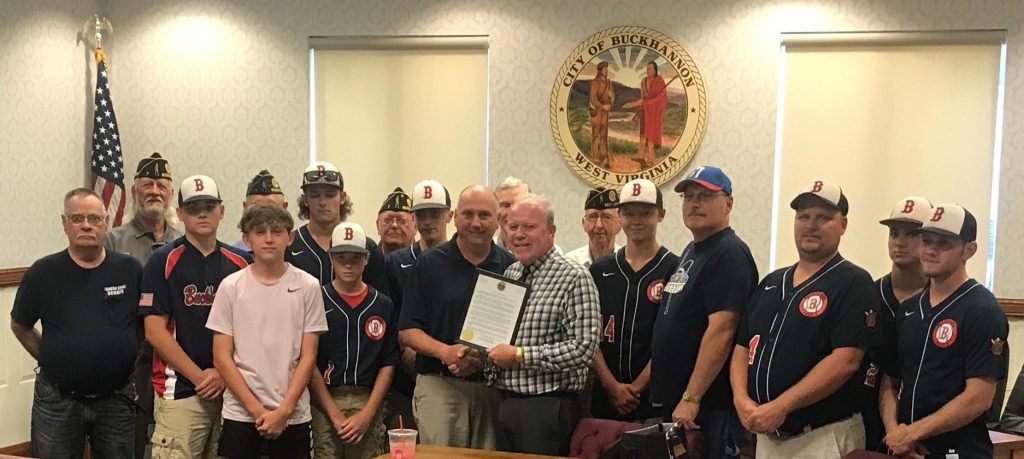 MAYOR'S PROCLAMATION

Whereas, American Legion baseball has been played since 1926 with millions of U.S. youths having participated in the 94 seasons of league play, purposed at instilling the importance of sportsmanship, good health, & active citizenship; &,

Whereas, some of the greatest Major League Baseball players were formerly American Legion players, including Bob Feller, Yogi Berra, Ted Williams, Frank Robinson, Roy Campanella, Greg Maddux, Chipper Jones, Albert Pujols, Ryne Sandberg, Dusty Baker, & Justin Verlander, with Babe Ruth having served for several years as Director of Operations; &,

Whereas, the 2019 BUCKHANNON AMERICAN LEGION BASEBALL TEAM, sponsored by Buckhannon's own Frank Bartlett Post #7, coached by Kevin Boring, recently completed their season, during which our Buckhannon team regularly recognized our Buckhannon-Upshur community's veterans; &,

Whereas, the Buckhannon's American Legion baseball players further appeared in last year's Veterans' Day Parade, immediately behind the members of our American Legion & VFW post members, demonstrating excellent patriotism & respect for our service veterans; &,

Whereas, our entire Buckhannon-Upshur community is very proud of our American Legion baseball team including members Alek Seech, Ryan Smith, Logan Bailey; Nick Calef-Boring, Andrew Herron, Tim Phillips, Cole Hoover, Elijah Arbogast, Casey Hamner, Logan Whitehair, Jonathan Warner, Trey Leigh, Josh Riffle, Wesley Rosencrance, Andrew Carrico, Ryan Strader, Brady Hurst, Zachary White, Isaac Lane, Hunter Stone, Johnny Haddix, Jay Burnside, & Benjamin Tenney; &,

Whereas, our American Legion baseball team's future is very bright & Post #7 along with our City of Buckhannon wishes to congratulate all players for exhibiting the utmost respect & admiration for our community's service veterans. 

NOW, THEREFORE, I, DAVID W. McCAULEY, MAYOR OF THE CITY OF BUCKHANNON, pursuant to the power & authority duly vested in me, do hereby proclaim Friday, August 16, 2019 to be "FRANK BARTLETT AMERICAN LEGION POST #7 BASEBALL TEAM DAY" throughout our City of Buckhannon. 

I further urge all of our residents to greet & congratulate all members of our American Legion BASEBALL TEAM, along with their families, friends, our entire City Council, & all members of our City government family during their most special day. 

Given under my hand & the official seal of The City of Buckhannon,
this 15th day of August, 2019

David W. McCauley, Mayor