Thank you, ART26201, McMurtries and WV Division of History & Culture
Colonial Theatre renovation chugs along thanks to recent gifts and grant award
July 13, 2018
BUCKHANNON, WV: The Colonial Theatre renovation on Main Street, Buckhannon, recently received a boost from two generous donations and a grant award through the West Virginia Division of Culture & History. Hudson & Jean McMurtrie donated $1,500 and ART26201 contributed $5,000. In addition, the City received notice from the West Virginia Division of Culture & History that the project will receive an additional $61,000 toward the restoration of the nearly one-hundred-year-old theatre.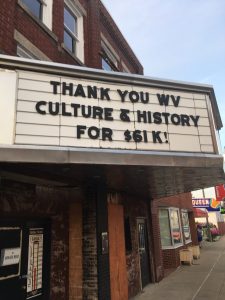 The City thanked the McMurtries by bestowing the City's Ambassador's Award upon them at last week's City Council meeting. The McMurtries currently live in Florida, but formerly resided in Buckhannon and continue to maintain a summer home in the area. Mr. McMurtrie also has ties to the theatre's history through his uncle, Garland West (now deceased), who was the former owner and operator. Hudson McMurtrie worked at the theatre while attending Buckhannon-Upshur High School and West Virginia Wesleyan College.
ART26201, a community arts non-profit organization, presented the City with $5,000 to benefit the theatre. Artists and supporters of ART26201 have been integral partners with the City throughout the Colonial Theatre renovation project and will continue to be vital to its success.
The West Virginia Division of Culture & History notified the City of the $61,000 grant award in a letter dated July 1 for the theatre preservation, including the façade improvements and some of the interior modifications.
The theatre will host theatrical and musical performances, a gallery space, and community events for our residents and visitors to enjoy, experience, and learn from. Public art and community exhibition space enhance our downtown, creating a more livable, vibrant and stimulating atmosphere for all to enjoy.
The renovated theatre will provide opportunities for area youth to experience and participate in the arts, through lessons, workshops, and performances. Jamie Johnson, Director of the ART26201 Young Filmmakers Camp, hopes that the "theatre will serve as a permanent home for the camp and maybe eventually an afterschool program or (filmmaking) equipment rental" space. Buckhannon Community Theatre also plans to utilize the theatre regularly, as they do not currently have a permanent home.
You may donate to the fundraising campaign any time by calling City Hall at (304) 472-1651 or elect to make a recurring monthly contribution via your utility payment. Follow this link for the enrollment form: Monthly Recurring Gift Form
—
Callie Cronin Sams, callie.csams@buckhannonwv.org