The Rotary Club of Buckhannon-Upshur Honors The Buckhannon Fire Department & Upshur County Chief Deputy Mike Coffman
BUCKHANNON, WV: This is a reprint of a story by Monica Zalaznik of My Buckhannon used with permission:


Coffman, Buckhannon Fire Department heralded as first-ever Rotary Spirit of Service Award recipients

The Rotary Club of Buckhannon-Upshur launched its new Spirit of Service award by honoring the Buckhannon Fire Department and Upshur County Sheriff's Chief Deputy Mike Coffman.
The Rotary club designed the Spirit of Service award to recognize individuals and organizations that represent the organization's motto of "Service above self." The first awards were granted during the club's Feb. 21 meeting.
"This being our first award, we wanted to honor two recipients, which are both very deserving of this award," Rotary member Dave Long said. "On Nov. 27, the Buckhannon Fire Department was called to a fire at 172 Pocahontas Street, around 6:50 a.m. when a call came in as a structure fire with three people trapped up in the house, but upon arrival, two of them had made their way out, the third was trapped and was rescued by members of the Buckhannon Fire Department."
Long said three of the firefighters involved in the rescue were injured.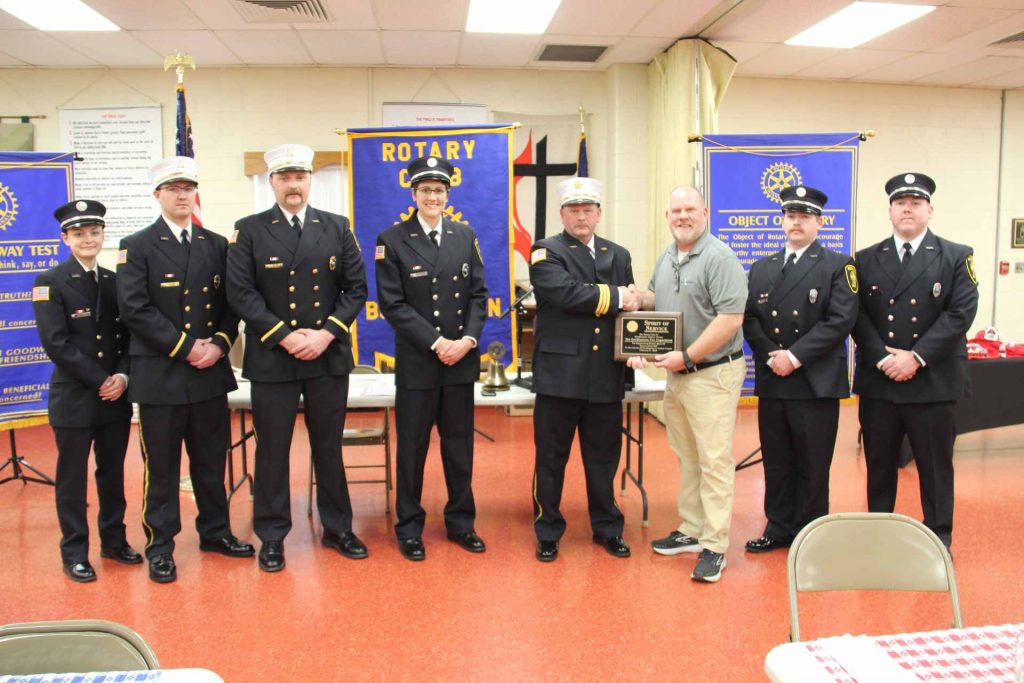 "One of which needed to be monitored for smoke inhalation at St. Joseph's Hospital, the other two were treated at the scene and were able to return to the station," Long said. "I'd like to praise all of those involved in saving that life, early that morning."
Buckhannon Fire Chief JB Kimble listed all the firefighters involved with the rescue that day, including Capt. Joey Baxa, Capt. Linn Baxa, Justin Boggs, Lt. John Brugnoli, Capt. Glen Davis, Capt. Brian Elmore, Shane Jenkins, Steve Michaels, Maggie Petitto, Maria Potter, Ethan Smith and Hunter Wilfong.
"Not everyone could make it today; some of them are working or are volunteers, some of them have jobs and they couldn't make it here, but I'm very proud of this group of men and women in our organization," Kimble said. "I always say it wasn't a perfect storm, it was perfect timing. We were on a shift change, so instead of having three members on duty, we had six because three were coming and three were there, so that allowed for more rescue efforts and more planning."
Kimble attributed the successful rescue that day to quality training.
"It all goes back to our training," Kimble said.
"Captain Baxa was on the engine, Potter was the firefighter on the engine one year into her career as a paid firefighter, and she held a fire with a two-inch hose by herself, so Captain Baxa and Firefighter First Class Ethan Smith make the entry to get to this lady and once she was on the porch, something happened in my 33-year career I had never seen. The house was energized with electricity so everything we attempted to do against that house was shocking members of our department and that altered the way we had to remove the patient."
Capt. Joey Baxa gave the patient his face mask to ensure she could breathe.
"I'm so proud of the training and the guts that our members have, and with that being said, we work as a team, and I want to thank the city and the county," Kimble said. "We are currently planning a training facility on Mud Lick Road. The county gave us money from the ARPA funds, the city is funding additional money to enhance our training abilities and we can go out there and we do live fire training. There's nothing that replaces live fire training; you can go in smoke-filled houses but for this kind of an event you need to have live fire training."
The second award was presented to chief deputy Mike Coffman, but the Upshur County Commission accepted it on his behalf.
"He is another deserving person," Long said. "On June 16, the Upshur County Sheriff's chief deputy was shot in the line of duty after responding to an active shooter on Interstate 79 in Lewis County. I can't imagine being in that situation, but every day, law enforcement officers put their lives on the line and for that, the Rotary Club of Buckhannon-Upshur is forever grateful. Chief Deputy Coffman had a follow-up appointment today for the incident, so he was unable to be here."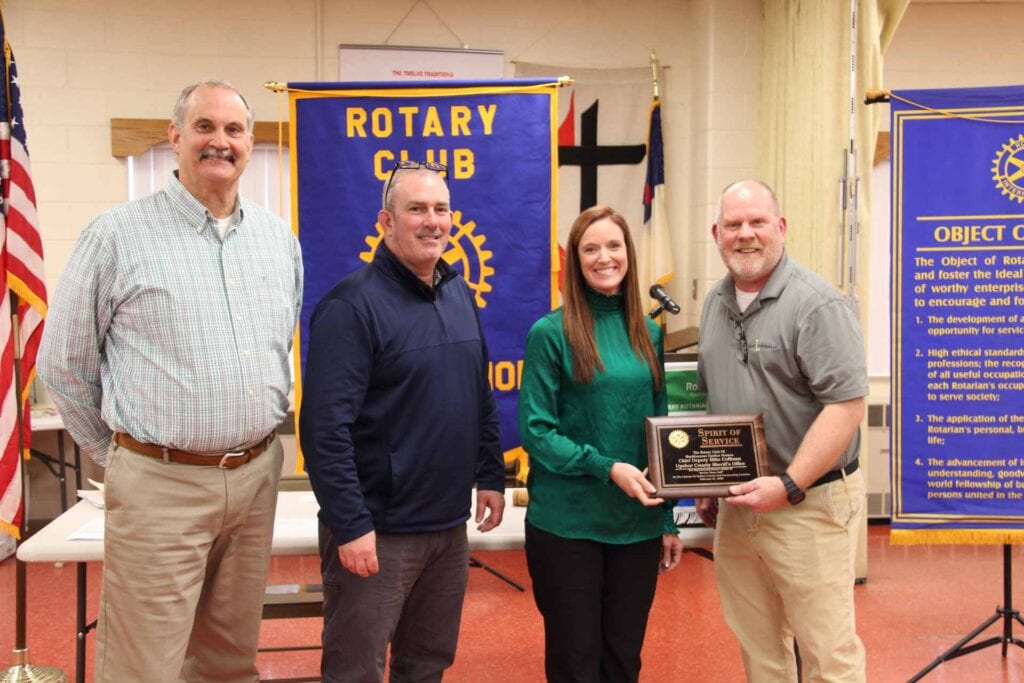 Upshur County Commissioner Sam Nolte praised all the first responders that worked on the active shooter call.
"One of the volunteers who works with the Buckhannon Fire department was the one that got Lewis County, the State Police, and Upshur County responding correctly; he was the one that reported the incident and realized it was a shooter, which probably saved lives," Nolte said. "Derek Long was definitely one of the heroes that day. Mike was very lucky; he was shot with a .308 rifle and he could have lost his whole leg, but he was definitely very fortunate in an unfortunate situation."
Upshur County Commissioner Doug Bush said he has only worked with the county for a short period of time but has enjoyed working with everyone so far.
"I've only been working with the county for a few months, but each day and each week that I do work, I run into some great people, and you can see we are very lucky," Bush said. "Today has given us a couple of examples of the quality of people we have working here, so thank you."