Transfer Station will be closed Jan. 20 & 21 for maintenance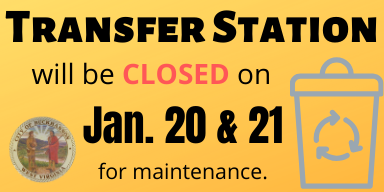 January 7, 2020
The Transfer Station and Mudlick Recycling Center will be closed on January 20 and 21 for maintenance and the installation of new scales.
The Crossroads Recycling Drop-Off Center adjacent to Walmart will be open and Buckhannon Waste Department Waste Collection will proceed on the normal schedule those days.
For questions, contact the Buckhannon Waste Department at (304) 472-4443.
---
Media: Callie Cronin Sams, callie.csams@buckhannonwv.org, (304) 472-1651 ext. 1052