Upshur County Schools Presents Youth Art Exhibition at the Colonial Theatre June 5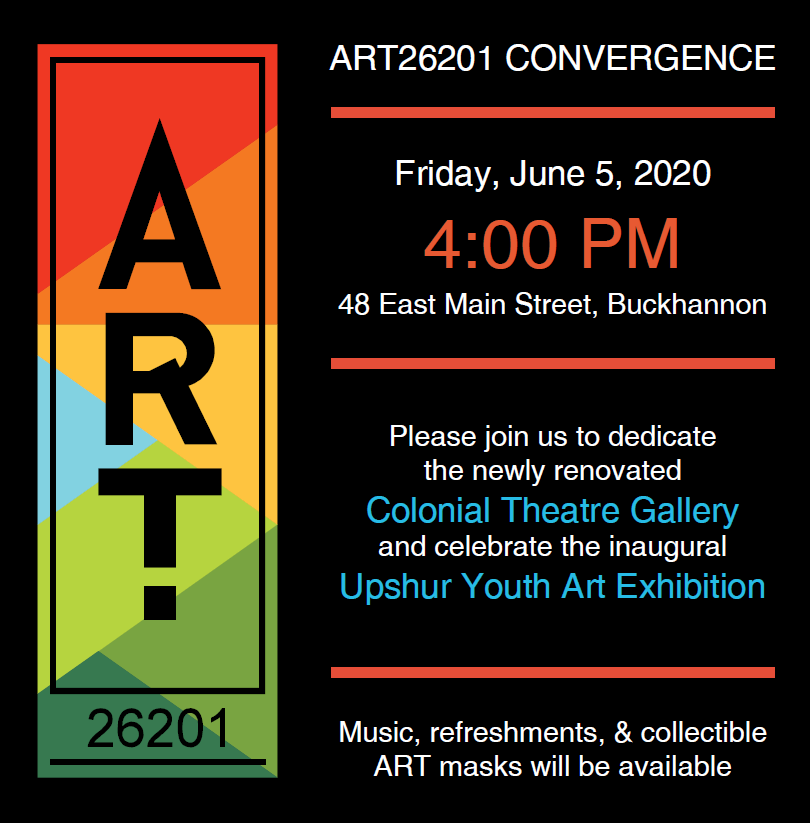 May 27, 2020
ART26201 News Release
BUCKHANNON, WEST VIRGINIA –  Buckhannon residents will finally get a chance to step inside the new Gallery space in the Colonial Theatre for the first event to be held in the new Gallery space. Previously scheduled for opening March 14, during Youth Art Month, the reception was postponed as a result of the COVID-19 school closures.  The county-wide art exhibition featuring student artworks will now open at the Colonial Theatre with a ribbon-cutting and Gallery dedication on Friday, June 5, 2020, from 4-8pm.
The fine art exhibition, free and open to the public, marks the first time that all Upshur County School students will have the opportunity to participate in a multi-school exhibition of their own artworks. Both two- and three-dimensional artworks will be on display, and refreshments will be provided.
Keeping with current COVID-19 safety and social distancing protocols, the ceremony will be conducted by Mayor David McCauley with the assistance of Upshur County Schools Superintendent Dr. Sara Stankus, ART26201, and Upshur County Schools art teachers and students. ART2601 will also be offering collectible ART masks at the event.
"Upshur County is so fortunate to have art programs in every school, and creating this exhibit seemed like perfect timing to showcase our talented students and to celebrate the opening of the Colonial Theatre Gallery in Downtown" said Heidi Thompson, lead organizer for the event and Fine Art Department Chair at Buckhannon-Upshur High School.
"The primary goal of rehabilitating the Colonial Theatre is to engage our kids in the many wonderful and diverse artforms, and the City is thrilled to finally see the first of many displays of our children's creative talents in our new fine art gallery," said Mayor David McCauley. "When it's finished, the kids are really going to love this place!"
In addition to the night of the student exhibition's opening reception June 5, the Gallery will be open every Friday and Saturday in June from 5-7pm.
The exhibition is a collaboration of the Upshur County School art teachers, the City of Buckhannon, The Upshur Arts Alliance, and ART26201. Significant financial assistance for the Colonial Theatre Rehabilitation project has been provided by the West Virginia Department of Arts, Culture and History.
A virtual tour of the exhibit from Mayor David McCauley, which features some artworks by high school seniors that have since been removed for portfolio inclusion, is available to view here: https://www.bu-student-art.mountaineer.news/
If you would like to volunteer or receive more information, please contact Heidi Thompson at 304-266-4100, or email hgthompson@k12.wv.us.
Media Inquiries: Heidi Thompson, hgthompson@k12.wv.us, 304-266-4100