Buckhannon celebrates new water tank at Victoria Hill; Tank provides 600,000 gallons additional storage capacity to water system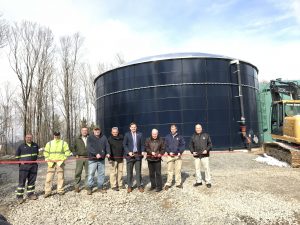 Victoria Hill Water Tank Ribbon Cutting, March 8, 2018. From left: Jerry Myers, Jerry Wamsley, Jerry Arnold, Kelly Arnold, Jay Hollen, Councilor Robbie Skinner, Mayor David McCauley (all City of Buckhannon), Randy Blankenship, Chapman Technical Group, and Jim Wary, Mid-Atlantic Storage Systems
Buckhannon celebrates new water tank at Victoria Hill; Tank provides 600,000 gallons additional storage capacity to water system
March 8, 2018
BUCKHANNON, WV:  The new water tank at the Victoria Hill service station is in operation as of February 22, expanding the City of Buckhannon's system reserve capacity by 600,000 gallons. The increase in water storage will allow the City of Buckhannon's Water Department to meet increased demand due to development and business activity in the Buckhannon area.
Mayor David McCauley, Councilor Robbie Skinner, and City of Buckhannon personnel joined Chapman Technical Group's Randy Blankenship and Mid-Atlantic Storage Systems' representative, Jim Wary, for a ribbon cutting at 3:15 p.m. on March 8, 2018. The new tank has a capacity of 1.2 million gallons, but with the tank at St. Joseph's Hospital recently decommissioned, the net increase for the water system is 600,000 gallons for a total system storage of 4.6 million gallons.
The Harley A. Brown Memorial Water Plant and Buckhannon Water Department provide water service to 4,004 customers in Buckhannon and surrounding area. The Buckhannon system also provides water to four public service districts in Upshur County, serving over 9,502 customers combined. The water plant maintains equipment with the technology to treat and monitor a maximum of 5.76 million gallons of water, averaging over 2 million gallons per day. The department also maintains 42 miles of water lines serving customers throughout the City and surrounding area. To ensure high quality service, each water department employee holds a valid water distribution license or plant operator license. The City of Buckhannon Water Department is consistently ranked in the top tier of the state's water systems for both affordability and financial soundness, as well as meeting all health and environmental standards.
—
For questions, contact Callie Cronin Sams, callie.csams@buckhannonwv.org.
Media coverage: