Walmart supports National Night Out with $2,500 grant; Free family event set for August 6 at Upshur County Pool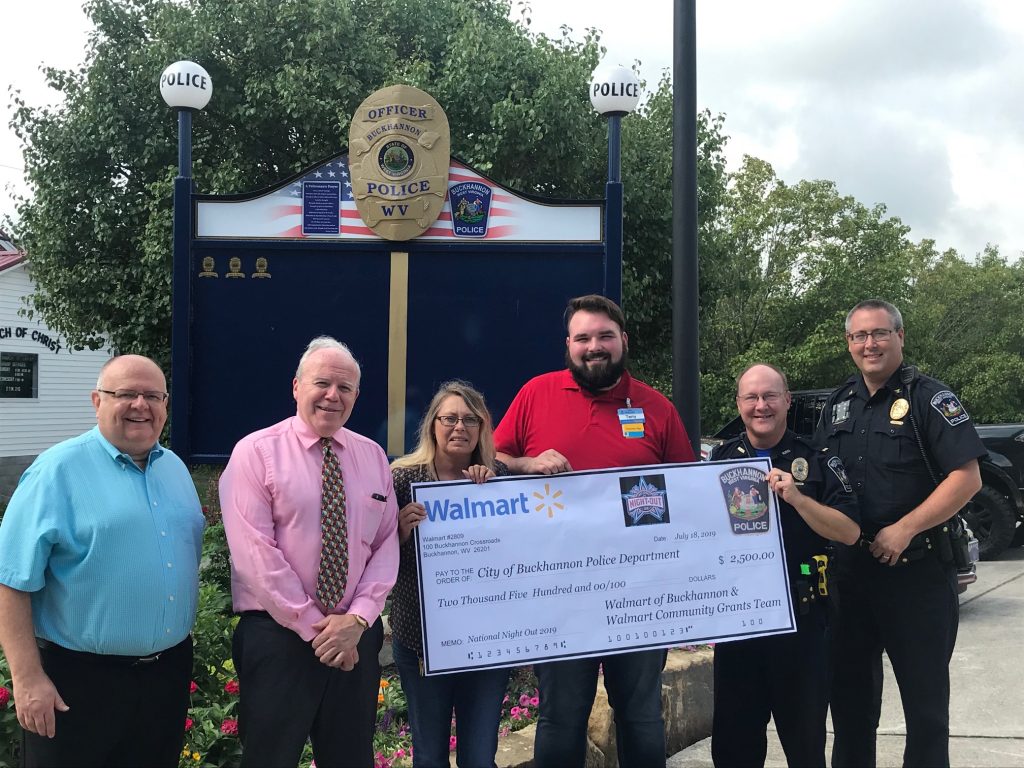 July 18, 2019
BUCKHANNON, WV: Are you ready for a fun night out at the pool while getting the chance to meet our local first responders and police force? National Night Out will take place at the Upshur County Pool on Tuesday, August 6 from 6:00 p.m. to 10:00 p.m. and the Buckhannon Police Department will be joining in with prizes, games, and pizza! The event is free and open to all in the community.
The Buckhannon Walmart presented the Buckhannon Police Department with a check for $2,500 for the 2019 National Night Out event via the Walmart Giving Community Grants Program. Vonda Cable, Sherri Harper, and Terry Ice of the Buckhannon Walmart worked with Chief Matt Gregory and Lieutenant Doug Loudin to secure the funding for the event.
Chief Matt Gregory said, "National Night Out is a national event that the Buckhannon Police Department has taken part in for about fifteen years now. At its core, it's an opportunity … for the community to come out, have a good evening, meet police officers and public safety first responders, and get to know us on a first-name basis, as well as learn about the public resources that are available to them. Through our partnerships with the community, … we have received very generous donations in order to make this event totally free. It's held at the Upshur County Pool and through these donations, we are able to provide free food at the event as well."
In addition, Chief Gregory especially thanked the Upshur County Commission for providing the pool and lifeguards free of charge for the event.
Walmart Manager, Vonda Cable, shared that she and the Walmart team, including fellow manager Sherri Harper who was not able to attend the presentation, were happy to work with the Buckhannon Police Department on this grant, noting that, "We are really lucky to have (the Buckhannon Police Department). They come and help us any time we need it. … I've worked at a lot of stores and we always have a pretty good relationship with the law, but these guys are wonderful. They are there in minutes when we call."
Mayor David McCauley added, "We are thrilled to partner with Walmart and others to make (National Night Out) possible and raise the bar of awareness about all things police and first responders."
The Buckhannon Rotary also contributed $750 toward this year's event, which could not be held without the support of the community, businesses, and volunteers. Thank you to all who have helped plan for this year's National Night Out in Upshur County!
---
Media: Callie Cronin Sams, callie.csams@buckhannonwv.org or (304) 472-1651