We are all in it together! WElcome to Buckhannon.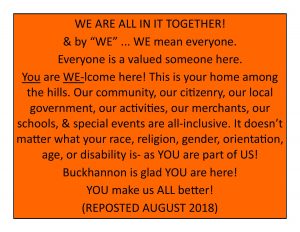 Mayor's Welcome to Buckhannon
On behalf of the City of Buckhannon and our excellent employees, I bring you warmest greetings from City Hall. To those of you returning to your Home Among the Hills, we are very happy to welcome you back. To our newest students comprising the Class of 2021, we are most pleased to welcome you and your families to our community of Buckhannon aka "Bucktown" aka "Sunnybuck."
As the dad to five kids, four of whom graduated as Bobcats, I assure you that you've chosen well in deciding upon West Virginia Wesleyan College for your higher educational pursuits. Beginning my 35th year of instructing courses at WVWC, perhaps I'll come to know some of you in the classroom. Our entire City Council either has worked at WVWC or are alums or parents of alums. We all love our ole place, and I sincerely believe that there isn't a prettier campus anywhere in our region.
There are so many fun things to do in our beautiful downtown. From sampling the many culinary wonders in our many fine restaurants and cafes to Festival Fridays in Jawbone Park through the end of September to checking out the many cool arts and flora to hitting our terrific River Trail- there truly is something for everyone. All self-respecting Wesleyan students pose with our Lurch statue on Main Street as our favorite former WVWC student changes his attire for each holiday or City promotion. In October, we're hopeful of opening the City's Colonial Theatre next to the Dairy Queen with Buckhannon Community Theatre's rendition of The Rocky Horror Picture Show.
You are invited to attend our City's FallFest celebration downtown on September 27-30. Who doesn't love a cool carnival and music playing in our Main Street? Trust me when I say that Buckhannon knows how to throw a party! We're always looking for college student volunteers and work studies at our Stockert Youth Center to help with our many recreational and after-school programs catering primarily to kids aged five to twelve. Please get involved in our community. You'll never regret getting engaged and attached to our town. Enjoy the most excellent 2017-18 school year at good ole Wesley World. Feel free to pop in for a visit at City Hall at 70 East Main Street anytime!
David W. McCauley, Mayor of Buckhannon