WV HUB Report features Buckhannon as a WV success story; Harvard MBA team and WV Secretary of State to visit on Veterans Day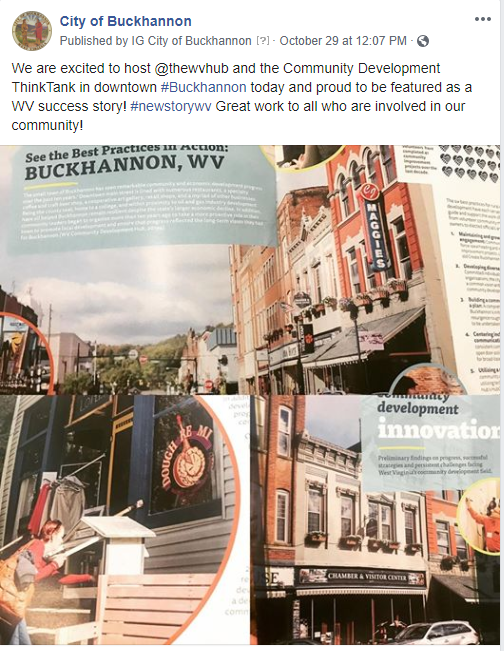 November 6, 2019
BUCKHANNON, WV: Last week, we shared our excitement to be featured in the latest report published by the West Virginia Development Hub, Community Development Innovation. The report is now available electronically and we encourage everyone to take a look:
The West Virginia Community Development Hub, also known as "the Hub", provides invaluable technical assistance and research to citizens across West Virginia seeking to create healthy, dynamic communities where they live and work.
Buckhannon will host the Hub and the West Virginia Secretary of State's Office this Monday, Veterans Day, as a team of Harvard Master of Business Administration (MBA) students visit West Virginia. The group will join community members in honoring our veterans during the annual Veterans Day Parade at 9:00 a.m. on Main Street. Afterward, the group will divide up to visit numerous businesses in the City of Buckhannon.
City Councilor, chair of Create Buckhannon, and business owner, Cj Rylands, said of the event, "We hope to share our story of how over time, working together in the community's best interests, will result in a variety of  measurable outcomes."
We wish to send a big thank you to the West Virginia Secretary of State Mac Warner and the State Office, including Deputy Chief of Staff Secretary, Mike Queen, who organized the event to highlight West Virginia businesses and community development initiatives.
The Harvard MBA tour, which kicks off Friday, also includes stops at Parkersburg, Morgantown, Bridgeport, Sherwood, Weston, Clarksburg, Fairmont, Wheeling, Parsons, Davis, and Wardensville.
The City of Buckhannon, incorporated in 1816, is home to just under 6,000 residents in north-central West Virginia, situated on the Allegheny Plateau of the Appalachian Mountains at 1,400 feet elevation. The main economic drivers are education, healthcare, and natural resources. The community is also home to a thriving arts district, vibrant downtown, and ample greenspace with walking and biking trails, parks, and seasonal festivals. Buckhannon is conveniently located along Corridor H, minutes from I79 and the North Central West Virginia Airport.
The City of Buckhannon provides businesses and residents with critical infrastructure–streets & sidewalks, water, waste collection, and sanitary & stormwater sewer–as well as police and fire protection. Stockert Youth & Community Center and Colonial Theatre provide opportunities for recreation and culture. We welcome you to experience Buckhannon–a great place to live, work, and play!
---
Media: Callie Cronin Sams, callie.csams@buckhannonwv.org or (304) 472-1651