Zombies are coming to Buckhannon!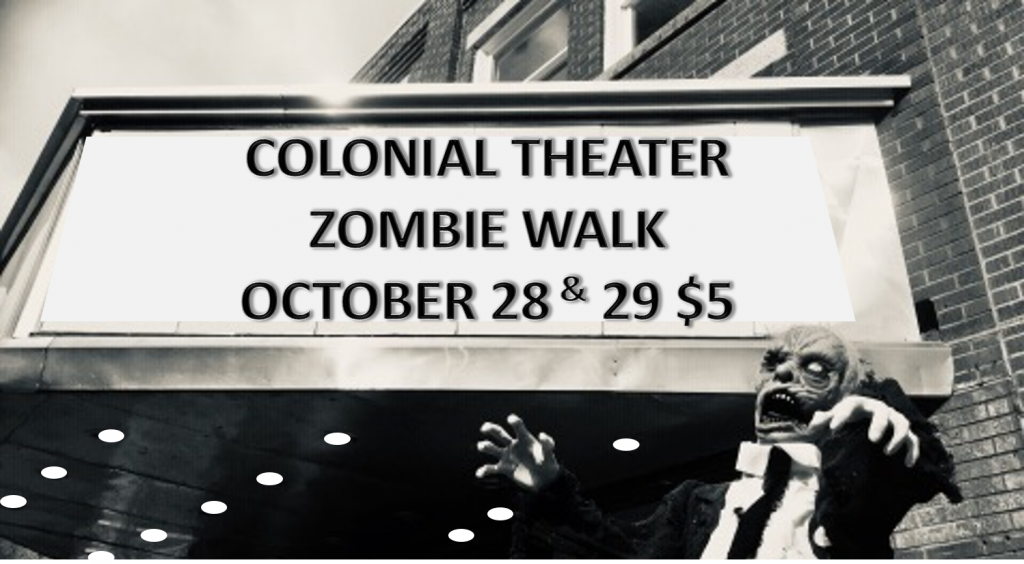 October 17, 2019
BUCKHANNON, WV: Zombies will take over Colonial Theater, Traders Alley, and Jawbone Park on October 28th and 29th–will you join them? At 7:00 p.m. each night, zombies will walk the town starting from the theater, crossing Main Street, down Traders Alley, and lurching in front of the stage at Jawbone Park, where they will be judged for supreme zombieness.
BUCKHANNON'S INAUGURAL ZOMBIE WALK REGISTRATION FORM
NOTE: For those at least five (5) years old, but less than thirteen (13) years old, the zombie walk will begin to organize in the Colonial Theatre at 6:00 p.m. on Monday, October 28. Some makeup assistance will be available featuring theatre students from West Virginia Wesleyan College, but zombie costumes are entirely up to the individual registrants. The registration fee of Five Dollars ($5.00) per zombie walker is necessary to be eligible for prizes.
The teens (13+) & adults (18+) division zombie walk will organize in the Colonial Theatre at 6:00 p.m. on Tuesday, October 29. The registration fee of Five Dollars ($5.00) per zombie walker is necessary to be eligible for prizes, including drink coupons for those 21 years old or older at Stone Tower Brews, The Social, & The Whistlestop, & the opportunity to buy the official, inaugural Buckhannon zombie walk/crawl tee-shirts at a discounted price. Tee-shirts for non-participants are $15, but for registered zombie walkers, tee-shirts are $10. All proceeds shall be applied to the ongoing renovation of Buckhannon's historic Colonial Theatre! Each zombie walker will be assigned a number to be worn at all times during the zombie walk.
The route will begin at 7:00 p.m. with zombie walkers departing the front of the Colonial Theatre & proceeding across East Main Street to Trader's Alley, then proceeding down Trader's Alley into Jawbone Park where each walker will proceed slowly across the stage & be judged by the zombie judges.
Judges will determine scores based upon five factors, including (1) originality; (2) makeup; (3) costume; (4) zombie movements & sounds; & (5) props.
Rules: (1) Zombie walkers are to have no physical contact with other zombie walkers, judges, or audience members. Walkers are not to lunge or pretend to attack anyone else. (2) All costumes & makeup must permit full visibility of all walkers for safety reasons. (3) Zombie walkers are not permitted to run. Zombies lurch, crawl, limp, &/or slither. (4) All walkers must follow the designated route until the event's completion. (5) No prop resembling a weapon may be used. (6) No costume may squirt liquids are objects. (7) This is a family friendly event so profanity & obscenity is prohibited. (8) No littering is permitted, & everyone must clean up after themselves. (9) Zombie walkers must inform makeup assistants of any allergies to makeup, etc. (10) The event organizers & the City of Buckhannon are not responsible for any injuries or property damage resulting to any zombie walker. (11) Participation constitutes a waiver of liability for the City of Buckhannon. (12) Participation constitutes consent for participants' image and likeness to be used in City of Buckhannon promotional materials.
NAME OF ZOMBIE WALKER: __________________________ ZOMBIE #: __________
DATE OF BIRTH: ___________________ CURRENT AGE: _____
ADDRESS: _______________________________________________ TELEPHONE #: _________________
With my signature below, I acknowledge all rules & requirements to participate in the Buckhannon Zombie Walk. If I am under the age of eighteen (18) years, my parent or guardian is executing their signature below.
SIGNATURE OF ZOMBIE WALKER OR PARENT/GUARDIAN: __________________________________
DATED (circle one): Monday, October 28 (Ages 5 through 12) OR
Tuesday, October 29, 2019 (13+ years)